15+ shows to see this weekend: Sept. 24-26
The first weekend of the fall season will offer lots of cool shows around Central New York, including two guitar greats in Homer, a folk-blues legend in Ithaca, and a master storyteller at the State Theatre
Please be sure to check with each show's event page for various venue protocols, as well as potential postponement or cancellations due to the weather. Stay safe, and enjoy as much live music as you can in the coming days!
A Way With Words
Renowned storyteller David Sedaris returns to Ithaca to promote his latest collection, "A Carnival of Snackery," which is drawn from his 2003-2020 diaries," and 2018's "Calypso," in which he tackles middle age and mortality. His unique narrative style and sharp wit – in books, on the radio, and onstage – has earned him fans around the world, and continues to evolve with each new work. Learn more here.
When: 8 p.m. Saturday
Where: State Theatre of Ithaca
Cost: $36-$60, available online here
Note: Audience members ages 12 and older must be fully vaccinated, show proof of vaccination and valid government ID, and wear a CDC approved mask at all times indoors except when eating or drinking. Please bring your vaccination card (or a photo of it) and/or your NYS Excelsior Pass, along with a corresponding state or federal ID for entry. Children under the age of 12 may attend the concert if they provide proof of a negative COVID-19 test result taken within 48 hours prior to when doors open. Learn more here.
Dazzling Dexterity
Guitar virtuoso Al Di Meola will display the mastery that he has showcased in groups such as Return to Forever, Guitar Trio and the Rite of Strings along with a variety of solo projects such as his Beatles tributes "All Your Life" and "Across the Universe," and his latest album, "Opus." His mix of acoustic, electric and world music influences has been hugely influential since the 1970s, when his albums "Land of the Midnight Sun," 'Elegant Gypsy" and "Casino" earned widespread popularity. Learn more here.
When: 8 p.m. Sunday
Where: Center for the Arts, Homer
Cost: $22.50-$125, available online here
Event Info
See the Center's covid protocols here.
Because of Him
The Robert Cray Band returns to Central New York to promote its latest release, "That's What I Heard," which Cray describes as "Funky, cool and bad." Since the 1980s, Cray has been one of blues music's foremost proponents – his soulful voice and funky guitar style has fueled hits such as "Smokin' Gun," "Right Next Door" (Because of Me)" and "Time Makes Two" – and he also has been a regular participant at Eric Clapton's Crossroads Guitar Festival (not to mention a member of Otis Day and the Nights in "Animal House"). Learn more here.
When: 8 p.m. Sunday
Where: Center for the Arts, Homer
Cost: $46-$50, available online here
See the Center's covid protocols here.
Dynamic Duo
Joe and San – the duo of Joe Arcuri and Sandrinne Edstrom – will come to Ithaca's south hill to showcase their acoustic chops, luscious harmonies and insightful lyrics. Arcuri is known for playing bass with Driftwood and many other regional bands, while Edstrom has an impressive stage, dance and musical background. Michael Schuler will round out the lineup on bass. Finger Lakes Flatbread will sell wood-fired pizza throughout the night.
When: 5-8 p.m. Friday (postponed from Thursday)
Where: South Hill Cider
Cost: free
Whale of a Project
The Cornell Department of Music presents the Whale Listening Project, a series of events taking place that celebrate the 50th anniversary of the groundbreaking multi-platinum recording "Songs of the Humpback Whale" and explore the meanings of whale songs through a new sonically immersive installation piece and a collaborative workshop.
When: Through Sunday
Where: various locations
Cost: free
Folk Blues
Chris Smither makes a welcome return to Ithaca, bringing his trademark bouncy guitar rhythms, unprententious vocal style and incisive lyrics. Best known for his song "Love You Like A Man," which Bonnie Raitt covered, Smither has been releasing music since 1972 – his latest is "More From the Levee," his 18th album, which is a follow-up to his acclaimed 2013 release, "Still on the Levee." Learn more here.
When: 8 p.m. Friday
Where: Hangar Theatre
Cost: $35, available online here.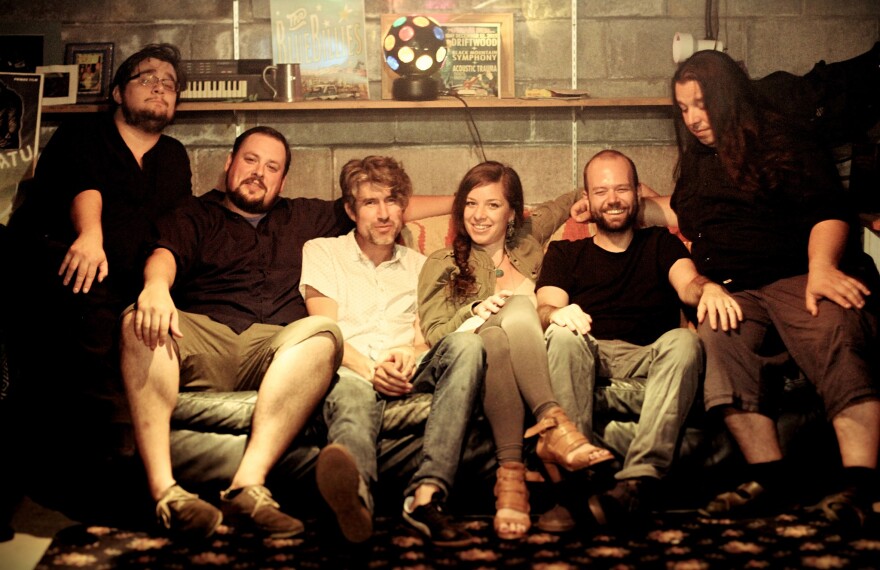 Hearing a Symphony
The Friday Night Farm Jams series continues with Black Mountain Symphony, who draw on a variety of influences ranging from classical and new age to blues and rock. The six-piece band blends "baroque classical violin and haunting folk-tinged ballads to funk-rock drums and hard-hitting dance numbers" to create its eclectic sound. Learn more here.
When: 6:30-8:30 p.m. Friday
Where: Finger Lakes Cider House
Cost: $5
Fox U Bet
Sly Fox and the Special Hustlers roll into Ithaca, with a sound described as "heavy voodoo blues over swampy funky grooves." The Albany-based band has shared stages with SmashMouth, Robin Trower and Kenny Wayne Shepherd; John Popper of Blues Traveler called them "one of the best bands I've seen in a long time!" Planet Smith will open the show; the funk-blues-rock band includes Bob Allen Bricks on drums, Paul Tauterouff on guitar, Donny Wilkins on keyboards, and Ken Wilson on Bass.
When: 8:30 p.m. Friday
Where: The Dock
Cost: $10
Bringing the Heavy
Ithaca Underground and Astralands will join forces to present a heavy rock show in downtown Ithacan headlined by Wizard Rifle, who will playing an off-date from their current tour with The Sword. Hailing from Portland, Oregon, Wizard Rifle draws "from the sounds of Lightning Bolt, Karp, Sonic Youth, Black Sabbath and High on Fire... (and) cannot sit still sonically for more than two seconds." Check them out here. Local psychedelic rockers Spazzare and Syracuse sludge-grinders Fed Ash will round out the lineup. Masks are required.
When: 7 p.m. Friday
Where: Chanticleer Loft
Cost: $8, open to all ages
Heck of a Harvest
Chateau Dusseau will host its Harvest Festival over three days. The lineup includes Madd Daddy at 5 p.m. Friday; Sandra Esparza at 1 p.m. Saturday, Tru Bleu at 3 p.m. Saturday, and Sam I Am at 3 p.m. Sunday.
When: Friday-Sunday
Where: Chateau Dusseau, 5292 Erron Hill Road, Locke
Cost: free
Denizens Debut
Albany-based Under The Den comes to downtown Ithaca. The lineup includes Ben "Ideas" Zoleski on guitar, Madison Lewis on vocals, and twin brothers Jay and John Nowak on drums and bass. "We like to have fun," notes the band on its Facebook page. Check out their 2020 EP, "All That Talk," on Spotify, iTunes and BandCamp.
When: 10 p.m. Friday
Where: The Range
Cost: $5
Fall Fun
Bright Leaf Vineyard will host its second annual Harvest Festival, featuring food vendors, games, activities, wine tasting, and live music from the Ampersand Project's Jeremy James (12-3 p.m.) and Madd Daddy (4-7 p.m.)
When: 12-7 p.m. Saturday
Where: Bright Leaf Vineyard, King Ferry
Cost: $5
For The Children
The Analogue Sons will be featured at a fundraiser for the Trumansburg Community Nursery School, with food available from the Cosmic Crustacean Food Truck. "We will donate $1 from each glass and $3 from each bottle of wine purchased, as well as all proceeds from our special kid-friendly Harvest Punch. Chateau LaFayette Reneau will then match all donation proceeds to support the needs of early childhood development at TCNS."
When: 2-5 p.m. Saturday
Where: Chateau LaFayette Reneau, 5081 State Route 414, Hector
Cost: donations welcome
Let's Dance
Rose and The Bros return to South Hill Cider, showcasing their energetic blend of Cajun, Zydeco and country influences on original and traditional tunes. The lineup includes Rosie Newton, Paul Martin, Greg Evans, Angelo Peters, Steve Selin and Sally Freund; they're currently working on their second record as a follow-up to their self-titled debut album. Joining them for this show will be Donna the Buffalo's Tara Nevins on frattoir (rubboard).
When: 5-8 p.m. Sunday
Where: South Hill Cider
Cost: $10
World Music
The Cornell Concert Series presents a virtual concert from composer, trumpeter, santur player, and vocalist Amir ElSaffar. With a classical background, he is also conversant not only in the language of contemporary jazz, but has created techniques to play microtones and ornaments idiomatic to Arabic music, using techniques from Iraqi maqam music to create an innovative approach to harmony and melody.
When: This concert will be available for free through Sept. 29
Where: Online at cornellconcertseries.com; you will not need an account to view the video during this time.
Cost: free
Music in the Air
There are a bunch of cool shows around the area in the coming days; most are free of charge except where noted.
Friday
Raedwald is at Two Goats Brewing at 5-7 p.m.
SOLID plays at the Bernie Milton Pavilion on the Commons at 6 p.m.
Smoking Loons are at Grist Iron Brewing at 6-9 p.m.
Jess Novak is at Homer Hops at 6 p.m.
Steve Daniels and Friends are at Cortland Beer Company at 8 p.m.
Weekend at Bernie's are at Treleaven Winery at 6-9 p.m. ($5)
Saturday
Under Construction are at Americana Vineyards at 2-4:30 p.m.
Greg McQuade (1p.m.), Peg Newell (3:30 p.m.) and the Vectors (6 p.m.) are at Homer Hops for its Harvest Festival
Bradford Allen is at Summerhill Brewing at 5-8 p.m.
The Green Holler Band is at Two Goats Brewing at 5-7 p.m.
Jessie Gray is at Brookton's Market at 5 p.m.
Jen Cork is at Brewer's Café and Taproom in Dryden at 6-8 p.m.
Mike Stark and Zaun Marshburn bring MSZM to the Westy at 6-8 p.m.
People People are at Cortland Beer Company at 8 p.m.
NEO Project is The Dock at 8 p.m.
Stereopticon is at Grist Iron Brewing at 6-9 p.m.
Sunday
The Far Trio is at Treleaven Winery at 1-4 p.m.
Daphne Braden is at Grist Iron Brewing at 2-5 p.m.
The Yardvarks are at Americana Vineyards at 2-4:30 p.m.
The Gabe Stillman Band is at Two Goats Brewing at 4-6 p.m.