14+ shows to see this week: Oct. 2-5
Lyle Lovett and Chris Isaak team up for a night of conversation and music at the State Theatre, of Ithaca banjo master Alison Brown comes to the Center for the Arts of Homer, Crunk Witch returns to Press Bay Court, and Pocket Bandits make their debut at the Downstairs. Plus, "Stop Making Sense" continues its run at Cinemapolis, and the Silent City Film Festival debuts at Deep Dive!
Also, this week we'll be doing our fall membership drive for The Route, WITH, WRUR, WEOS, WXXI, and all of our affiliated platforms. We're a non-profit media organization so please consider supporting our work by becoming a sustaining member if you value the content that we offer online and on the air. Contributions from local members are our largest source of funding – you can support The Route online here!
Note: This week's shows are listed in chronological order in two sections below.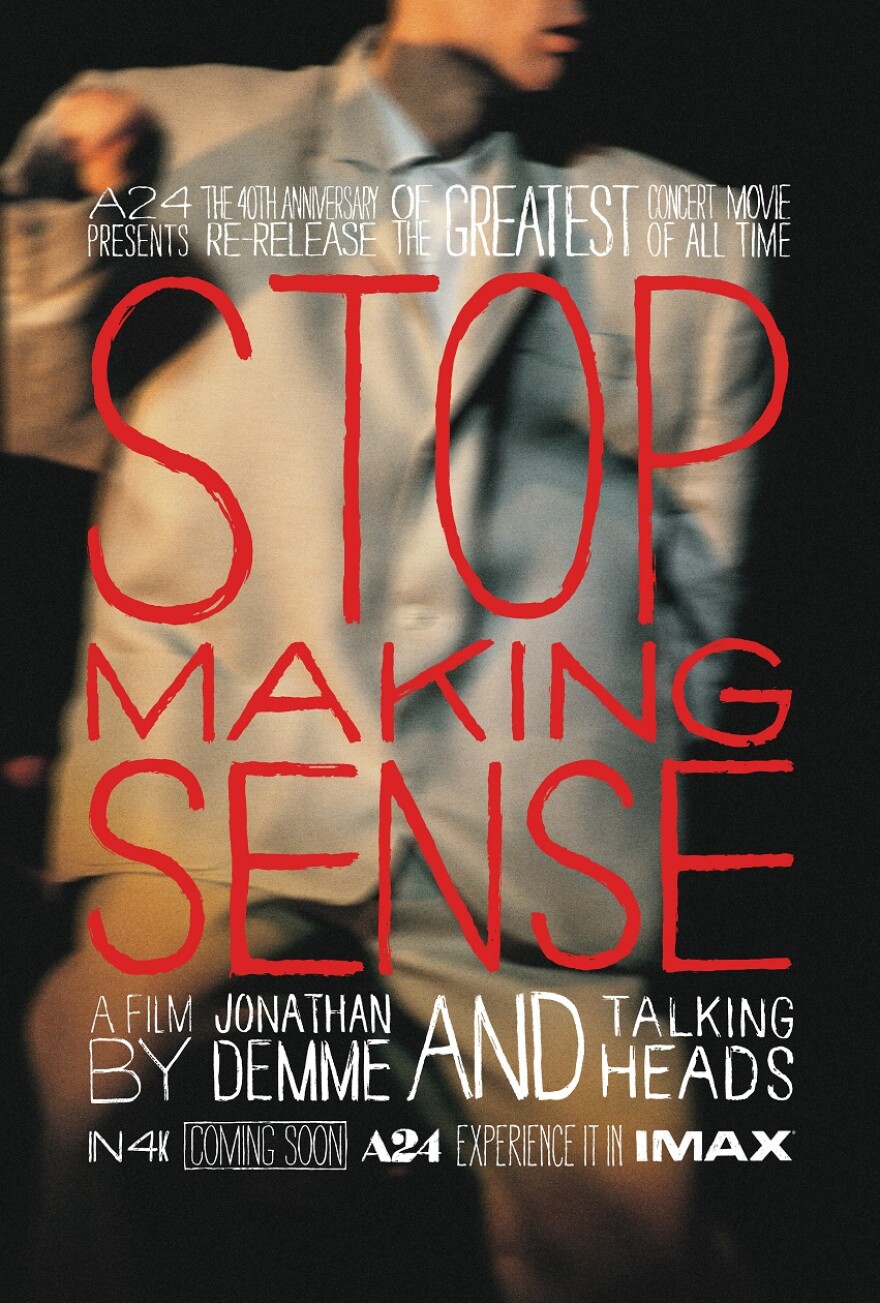 Once in a Lifetime
Opening at Cinemapolis Friday is widely considered the greatest concert film of all time. "Stop Making Sense" brings to the screen "Talking Heads at Hollywood's Pantages Theater in December 1983: David Byrne, Tina Weymouth, Chris Frantz, and Jerry Harrison, alongside an ecstatic ensemble of supporting musicians. Renowned filmmaker Jonathan Demme captures the band at their exhilarating best, in this new and complete restoration for the film's 40th anniversary."
When: runs through Thursday
Where: Cinemapolis
Cost: $7-$11
MAQ Attack
South Hill Cider's Monday Night Jazz series continues this week with MAQ, a quartet that performs everything from classic and modern jazz to Brazilian bossa and folk music. The lineup includes Eric Aceto (violin), Harry Aceto (bass), Doug Robinson (guitar, vocals), Chad Lieberman (accordion), and Steve Pond (percussion). MAQ plays the 1st and 3rd Mondays of each month.
When: 5:30-8:30 p.m. Monday
Where: South Hill Cider
Cost: free
Pressure Drop
Angelo Paradiso (New Planets, Living Myths, Big Mean Sound Machine, Swamp Kids) continues his weekly residency at Deep Dive, joined by special guest FABI, the Miami-based multi-instrumentalist who has made the Finger Lakes his summer home for the past few years.
"Angelo Paradiso (multi-instrumentalist/mad scientist) brings you a VS battle that will make that tush pop and jaw drop. Man vs. Machine: Angelo invites a rotating cast of characters that range in instruments, names, and forms to battle machine sequences, modular synths and all things sample-able. All styles from all places. All things funky. No computers, just humans. Bring your dancing shoes, your party hat, and dial 1-800-NOREQUESTS."
When: 8:30 p.m. Monday
Where: Deep Dive
Cost: $10
Songs & Stories
The State Theatre will host "Lyle Lovett and Chris Isaak: In Conversation and Song," with the two esteemed songwriters sharing the stage for a night of stories and music. Lovett and Isaak (who replaced John Hiatt after he was injured in a hiking accident) will be kicking off their tour in Ithaca, which means they'll be finding out new things about each other along with the rest of the audience. Expect big hits, deep cuts, and lots of memorable tales from these two stellar Americana artists, who have been making memorable music since the 1980s.
When: 8 p.m. Tuesday
Where: State Theatre of Ithaca
Cost: $49.50-$89.50, available online here and at the State box office
'Mid-18th-Century Modern'
Cornell's Midday Music for Organ series continues as Annette Richards performs "Mid-18th-Century Modern," featuring works by C. P. E. Bach and J. L. Krebs.
When: 12:30 p.m. Wednesday
Where: Anabel Taylor Chapel, Cornell
Cost: free and open to all
Going Big
The Deep Dive House Big Band continues its every-other-Wednesday residency under the direction of local jazz professor Greg Evans, who teaches at Ithaca College and Cornell University and plays drums with Rose and the Bros and other area bands. The DDBB will feature players from Cornell University, Ithaca College, and the greater Ithaca Community every other Wednesday for the coming months.
When: 8-10 p.m. every other Wednesday
Where: Deep Dive
Cost: free; ages 18 and up
People Get Ready
Deep Dive will debut "The People's Jam," a new jam night hosted by saxophonist Drew Martin every other Wednesday right after Deep Dive House Big Band. A native of the Bronx, Martin is currently a jazz studies major at Ithaca College and has played a key role in the local music scene over the past couple of years.
When: 10:30 p.m. every other Wednesday
Where: Deep Dive
Cost:
Paying Tribute
The Cortland Country Music Park will present "Queens of Country Music," a tribute show performed by Darlene DeMaille, who was just inducted into the NYS Country Music Hall of Honor, and Terri Whitney, one of three inducted into the NYS Country Music Hall of Fame in 2022. Backed by a band consisting of steel, bass, rhythm, and drums, the pair will perform songs by Loretta Lynn, Kitty Wells, Patsy Cline, Tammy Wynette, Lee Ann Womack, Sara Evans, and many more. Dinner will be turkey with all the trimmings and will be served at 12:30 p.m., followed by the show at 2 p.m.
When: 12:30-4:30 p.m. Thursday
Where: Cortland Country Music Park-Campground, 1824 NY-13, Cortland
Cost: $35; for reservations, call (270) 315-2038
Film Festivities
The Silent City Film Festival will debut this week at Deep Dive. Running Thursday-Sunday, the festival is "dedicated to the virtual and visual relationship of music and film." Single-day and weekend passes are available.
From the festival organizers: "For more than 100 years music and film have experienced a thriving and constantly evolving relationship. From the live musical accompaniment of silent films at the turn of the 20th century, the proliferation of popular music woven into the fabric of feature films, to the explosion of music videos in the 80s, to today: a world where it has never been more accessible to set music to images in motion as we move through the world armed with pocket-sized film studios, cameras, software, and millions of hours of audio at our fingertips.
Our goal with this festival is to treat attendees to an exciting blend of feature-length and short films, video art and music videos, roundtable discussions, exhibits, and performances... all exploring the interconnectivity and accessibility of music and motion pictures.
"And to top it all off, Silent City Film Festival will be anchored by Ithaca's history as the Silent Era's "'Hollywood Before Hollywood.' Screenings of silent films with live accompaniment, talks, an engagement with history and more." Check out the website for the complete schedule!
When: Thursday-Friday
Where: Deep Dive
Cost: $12-$34, available online here
Dynamic Duo
South Hill Cider's Community Concert Series continues with the Alexander Fals + Hayley Dayis duo. They're Finger Lakes-based musicians "with multi-cultural inspirations and fusion of instrumentation. African harps handmade in Colombia make rhythmic backdrops for original folk, indie, and traditional songs:
When: 5:30-8:30 p.m. Thursday
Where: South Hill Cider
Cost: $5 suggested donation for the band
Be a Part of the Magic!
The Ithaca Festival will host its annual public meeting in Center Ithaca, and everyone is invited. "Learn how to be a part, share ideas, and participate. Ithaca Festival is your festival, be a part of the magic.
"Engage with the Ithaca Festival Board members and Directors as we delve into the highlights of 2023 and brainstorm for 2024. If you're passionate about shaping the Festival's future, this is your chance – we're also actively seeking new board members. Join us at the public meeting to see how you can be a part of the magic and contribute your ideas. See you there!"
When: 5:30-6:30 p.m. Thursday
Where: Center Ithaca
Cost: free
Songs to Share
Singer-Songwriter Night returns to Hopshire Farm and Brewery in Dryden. Hosted by Driftwood's Dan Forsyth on the first Thursday of every month, "this is an opportunity for songwriters to share their craft with each other. Bring a song you are working on, it doesn't have to be complete, to get input from your peers. All are welcome to come listen respectfully."
When: 6-8 p.m. first Thursday of every month
Where: Hopshire Farm and Brewery
Cost: free
In the Pocket
Local trio Pocket Bandits will play a set of their original material and covers before being joined by Mandy Goldman for a set of her songs.
"From the organ trio tradition of Jimmy Smith and Soulive, please welcome Pocket Bandits! Joe Massa (guitar), Samuel B. Lupowitz (keys), and Simon Bjarning (drums) blend funk, prog, jazz, rock and more into genre-bending originals and fresh, groovy takes on classics."
"Mandy Goldman is a singer, songwriter, and vocal coach based in Ithaca, NY. Mandy has been deeply involved in the Ithaca music scene for the last ten years, singing with Maddy Walsh and the Blind Spots, NEO Project, Alan Rose and the Restless Elements, and her band with her husband Samuel B. Lupowitz, Noon Fifteen. Her debut solo album, 'Balance of the Trade,' is available now on all platforms."
When: 7 p.m. Thursday
Where: Deep Dive
Cost: $10 or pay what you can
Read a recent interview with Mandy Goldman here!
Welcome Return
Hailing from Presque Isle, Maine Crunk Witch describes itself as a "nerdy bass-music duo." Comprising Brandon Miles and Hannah Collen, the band has been praised for its high-energy style. The Big Takeover lauded its "big sound showcasing a mastery of production and vocal fireworks" and a reviewer for DC Underground said the pair produced "the most energetic live show I've seen in years." Check out some music here!
Crunk Witch returns to downtown Ithaca on Thursday, and once again, they'll share the show with local favorite Teencat.
When: 7 p.m. Thursday
Where: Hair•Color•Art, Press Bay Court, W. Green St.
Cost: $10 suggested
On Banjo
Alison Brown comes to CNY to promote her new album, "On Banjo," which comprises a set of original compositions that explore the range of the band with the help of collaborators Steve Martin, Kronos Quartet, Sharon Isbin, Anat Cohen, Sierra Hull, Stuart Duncan and members of the Alison Brown Quintet.
"One of the most multi-faceted minds in roots music, Alison Brown is a GRAMMY-winning musician, GRAMMY-nominated producer, former investment banker (with an AB from Harvard and an MBA from UCLA), and co-founder of The Compass Records Group which is celebrating its 30th anniversary in 2023.
"Although Alison began her musical career as a teenager in the Southern California bluegrass scene, she has built a reputation as one of today's most forward-thinking and innovative banjo players. She is known for taking the instrument far beyond its Appalachian roots by blending bluegrass and jazz influences into a sonic tapestry that has earned praise and recognition from a variety of national tastemakers including The Wall Street Journal, CBS Sunday Morning, NPR, and USA Today."
When: 8 p.m. Thursday
Where: Center for the Arts of Homer
Cost: $31-$35, available online here
More Shows
Brett Beardslee is back with the blues at Rasta Ranch Vineyards at 5-8 p.m. Mondays
The Downstairs hosts Poetry & Prose Open Mic Night at 7 p.m. Monday
The Diana Leigh Quartet plays the Firelight Live series at Firelight Camps at 6-8 p.m. Tuesday
Raedwald Howland-Bolton will play acoustic blues at Bike Bar Ithaca at 7 p.m.
The Downstairs hosts Open Mic Standup Comedy Night at 7 p.m. Tuesday
The Center for the Arts in Homer hosts Open Mic Night at 7 p.m. Tuesdays
Auburn Public Theatre hosts Open Mic Night at 7:30 p.m. Tuesdays
The Westy hosts its Open Mic Night at 9 p.m. Tuesdays
The Northside String Band is at the Trumansburg Farmers Market at 4-7 p.m. Wednesday
The Argos Grove Trio plays jazz at the Argos Inn at 5:30-7:30 p.m. Wednesdays
Oliver Burdo is at the Stonecat Café's Pub Night at 6-8 p.m. Wednesday
Rich Evans is at Scale House Brewing at 6-8 p.m. Wednesday
Cisco and Tobias of the Soul Benders are at Lucky Hare Brewing at 6-8 p.m. Wednesday
DJ Dale hosts Trivia Night at Revelry Yards at 7-9 p.m. Wednesdays
Sacred Root Kava Bar and Tea Lounge hosts its weekly Open Mic Night at 7 p.m. Wednesday
Salsa Ithaca presents the weekly "Salsa Wednesdays" dance event at the Range at 8 p.m. Wednesday
Joe Lule is at Two Goats Brewing at 5-8 p.m. Thursday
Scale House Brewery hosts Open Mic Night at 6-8 p.m. Thursday
Raedwald Howland-Bolton is at Atwater Vineyards at 6-8 p.m. Thursday
Aiken & Nadge are at Cortland Beer Company at 6 p.m. Thursday
Benny T brings his Open Mic Posse to The Ridge in Lansing at 6:30 p.m. Thursday
Atlas Bowl in Trumansburg hosts the weekly Vinyl Showcase at 7-10 p.m. Thursdays
DJ Dale hosts Karaoke Night at the Upstairs at 10 p.m. Thursday