11+ shows to see this week: Oct. 23-26
Acoustic supergroup Hawktail + Väsen come to the Center for the Arts of Homer, Practice at Presents hosts a cool four-band show at Deep Dive, the Headhunters bring their 50th-anniversary tour to Deep Dive, and the Indigo Girls return to the State Theatre for a sold-out show. Plus, "Start Making Sense" and "Joan Baez: I Am a Noise" continue their runs at Cinemapolis!
Note: This week's shows are listed in chronological order in two sections below.
Get Rhythm
Dave Davies RhythMakers return for Jazz Mondays, as Dave Davies, Doug Robinson, Brian Earle, and Chad Lieberman will play classic jazz, blues, originals, and more.
When: 5:30-8:30 p.m., second and fourth Mondays of each month
Where: South Hill Cider
Cost: free; donations welcome
String Theory
The Northside String Band will host Deep Dive's monthly "traditional Southern old-time fiddle music jam with a great groove. Join us on the deck to listen or join in! Every last Tuesday of the month!"
When: 6-8 p.m. Tuesday
Where: Deep Dive
Cost: free
Strutting Your Stuff
SingTrece's Open Mic for Singers, Rappers & Poets returns to the Downstairs on the fourth Tuesday of every month. "Come on down for this intimate and supportive open mic. Check out some of Ithaca's favorite artists and discover someone new. Sing with tracks or a cappella, play acoustically, or read poetry!"
When: 6:30 p.m. Tuesday
Where: The Downstairs
Cost:
Sonic Playpen
Cornell ReSounds PlayPen: new instruments/new works will host Mark Stewart and the EZRA quartet.
"Founded by award-winning composer and multi-instrumentalist Jesse Jones, EZRA is a collective of classical, jazz, rock, and bluegrass musicians focused on the creation of genre-crossing and style-inclusive new music. Though the instrumentation and personnel of the group fluctuates, EZRA's core ensemble consists of world-renowned mandolinist Jacob Jolliff, banjo virtuoso Max Allard, and bassist extraordinaire Craig Butterfield, with Jones on guitar- and keyboard-related instruments. Mark Stewart is a multi-instrumentalist, singer, song leader, composer, improviser, and instrument designer who has been heard around the world performing old and new music. Since 1998 he has recorded, toured and been Musical Director with Paul Simon. Mark is a co-founder (w/ Karen Curlee) of soundstewArt, a company that designs and builds immersive musical environments & instruments for all to play upon while presenting workshops to facilitate just that."
The concert will also feature a rebuilt experimental keyboard originally created in the 1960s by David Rothenberg and Robert Moog Ph.D. '65, plus several newly built instruments.
When: 7 p.m. Tuesday
Where: Barnes Hall Cornell
Cost: free and open to all
Three + Two
The Center for the Arts of Homer will host the acoustic supergroup Hawktail + Väsen, which features the three members of Hawktail – Brittany Haas, guitarist Jordan Tice, and bassist Paul Kowert – joining forces with Väsen – the long-running Swedish folk band of Olov Johansson (nyckelharpa) and Mikael Marin (viola).
"Hawktail + Väsen is the culmination of decades of influence and musical relation. Brittany, Jordan and Paul met while in college on the east coast, jamming on Väsen tunes and seeing their concerts whenever possible. These experiences proved highly formative to their musical identities and Väsen continues to inspire their direction.
"Their music was highly relatable, yet also felt strange and new. It was exciting getting into their albums, and fun to play their tunes together," says bassist Paul Kowert. "Meeting someone else who also knew their tunes was exciting. Playing them together: that was even more exciting."
"There's a strong tie between their respective fiddle traditions and each band's respective approach to tune-writing that makes this collaboration a natural fit. The opportunity to perform together is something that both bands have been looking forward to for years.
"The members of Hawktail are brilliant musicians I met when they were teenagers coming to Väsen-gigs on our US tours," says Väsen's Olov Johansson. "It's been amazing to follow their path and now we get to create new Hawktail-Väsen music together!"
Syracuse-based quartet Harmonic Dirt will play a set of acoustic Americana before the show in the Center's Community Room at 6:30-7:30 p.m.
When: 8 p.m. Tuesday
Where: Center for the Arts of Homer
Cost: $24-$28, available online here
East Coast Sounds
Practice at Presents returns to Deep Dive with another stacked show, this one featuring Shep Treasure (Brooklyn), Night of the Iguana (Ithaca), charlie (Tampa, Florida), and Hello Shark (Kittery, Maine)
When: 8 p.m. Tursday
Where: Deep Dive
Cost: $10
On the Rise
Ithaca College's Angela and William Haines Young Concert Artists Residency will present Risa Hokamura, violin, and Albert Cano Smit, piano, for a concert of Bach, Beethoven, Paganini, Ravel, Saint-Saëns, and Ma Sicong.
"The Angela and William Haines Young Concert Artists Residency was established at Ithaca College in 2019 and aims to bring recent winners of the prestigious annual Young Concert Artists International Auditions to our campus once every semester, to perform for and work with our students and college community." The New York Times noted that "Young Concert Artists' track record for spotting the best new talent in classical music is legendary."
When: 7 p.m. Wednesday
Where: Hockett Family Recital Hall, Ithaca College
Cost: free and open to all
(Note: Hokamura will also give a master class at 6:30 p.m. Tuesday in the Hockett Family Recital Hall; it's also free and open to all)
Melancholy, Baby!
Not From Wisconsin continues its monthly "Midweek Melancholy" residency at the Downstairs, with NFW's Angela Yantorno (violin, vocals), Dave Yantorno (guitar, vocals), and John Young (bass) joined by special guest and frequent collaborator Rich DePaolo, a longtime stalwart of the Ithaca music scene.
When: 8 p.m. Wednesday
Where: The Downstairs
Cost: $10 or pay what you can
Spooky Sounds
The Galactic Escort Service returns to Deep Dive for a special Halloween edition of Galactic Wednesday, with Ashley Ickes, Tenzin Chopak, Josh Oxford, Emmett Scott, and Michael Schuler ready to whip up some haunting grooves. The show also will feature screenings of "Nosferatu" and "Salad Fingers" providing a visual backdrop to the music, as well as an art show featuring work by August Moschitto beginning at 8 p.m.
"Every other Wednesday, a core group of Ithaca-based musicians join forces to create live improvised music on the spot. The group projects both obscure and classic films to aid in enhancing the experience as both audience and performers embark into the unknown spaces and places of the sonic realm. Guaranteed no two shows are the same, come be a part of the excitement of musical creation in real-time."
When: 9 p.m. Wednesday
Where: Deep Dive
Cost: $10
Words + Music
Cornell's "Midday Music in Lincoln" series will host a conversation with Malian singer-songwriter Rokia Traoré, in conjunction with the Department of Performing and Media Arts' upcoming presentation of Toni Morrison's "Desdemona," featuring Traoré's music.
(Note: Traoré appeared at the Finger Lakes GrassRoots Festival in 2002.)
When: 12:30 p.m. Thursday
Where: Lincoln B20
Cost: free and open to all
Solo Flight
"Mandy Goldman is a singer-songwriter and vocal coach in Ithaca, NY. Mandy has been the lead vocalist in Noon Fifteen since 2016, was a backing vocalist and rhythm guitarist in Maddy Walsh and the Blind Spots from 2020-2023, and has been seen as a sub or backing vocalist in Alan Rose and the Restless Elements, NEO Project, and the Jeff Love Band. After playing in the Finger Lakes region and beyond for the last decade, Mandy is striking out on her own with soulful, introspective acoustic tunes. Heralded as a 'vocal powerhouse' (Ithaca Journal), 'the real deal' (Finger Lakes Music Press), and 'incredibly charismatic and skilled on the mic' (Music Mecca), Mandy brings an authentic stylistic blend to her solo music, dipping her toes into the waters of R&B and country. Her debut solo album, 'Balance of the Trade,' was released on August 13, 2023 and is now available for streaming on Bandcamp, Spotify, Apple Music, Amazon Music, and more."
When: 5-7 p.m. Thursday
Where: Two Goats Brewing
Cost: free; donations welcome
Read a recent interview with Mandy Goldman here!
Blurring Boundaries
The Canaan Institute presents a house concert with the fantastically talented duo of Yann Falquet and Keith Murphy. The two "are masters of contemporary Celtic guitar, representing the compelling textures, harmonies, and rhythms that the guitar has brought to traditional songs and instrumentals since the Celtic music revival in the 1970s. As singers, they bring a rich blending of the Franco and Anglo song traditions.
"Falquet comes with a wealth of songs from the French-Canadian tradition. He is probably best known for his work with the Quebecois trio, Genticorum, with whom he has been a driving force since the group's inception." Check out some of his music here!
"Murphy is a highly respected traditional singer and brings a song repertoire filled with gems from his native Newfoundland as well as Quebec and his current home, Vermont. He was a founding member of the ground-breaking trio, Nightingale." Check out some of his music here!
When: 7 p.m. Thursday
Where: The Canaan Institute, Brooktondale; please RSVP to cinst.org/rsvp for directions and to reserve your seat at this private venue.
Cost: $30 donation at the door
Three of a Kind
Local bands Janet Batch and the Four-Bangers, Chickenwire Parachute, and Good Dog join forces for a night of Americana music in downtown Ithaca.
When: 7 p.m. Thursday
Where: The Downstairs
Cost: pay what you can
50 Years of Jazz Funk
Legendary jazz group The Headhunters return to Ithaca on their 50th anniversary tour.
"Few bands can boast a history as fortuitous and storied as The Headhunters. That history began back in 1973 when iconic musician Herbie Hancock formed the Headhunters - saxophonist/clarinetist Bennie Maupin, bassist Paul Jackson Jr., drummer Harvey Mason, and percussionist Bill Summers. What each member of the Headhunters brought to the table helped forge a timeless legacy and history that most bands can only dream of. Their blend of jazz with funk and rock reached millions of fans of jazz, rock, funk, and R&B alike. With over a million albums sold, the band's legacy would inspire musicians of every genre for years to come, be sampled by various rap artists throughout the '80s and '90s, and influence countless musicians' styles of playing today."
The Headhunters' impact remains a global phenomenon, and their time with Hancock proved to be a life-changing experience. The band has released 6 more full-length albums including "Thrust" in 1974 with the addition of drummer Mike Clark, struck out on their own in 1975, without Hancock's involvement, on "Survival of the Fittest" and "Straight from the Gate" in 1977.
"After a twenty-year hiatus, they reunited in 1998 with Hancock for the Verve album 'Return of the Headhunters' with Clark, Jackson, and Summers performing as the Headhunters actively touring until the March 2021 passing of Jackson. In addition to original members Clark and Summers, the lineup of the band consists of Chris Severin on bass, Donald Harrison on saxophone, and Kyle Roussel on piano."
The Comb Down Trio – which include keyboardist Jon Petronzio and drummer Ashley Ickes – will open the show.
When: 8 p.m. Thursday
Where: Deep Dive
Cost: $35 in advance, available online here; $45 day of show
Sold Out Show
The Indigo Girls return to Ithaca for a sold-out show at the State Theatre. The contemporary folk icons have been going strong since their debut album came out in 1989; Amy Ray and Emily Saliers recently released their latest album, "Look Long," which finds them reunited in the studio with their strongest backing band to date.
"We joke about being old, but what is old when it comes to music? We're still a bar band at heart," says Saliers. "While our lyrics and writing approach may change, our passion for music feels the same as it did when we were 25 years old." "As time has gone on, our audience has become more expansive and diverse, giving me a sense of joy," she adds.
When: 7:30 p.m. Thursday
Where: State Theatre of Ithaca
Cost: SOLD OUT!
Cool Collaboration
Tune in for a WPS livestream -- the first in quite a while -- featuring the collaboration between Charles Shriner and Thomas Bruce.
When: 8 p.m. Thursday
Where: Twitch livestream
Cost: free
SOUNDS ON SCREEN
Diamonds and Rust
"Joan Baez: I Am A Noise" continues its run at Cinemapolis."At the end of a 60-year career, legendary singer and activist Joan Baez takes an honest look back and a deep look inward as she tries to make sense of her large, history-making life, and the personal struggles she's kept private." Directed by Miri Navasky, Maeve O'Boyle, and Karen O'Connor
When: runs through Thursday
Where: Cinemapolis
Cost: $7-$11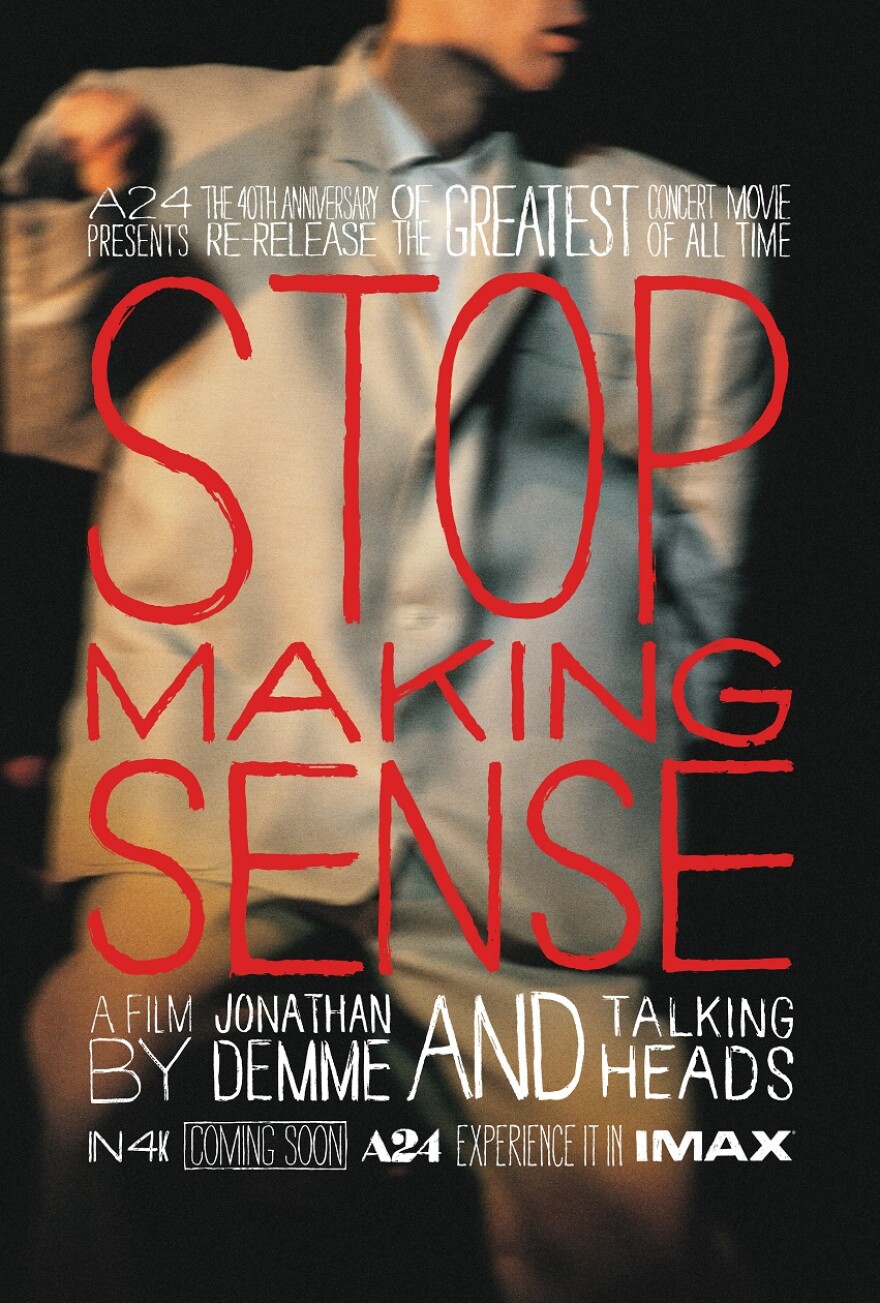 Once in a Lifetime
Continuing at Cinemapolis this week is widely considered the greatest concert film of all time. "Stop Making Sense" brings to the screen "Talking Heads at Hollywood's Pantages Theater in December 1983: David Byrne, Tina Weymouth, Chris Frantz, and Jerry Harrison, alongside an ecstatic ensemble of supporting musicians. Renowned filmmaker Jonathan Demme captures the band at their exhilarating best, in this new and complete restoration for the film's 40th anniversary."
When: runs through Thursday
Where: Cinemapolis
Cost: $7-$11
Spanning the Eras
"Taylor Swift | The Eras Tour" captures the recent record-breaking tour across the United States. "The cultural phenomenon continues on the big screen! Immerse yourself in this once-in-a-lifetime concert film experience with a breathtaking, cinematic view of the history-making tour.
"Please note, TAYLOR SWIFT | THE ERAS TOUR contains several sequences with flashing lights that may affect those who are susceptible to photosensitive epilepsy or have other photosensitivities."
When: returns Thursday night
Where: Cinemapolis
Cost: $13-$20
More Shows
Brett Beardslee is back with the blues at Rasta Ranch Vineyards at 5-8 p.m. Mondays
Auburn Public Theatre hosts Open Mic Night at 7:30 p.m. Tuesdays
The Westy hosts its Open Mic Night at 9 p.m. Tuesdays
Nate Marshall is at the Trumansburg Farmers Market at 4-7 p.m. Wednesday
The Argos Grove Trio plays jazz at the Argos Inn at 5:30-7:30 p.m. Wednesdays
Jesse Collins and Friends play jazz at Brookton's Market at 6-8 p.m. Wednesdays
Erich with an H is at Scale House Brewing at 6-8 p.m. Wednesday
Rev Ezra returns to Salt Point Brewing at 6:30-8:30 p.m. Wednesday
DJ Dale hosts Trivia Night at Revelry Yards at 7-9 p.m. Wednesdays
Sacred Root Kava Bar and Tea Lounge hosts its weekly Open Mic Night at 7 p.m. Wednesday
Salsa Ithaca presents the weekly "Salsa Wednesdays" dance event at the Range at 8 p.m. Wednesday
Richie Stearns and Friends return to South Hill Cider at 5-8 p.m. Thursday
Scale House Brewery hosts Open Mic Night at 6-8 p.m. Thursday
The Rev Ezra Trio is at Atwater Vineyards at 6-8 p.m. Thursday
Jesse Collins and JC3 play jazz at Bike Bar Ithaca at 6-8 p.m. Thursday
The Brewhouse Blues Jam returns to Hopshire Farm and Brewery at 6-8 p.m. Thursday
The David Graybeard Band is at Cortland Beer Company at 6 p.m. Thursday
Benny T brings his Open Mic Posse to CrossRoads in Lansing at 6:30 p.m. Thursday
Atlas Bowl in Trumansburg hosts the weekly Vinyl Showcase at 7-10 p.m. Thursdays
DJ Dale hosts Karaoke Night at the Upstairs at 10 p.m. Thursday