Taking Risks: Ariel Arbisser releases her debut solo album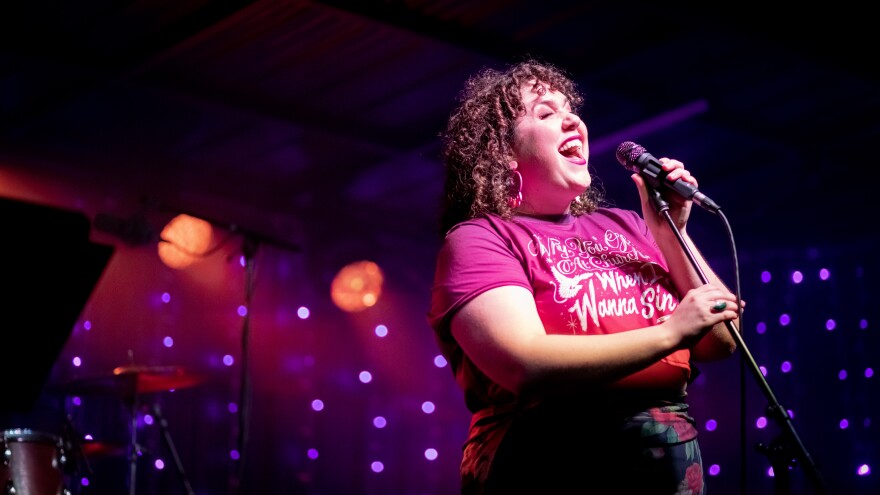 As one of the most versatile vocalists on the Ithaca music scene, Ariel Arbisser has sung everything from funk, soul and R&B to rock, pop and a cappella. She's also a talented actor, performing with several area theater groups over the past decade, and a busy teacher, coaching students around the country through her vocal workshop "Sing It Like You Mean It" and locally at the Actor's Workshop of Ithaca.
Now, with her debut solo album "Risk of Love," Arbisser is stepping out with a collection of contemporary pop songs that showcase her powerful voice and deeply personal lyrics. A September show at the Ithaca Farmers Market celebrated the arrival of the new CD, which was released online on Oct. 15.
In a pair of interviews, Arbisser talked about the new album, her approach to songwriting, the Ithaca music scene, and much more.
Q: You've been working on the album for a while – what enabled you to finally push it across the finish line?
Ariel Arbisser: Yeah, I've been working on this album for a long while. It was recorded over three years ago, but I sat on it while dealing with life and mental health struggles. And then this global pandemic happened and put a hard stop on whatever momentum I had almost found again.
I don't think my experience of lockdown was unique. Especially for those of us in the performing arts, we had some kind of reckoning. A forced pause on all distractions led us to face what was working and, more importantly, what wasn't working in our careers and in our relationships with ourselves. That's not to mention our relationship with the world and our communities.
It took a huge amount of effort, therapy, and many moons to regain my footing and find my way back to myself and to "Risk of Love." In a lot of ways, "Risk of Love" is my redemption story. I've battled so many demons to get to where I am now, it's awesome looking back at the journey. I couldn't have gotten here without the support of my family, close friends, and the understanding of the team of creators involved in the making of this album.
Q: Did you enjoy the recording process, both in the studio and at home?
AA: I loved every step of this process, but a few pieces were exceedingly uncomfortable. I didn't exactly know where this was going to end up when I got started. I'd never organized an instrumental recording session before and had a lot of guidance from recording engineer Rob Natoli working out of Subcat Studios in Syracuse. I felt indecisive about which engineers to work with on the production side and decided to stick with people I knew and trusted from the a cappella/vocal music world.
When it came to the vocals themselves, I had much stronger opinions about what I wanted. I knew exactly what I expected from a vocal recording session and who I wanted to work with. Throughout the album, there are truly yummy vocal backing moments, arranged by my dear friend and co-writer Bri Holland and me. I've worked with so many incredible engineers during the years leading up to the creation of "Risk of Love" but I strongly believe Bri gets the best out of me in the studio. She came out from Los Angeles to engineer the vocal sessions here in Ithaca and tracked all of the vocals you hear on the album – all performed by me. There's some kind of magic that happens when Bri and I are in a room together, so working with her was a given from the start.
This is my first full-length solo album. It was wild to come from the world of a cappella where I've been a part of many successful albums, but I virtually never made a decision without the input of a few other people.
One of the biggest challenges of this album was learning to trust myself and my own instincts. Though I sometimes felt unsure or lonely, there were some very clear advantages to that experience. I had license to go as big as I wanted. I took a lot of risks that I don't know if I could've convinced a whole group to take with me.
Q: Can you talk about your songwriting process? Do you come up with the lyrics first or the music?
AA: My songwriting process is very collaborative. I'm not especially capable (or at least not very practiced) on any instrument, so I tend to write lyrics, melody, and often have an idea of the shape of the song in mind and maybe a couple of chords, but I work with other writers and musicians to flesh out the arrangements. So far that's been an amazing experience and elevated every song.
Of course, that's partly due to the amazing people I've worked with to create "Risk of Love." Local musician Harry Nichols and L.A.-based Bri Holland have been two of my favorite people to write with. I do well with intensive writing periods rather than quick one-off sessions. A big chunk of these songs was completed on a trip I took to L.A. a handful of years ago. Bri and I essentially locked ourselves in an apartment for four days and came out with gold.
I do a lot of freewriting. I keep a list of song ideas or phrases that I can sense have some energy behind them, and then I'll free-write using one of those ideas as a prompt. While this doesn't usually directly lead to a song, it helps me uncover the idea that I know is hiding in there. Sometimes I come back to those entries months or years later and am struck by something and a song just pops into my head.
And some of my favorite tunes on the album came out of nowhere – I was just going about my day, driving, eating cereal, or lying in bed, and suddenly a phrase and melody landed in my brain, fully formed.
The recording process for this album was interesting because some of the arrangements happened in tandem with the musicians learning the tunes. I had rough recordings or old demos, but a lot of what you hear on the record wasn't pre-determined. Usually, the guys in the band had to interpret some odd prompt from me to help us all get on the same page – the same emotional page.
Q: Any songs you're especially proud of on the record?
AA: I'm proud of every single bit of this album. I'm so proud I finished it. I'm proud I've worked so hard to feel comfortable and confident saying how proud I am. That part took me a long time. The process of creating this album helped me arrive there.
I certainly have some standout songs but they're all catchy and easy to sing along with. The songs that stand out most to me speak to very specific versions of myself who needed that song to exist.
"Love Me Back" was the first song I wrote, long ago, and still holds a lot of magic for me. "Still Breathing" is a plea to loved ones to maintain a connection despite depressive episodes that sometimes feel like they could eat me whole. It's a reminder to myself and to those I care for most that the love is still there, suspended, waiting to be nourished when I'm able to feel the warmth of it again.
"We Could Be" is the other side of that same coin: a reminder to someone at a low point to unload some of their burdens and let love in. We're all suffering in some way, but we're all on the same road together. "Gaslight" reclaims power from an emotionally abusive partner. "Riverside" is a determined call to my beloved Aunt Erie who passed away during the writing of these songs.
I've found writing and releasing this album, as slow as the process has been, to be intensely cathartic. So many wounds live in these songs. But by writing and releasing them into the world, I've also released the grip those painful experiences had on my body. I didn't expect that. Every song makes me feel open and strong. It's an experience I look forward to having again and again as long as I continue songwriting.
Q: Any connecting themes throughout the album?
AA: I didn't go into this album with an overarching theme in mind, but there is one. It's an album about connection – connection with your community, with family, with friends, and with lovers.
What's healthy, what's unhealthy? How do we reach each other through mental health struggles? And how it's all worth it to keep trying. How we must be kind to ourselves in order to find quality connections. I think when people hear it they might be surprised at how vulnerable the lyrics are.
Q: What inspired the title song, "Risk of Love"?
AA: My extended family has a biannual book club. A few years back we revisited a book I'd loved growing up: "Tying Rocks to Clouds: Meetings and Conversations with Wise and Spiritual People."
Reading it as an adult, it wasn't quite as mind-blowing as I remembered, but I was struck by comments from one of the rabbis interviewed. He said something about how deciding to love is one of the bravest acts because some part of us knows that loving is accompanied by guaranteed heartbreak. Someone will get sick or pass away, maybe there will be some form of betrayal, the relationship might sour and collapse – but it's worth it.
It occurred to me that I had never been so brave. The song came from that realization and the conversation I had with myself to move through that block. It's a conversation I'm still engaged in.
Q: Can you talk about your newest single, "Still Breathing"?
AA: "Still Breathing" is perhaps the most vulnerable song amidst an entire album centered around revealing intimate moments.
It's a glimpse into my lowest point. When I'm really depressed, one of the toughest things to grapple with is my connection with the people I love. It feels impossible to express or to receive love, but I desperately want the people I care about to hold on and wait until I can feel that warmth again. Though the song describes my personal experience of this feeling of distance, I believe most people who've struggled with mental illness can relate.
"Still Breathing" is a raw plea to our loved ones, begging to see us for where we've landed in our heaviest moments, asking for patience as we find our footing again, expressing an aching interest to feel connected, and granting ourselves the time and space it takes to get there. Until then, our hearts are still beating, we are still breathing, and we have to remember that we're doing our best. That last bit can sometimes be a hard truth to hold onto when it feels like you're drowning and don't know when you'll come up for air.
The process for arranging and recording "Still Breathing" is one of my favorite stories from the production of this album. I'd done demos of some of the tunes in the past where I picked out talented people I knew to play each instrument, threw them all in a room/recording booth, and came out with some solid demos. But there was a tinge of discomfort in the process due to the fact that we didn't have time to meld together as a group.
As I worked toward the full album recording, I decided on a different route. I picked one incredible musician who I trusted completely – Nate Marshall, who's the instrumental arranger, guitarist, and harmonica player on the album – and asked him to fill the band with musicians he believed in and already had a rapport with.
The result was magical – we ended up with Joey Arcuri on bass, Travis Knapp on keys, Nate on guitar, and Will Sigel on drums. Everything came together so quickly, it felt like it was meant to be.
When it came to "Still Breathing," I didn't have a full arrangement to offer them. Instead, I described a visual and sensory experience. In short: it begins with no light at all, heavy, weighed down. As the song progresses, beams of light begin streaming in.
By the end of the song, there's light dancing all around and a weightlessness sets in. I encouraged everyone to interpret that on each of their instruments and I believe, due in no small part to their trust in each other and my trust in them, we came out with a masterpiece that I could never have planned on paper.
Q: Who are some of your major musical influences? Did your family impact your musical tastes?
AA: I grew up in Iowa and my parents worked hard to surround my siblings and me with the performing arts. I don't remember a time when music was absent from my life.
The first concert I recall attending was Zap Mama, a Belgian artist with afro-pop beats and a big focus on voice and harmony. I consumed musical theater, learned a handful of instruments, and began studying voice early on. I had a lot of fun impersonating and mimicking singers. It wasn't until college that I started to find my own sound.
I could list so many musical influences – everyone from Etta James and Rilo Kiley to Audra McDonald, Beyonce, Florence Welch, and a hundred more – but sitting with this finished album, it's become clear how influential radio and pop music was for me growing up.
Many 1990s powerhouse female vocalists made a massive impact on me and it feels like "Risk of Love" could fit perfectly alongside the albums I still love from that period of my life. Nostalgia is not only in the music itself, but in the album experience.
I knew long before I finished "Risk of Love" that the lyrics needed to be presented to the listener somehow. It's just another way I perpetuated that '90s vibe – lying on my bedroom floor and studying the tiny lyrics printed in every CD I could get my hands on. Now people can do that with "Risk of Love," if that's their thing.
Q: When did you first start performing?
AA: My first solo was in fourth grade! Yes, I remember it. And yes, I remember what I wore. These things are very important.
I sang my entire life and joined every choir and musical I was able to be a part of in Iowa. Coming to Ithaca, N.Y., for college, I had large periods of aimlessness but vocal performance was always a constant.
Q: What drew you to perform with a cappella groups?
AA: It was midway through high school when I became acutely aware and slightly obsessed with collegiate a cappella. I downloaded any songs or albums I could find on Napster and Limewire with "a cappella" / "a capela" / "acapella" (etc.) in the title and soaked up every song.
When it came time to apply for college, I took the a cappella scene at each school into consideration. In the end, I was torn between McGill University and Cornell University and chose Cornell in no small part due to their thriving a cappella scene.
And thank goodness I did, because the group I joined there – The Cornell Chordials – had a massive impact on my choices and opportunities post college. I was invited by a professional all-male a cappella group to be a guest soloist while I was still at Cornell and that propelled me toward more significant, professional a cappella connections as soon as I left the Chordials.
Q: What are your thoughts on the Ithaca music scene, both as a performer and as a fan?
AA: For a long time after college, I sang with The Jeff Love Band while traveling constantly to teach, perform, and adjudicate a cappella competitions around the country. I felt self-conscious telling people that I was based in Ithaca rather than some major metropolis.
There was this invisible pressure to move. I spent some time exploring other cities, planning to pick one and go, but in the end, I realized I'd be silly to leave the vibrant and supportive arts community we have here. Why start from zero somewhere new just because it sounded good? Why not do what felt right for me? I decided to stay. And before I knew it I'd put down roots – I got a dog and a job and a house and planted myself firmly and proudly in these ten square miles surrounded by reality.
I'm so glad that I stayed. We have something incredibly precious here. And there must be something in the water because we are packed to the brim with talented musicians and performers.
Not only have I taken the stage with a handful of awesome local bands over the years – The Jeff Love Band, Five Mile Drive, Arthur B and the Planetary Mix, Mutron Warriors – I'm also very involved in the theater scene in Ithaca. I teach at the Actor's Workshop of Ithaca and have been in at least one production on every stage in town.
For such a compact little city, it's a vibrant community. I love that everywhere you look you can find a handful of live music shows and three theatrical performances in the works. I find such inspiration in the visual art around town and the landscape surrounding us too.
The struggle so far, for me, is that many of Ithaca's talented musicians approach music as a side gig rather than their main focus. One approach is not better or worse than the other, but it has proven difficult to find consistent players ready to travel for big opportunities, tour, or prioritize music in the same way I'm currently doing.
I've been so inspired to witness Rochester's Danielle Ponder. She left her law career to take on music full-time and is making it happen. I think it's a beautiful example to follow for now.
Of course, touring isn't an easy option at the moment. I try to be extremely covid conscious, so I've enjoyed slowing down and taking the time to find a band that fits. I'm definitely onto something with the group of awesome players for the album release show.
Q: How did your Sept. 17 release show go?
AA: The Ithaca Farmer's Market show was everything I dreamed of and more!
This was the first event I've had a chance to host as a solo artist and I really went all out. After this last year and a half, between the pandemic, the social revolution following the murder of George Floyd, and the extreme political divisiveness, I've had to consider my responsibility to my communities.
While this list shifts depending on the context, the communities I'm referencing here are the richly diverse Ithaca community, local creators, queer folx, and women. I've realized how necessary it is to make space for others to shine and step forward. I believe we are all stronger individually when we're stronger united in our goals. I experienced so much joy facilitating a safe space for that to happen! I didn't do a perfect job by any means, but I think this set a strong baseline to continue working from.
We had community outreach/action group The Ithaca Pantheras there with educational materials, additional handouts from The Advocacy Center, and we encouraged donations for No Mas Lagrimas (who, unfortunately, ended up unable to attend but had planned to provide empanadas). Local artists Blue Bassoon Handmade, Pickle Kitten Jewelry, SensEmilia, Thrifted Underwear, and Yen Ospina each had a booth to sell their work and SensE even painted live during the event.
Opening band La Llorona brought mind-blowing Mexican-folklore-meets-looping-magic to the stage. Nate Marshall roamed and juggled before and after La Llorona's performance and he joined Nick Santamarina with an acoustic set by the water after my band got off stage.
And, speaking of my band, they were out of this world! I was joined by Andy Adelewitz (bass), Colleen Countryman (keys), Ashley Ickes (drums), and Liam Lawson (guitar), and Nate Marshall and Harry Nichols on background vocals. Nate and Harry were both big players during the writing and recording process for the album itself, so it felt really special to have them involved in the release show.
So many people I loved were in the audience including some family and friends who'd never heard me perform live, past bandmates, students, and mentors! And honestly, they're going to be spoiled – It'll be hard to do much better than that beautiful stage and sound design. Sound on Sound did an amazing job, as I knew they would. Scott Rougeau from the Downtown Ithaca Alliance helped make the event happen as smoothly as it did.
There will be video, edited by Jeff Hodges, to share soon, so don't fear – anyone who wasn't able to be there can soon safely enjoy the show from the comfort of their own homes.
Q: What other projects, musical and otherwise, do you have coming up?
AA: I plan to tour with "Risk of Love," but the timeline is covid-dependent. Hopefully, that will be possible in a way that feels responsible again in the near future. Until then, I'm going to keep writing and (safely) performing locally with the band I've put together for this album release show. We're just getting into a groove and I can't wait to see where we end up!
A few of the songs on my album will be released as a cappella tracks later this fall with my vocal group The Funx, too. Harry Nichols is also a part of that "band." We started that group almost a decade ago and at this point, we're all grown up, some of us with spouses and kids. I don't expect us to perform again in the near future, but we are committed to finishing and releasing our all-originals album. It'll be fun to have the different versions of some of the songs out there.
Past that, I'm excited to continue writing and collaborating. These last few months of finalizing and promoting my album, putting a killer band together, and planning this epic release show have left me feeling more confident than ever.
Q: Anything else to add?
AA: I'm honored to look at the list of people who contributed to the creation of "Risk of Love." From the local players to my co-songwriters, engineers, and graphic designers, it feels like the inevitable outcome of all the different experiences I had in my twenties. And a finished product that wouldn't have been as wonderful without each and every person involved in the journey.
Find out more about Ariel Arbisser at www.arielarbisser.com and on almost every social media platform @ArielArbisser, or listen to "Risk of Love" on Spotify.