31+ shows to see this week: May 4-11
It's another busy week on the local music scene, with two big concerts at the State Theatre, three album- release shows around Ithaca, and two more shows at the Center for the Arts in Homer. Plus, the Dorothy Cotton Jubilee Singers perform a pair of concerts, Eilen Jewell returns to Ithaca, and the iconic May 1977 Grateful Dead show at Cornell's Barton Hall is feted throughout the weekend!
Please be sure to check each show's event page for various venue protocols, as well as potential postponement or cancellation information. Stay safe, and enjoy as much live music as you can in the coming days!
(Note: the concerts are listed below in chronological order)
Community Celebration
The Dorothy Cotton Jubilee Singers will present its annual Martin Luther King, Jr. community celebration (postponed from earlier this year). The program will feature spirituals and gospel songs by the Dorothy Cotton Jubilee Singers (DCJS), dance and step by the GIAC Jumpers, and traditional klezmer music by the Ithaca Klezmer Quartet. In a first for DCJS, American Sign Language translation will be provided, thanks to a grant from the Legacy Foundation of Tompkins County.
When: Wednesday
Where: State Theatre of Ithaca
Cost: free; donations welcome
Clash City Rockers
Cinemapolis presents a special limited engagement screening of the newly restored and remastered "Rude Boy," the 1980 film that merges documentary and fiction as it follows roughneck Ray Gange as he drops his Soho sex-shop job to roadie for The Clash. "Ray, a difficult, sometimes reactionary subject and a foil to the band's idealism, plays observer to The Clash's legendary 1978 Rock Against Racism concert in London's Victoria Park and their studio recording of 'Give 'Em Enough Rope.' Set against a background of riots, racist and anti-racist demos, and police hostility towards Black British youth, this unforgettable, absorbing film portraits a UK on the brink of Thatcherism, and a moment when subcultural shock troops met those of a rising right wing in the streets." See a trailer here.
Where: Cinemapolis
When: Runs through Thursday, May 5; screenings at 7:20 p.m.
Cost: $10.50
String Thing
Richie Stearns and Friends return to South Hill Cider for a night of old-time tunes. Richie, best known for his work with the Horse Flies, Richie & Rosie, and the Evil City String Band, will be joined by a special guest or two (or more) for this week's event.
When: 5:30-8:30 p.m. Thursday
Where: South Hill Cider
Cost: free; donations welcome
Songs to Sing
Dan Forsyth of Driftwood hosts Singer/Songwriter Night, a new series taking place every first Thursday of the month at Hopshire: "This is an opportunity for songwriters to share their craft with each other. Bring a song you are working on, it doesn't have to be complete, to get input from your peers. All are welcome to come listen respectfully."
When: 6-8 p.m. Thursday
Where: Hopshire Farm and Brewing, Dryden
Cost: free
Taking It EZ
The Electrozone and the Downstairs continue their new series, "EZ Nights," which they call "a vibrant and eclectic showcase of artists and entertainers." This week's artist is Stepwriterun, who will perform a hybrid DJ/live electronic music set. Hear more here.
When: 7-11 p.m. Thursday
Where: The Downstairs (below the Watershed)
Cost: $5
Art of the Fugue
Thomas Reeves (Cornell PhD in Applied Mathematics, '22) gives a complete performance of J. S. Bach's monumental "Art of the Fugue" on the Silbermann piano, an instrument that embodies European hybridity: though having the just reputation as the first German piano, its mechanism is a near-exact copy of Cristofori's highly sophisticated Florentine design.
When: 8 p.m. Thursday
Where: A.D. White House, Cornell
Cost: free and open to all
Down and Dirty
Dirty Gems – the new project of djGourd (Brian Mlodzinski) and Double Tiger (Jay Spaker) – promises "A Dirty Global Funk Thing" featuring some live special guests.
When: 10 p.m. Thursday
Where: The Upstairs
Cost: $10
It's a Happening
The Johnny West Trio (Friday) and Tailor Made (Saturday) will perform at McLean's "Happening in the Hamlet," a community celebration featuring food, carnival rides, and much more. West has toured all over the world as one of the leading hard-rock vocalists, while Tailor Made has long been known for its high-energy stage show featuring modern country and classic rock favorites along with its own excellent original songs. This just in: Billy Golicki will open Friday night's show, and Logan Wannall will kick off Saturday, both beginning at 6 p.m.!
When: 8 p.m. Friday and Saturday; opening bands at 6 p.m.
Where: McLean Fire Department, 2 Stevens Road, McLean
Cost: free
A Buoyant Benefit
The State Theatre will host the 12th annual "Benefit My State" concert, the non-profit venue's biggest fundraising event of the year. Headlining this year's show is Pink Talking Fish, which will play a special tribute to the iconic 1977 Grateful Dead concert along with its trademark hybrid of Pink Floyd, Talking Heads, and Phish songs. (The band performed at last year's benefit, a livestream-only event that drew nearly 100,000 viewers around the world!) The Comb Down, which has become one of Ithaca's most popular bands over the past couple of years, will open the show with its fiery, organ-fueled funk instrumentals.
When: 8 p.m. Friday
Where: State Theatre
Cost: $15-$20, available online here
Putting It To Tape
Water Bears returns for its first show since Feb. 2020 to celebrate the release of the self-titled EP on cassette. They'll be joined by fellow Ithaca bands Spazzare and Chimes of Bayonets. "Let's get together and launch our brains into the cosmos on a wave of fuzz," says Water Bears leader Mike Amadeo.
When: 8 p.m. Friday
Where: Sacred Root Kava Bar and Tea Lounge
Cost: $5
'The Can't Miss Vibe'
Rochester-based EDM rock band Roots Collider returns to Ithaca to showcase its propulsive style that blends live riffing with electronic beats and samples. "Think of if Rage Against the Machine & The Beastie Boys went to an illicit warehouse rave and collaborated with all of the DJ's from EDM's golden era of the 1990s." Hollings will open the show, and Double Tiger will close out the night with a DJ set
When: 8:30 p.m. Friday
Where: The Upstairs
Cost: $10
Downtown Takeover
Local nonprofit label New Vine Records is taking over the Range for May, with Friday and Saturday shows on tap for each weekend through the end of the month. Each show will feature a New Vine act paired with another local artist. The takeover kicks off Friday with DJ Tori Vee vs. VeeDaBee, with the local favorite showcasing both sides of her talent. Saturday will feature the double bill of Rachel Beverly, who has released several songs for New Vine, and the Travis Knapp Band.
See the full schedule here.
When: 9 p.m. Friday and Saturday.
Where: The Range
Cost: small cover
Records Galore
NY Record Fairs returns to Ithaca, offering more than 100,000 records, CDs, and DVDs from almost every genre from the 1920s to the present. Dealers from around the northeast will be buying, selling, and trading their wares; bring cash, though some also may accept Venmo, PayPal, or credit cards.
When: 10 a.m. to 4 p.m. Saturday
Where: Triphammer Market Place, 2255 N. Triphammer Road, Ithaca
Cost: free ($5 for early-bird admission before 10 a.m.)
Winds of Spring
The Cornell Department of Music will present the spring concert of the Cornell Wind Symphony conducted by James Spinazzola, the Barbara and Richard T. Silver '50, MD '53 Director of Winds. The ensemble performs with special guest Greg Evans, the soloist for Dana Wilson's "Concerto for Drum Set and Wind Ensemble" (2021). Evans' passion, energy, and facility on the drum set has given him experience across the spectrum of the music industry. He has appeared with many artists including Terence Blanchard, Chick Corea, Joey DeFrancesco, Melinda Doolittle, Kurt Elling, Branford Marsalis, and more, and he also keeps an active teaching schedule at Ithaca College, Cornell, and privately. Additional works on the program include Jude Vaclavik's "Bifrost," composed in honor and memory of Cornell alum Christopher Rouse (2021); David Maslanka's "Fourth Symphony" (1993); and music by Percy Grainger and Arturo Marquez.
When: 3 p.m. Saturday
Where: Bailey Hall
Cost: free and open to all
Singing for Spring
The Dorothy Cotton Jubilee Singers will present their Spring concert, featuring the 6th Grade Chorus from Boynton Middle School under the direction of its associate director Emily Preston. DCJS will perform selections from its recent Carnegie Hall performance as well as some additional spirituals and gospel favorites.
When: 4 p.m. Saturday
Where: Kulp Auditorium, Ithaca High School
Cost: free; donations welcome
Ready for Release
Local Cajun-Americana dance band Rose and the Bros will host a release party for its latest album, "It's Music," which features six original tunes alongside songs from Peter Rowan, John Martyn, Keith Frank, Dennis McGee, and Bobby Charles. This is the first show for the Big Sky Music Studio Concert Series at Sweet Land Farm, which will include several roots bands from around the country spanning a variety of genres.
When: 7-10 p.m. Saturday Tuesday (new date!)
Where: Sweet Land Farm, 9732 State Route 96, Trumansburg
Cost: $18, available online here
Read a review of "It's Music" here!
No Dowd About It
Local legend Johnny Dowd returns to the Downstairs, promising an "Epic Night of Poetry, Music, Zines & Art" as part of the first-ever Downstairs Zine Fest. "Johnny was a poet before he was a musician, and you are invited to see whether he made the right choice, as after a poetry reading the band will join him on the stage. His first of likely many zines will be available for sale, and the last night of his gallery show will be on display."
When: 7-9 p.m. Saturday
Where: The Downstairs
Cost: $5 suggested donation
Read more about the Downstairs Zine Fest here!
Swing Time!
Cortland Rep will host jazz pianist Judy Carmichael, considered one of the leading interpreters of stride and swing piano, for a celebration of the Great American Songbook and swing era music. A Grammy-nominated pianist/singer-songwriter, Carmichael has been featured on Entertainment Tonight, CBS's Sunday Morning, and NPR's Morning Edition. "This family-friendly performance features her interpretations of 'I Got Rhythm,' 'Why Can't You Behave,' 'Honeysuckle Rose,' as well as her own soulful, witty compositions."
When: 7:30 p.m. Saturday
Where: Cortland Repertory Theatre Downtown, 24 Port Watson St., Cortland
Cost: $30, available online here
June in May
After performing at the Hangar Theatre and GrassRoots Festival, Valerie June makes a welcome return to headline at the State Theatre. Known for her distinctive vocal style, June is touring to promote her latest album, "The Moon and Stars: Prescriptions for Dreamers," which blends pop, psychedelic, roots, and other influences into a unique whole. Find out more here.
When: 8 p.m. Saturday
Where: State Theatre
Cost: $22-$39, available here
Third Time
Ithaca's own Bubba Crumrine will celebrate the release of "Center & Blur," a studio album "anchored in voice, synth, and percussion and threads a line between ambient, noise, and cantor music. Dense instrumentals pair with queer lyrical themes of discovery, protest, and a future, post-gender world." Hear more here. The concert will also feature a solo performance by percussionist Chris Corsano and a live film manipulation performance by Tomonari Nishikawa, associate professor of film at Binghamton University.
When: 8-11 p.m. Saturday
Where: Neighbors Gallery, 526 Elm Street Ext., Ithaca
Cost: $7 suggested donation
Downtown Vibes
Bead N Bone will return to downtown Ithaca, bringing their infectious reggae-dub-soul grooves and energetic stage show. Founded by London McDaniel, the band also includes Alina Kim on vocals, Shawn Seals on keys, Jabare on bass and Eesa on drums. The show will conclude the Mama's Comfort Camp 10th anniversary celebration with "How are the Caregivers? Day," a festival with a mission. Find out more here.
When: 8 p.m. Saturday
Where: Sacred Root Kava Bar and Tea Lounge
Cost: free
Folk Fusion
Hailing from Boston, the Adam Ezra Group is known for its fusion of folk, rock, soul, and pop. Frontman Ezra is joined by Corinna Smith (fiddle), Alex Martin (drums), and Poche Ponce (bass) – they recently embarked on an ambitious new recording series dubbed "The Album Project," which will see the band releasing at least 19 new singles over the next few years. Find out more here.
When: 8 p.m. Saturday
Where: Center for the Arts of Homer
Cost: $16-$20, available online here
Prime Piano
The second of two piano recitals from the Ryan McCullough and Andrew Zhou studios will feature sonatas and fantasies by Carl Philipp Emanuel Bach interspersed with rarely performed works by Mélanie Bonis, Ernest Chausson, Gabriel Pierné, Guy Ropartz, Charles Tournemire, and Louis Vierne, all from the French school that studied under César Franck, whose bicentenary is being celebrated this year.
When: 8 p.m. Saturday
Where: Barnes Hall, Cornell
Cost: free and open to all
Barton Hall Bow
Celebrate the 45th anniversary of one of the Grateful Dead's most iconic performances – May 8, 1977, at Cornell's Barton Hall – with Albany's premiere Dead tribute band Gratefully Yours as it recreates the '77 show in its entirety. (See the Dead's original setlist here!)
When: 10 p.m. Saturday
Where: The Upstairs
Cost: $15, tickets are available here
Dead Ringers
After a four-year hiatus, the Cornell Chimes will once again ring the McGraw Tower bells in celebration of Grateful Dead Day. This celebration was started in 2017 to honor the 40th anniversary of the Grateful Dead's famous concert at Barton Hall. Liz Field will stream the concert live from the top of the bell tower on Facebook Live. Check out the concert from 2017 here (music starts at 4:05):
When: 12 p.m. Sunday
Where: Facebook Live or on campus
Cost: free
Rochester's Finest
The Cornell Concert Series will host the Rochester Philharmonic Orchestra, conducted by Andreas Delfs. "Opening the program is Felix Mendelssohn's charming overture to 'The Fair Melusine,' a water sprite of European folklore. This is followed by a new violin concerto by acclaimed Cornell music professor emeritus Roberto Sierra, featuring concertmaster Juliana Athayde as soloist. Next is one of the Romantic period's first musical works, Schubert's unfinished "Eighth Symphony." Finally, Johann Strauss'  'The Blue Danube' conjures up dancers in extravagant costumes waltzing in even grander ballrooms."
When: 3 p.m. Sunday
Where: Bailey Hall, Cornell University
Cost: $19-39, available here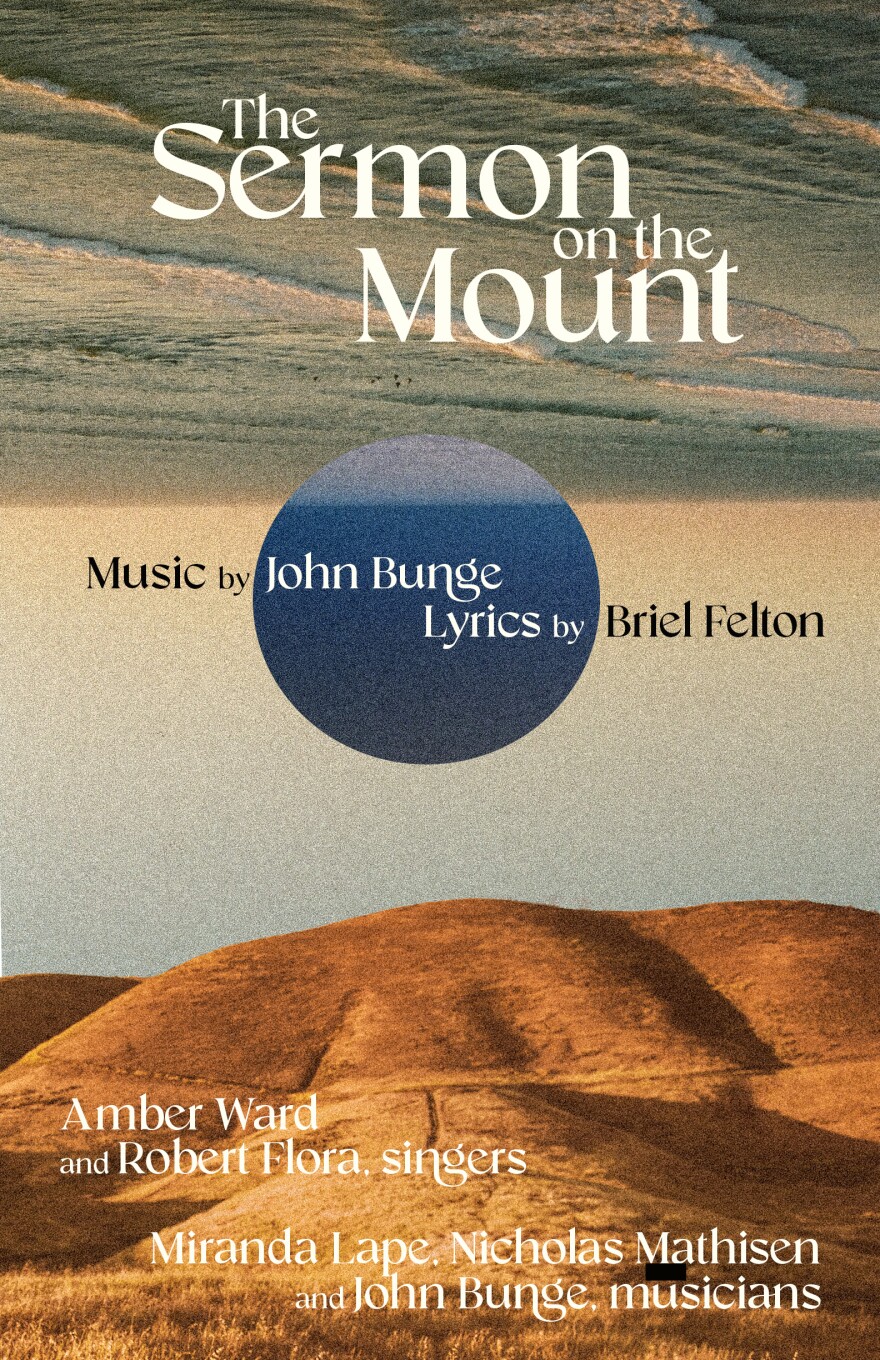 Song Cycle
"The Sermon on the Mount" is a new seven-song cycle for soprano, baritone, and instrumental trio, with music by Ithaca composer John Bunge and lyrics by Cornell poet Briel Felton, It is based on the Biblical text but told from the perspective of two people in the crowd who have their own story. Singers Robert Flora (Tri-Cities Opera) and Amber Ward (Ithaca College, Dorothy Cotton Jubilee Singers) will be accompanied by John Bunge (guitar), Miranda Lape (Ithaca College, trombone), and Nic Mathisen (Ithaca College, double bass) for a pair of performances. The running time is about 30 minutes.
When & Where: 3 p.m. Sunday, Savage Club Performing Arts Center, 1004 Auburn Road, Lansing
7 p.m. Monday, Hangar Theatre, 801 Taughannock Blvd., Ithaca
Cost: free and open to the public
Celebrate Mother Earth
South Hill Cider will host an afternoon of music and poetry featuring performances from Bear Fox, Lydia Garrison, Dr. Nia Nunn, Angela Marion, Venissa Santi, Travis Knapp, and Annie Sumi. All proceeds from this family-friendly event will be directed to OJI:SDA' Youth Programming. OJI:SDA' is an Indigenous-led organization envisioning 'a world where Indigenous people are seen, heard, healthy, and thriving'. The proceeds from this fundraiser will be put towards Camp Turtle ~ Mochik Ania: a cultural camp for Native youth to learn traditional lifeways and media arts skills.
When: 3-7 p.m. Sunday
Where: South Hill Cider
Cost: donations welcome; donate online here
Senior Recital
Sophia Oguri presents a senior violin recital, featuring the "Adagio" from Bach's "Solo Violin Sonata No. 1," Chausson's "Poème," and the Korngold "Violin Concerto in D Major."
When: 6 p.m. Sunday
Where: Sage Chapel, Cornell
Cost: free and open to all
Metal for Mother's Day
Buckcherry comes to Central New York. Still led by singer Josh Todd, the California-based hard-rockers are known for hits such as "Crazy B*itch" and "Sorry." Their latest album is titled "Hellbound." Find out more here. Rounding out the bill are Blacktop Mojo, Sumo Cyco, Doll Skin, and Mobday.
When: 6 p.m. Sunday
Where: The L, 116 Breesport Road, Horseheads
Cost: $25-$30, available here
Keeping It Steady
To commemorate the 30th anniversary of her landmark debut "Steady On," Shawn Colvin will perform the album in its entirety in a solo acoustic format. Winner for "Best Contemporary Folk Album" at the 33rd Grammy Awards in February 1991, "Steady On" includes some of her best-known songs, including "Shotgun Down the Avalanche" and the title track. She'll also perform other songs from her catalog. Learn more here. Ohio-born singer-songwriter Clarence Bucaro will open the show.
When: 8 p.m. Sunday Where: Center for the Arts, Homer
Cost: $41-$45, available here
Dynamic Duo
David Sheng, cello, and Charles Berofsky, piano, will perform a program that includes Clara Schumann's "Three Romances," Ernest Bloch's "From Jewish Life, "Nadia Boulanger's "Three Pieces," and Mendelssohn's "Sonata for Piano and Cello No. 2."
When: 12 p.m. Monday
Where: Barnes Hall, Cornell
Cost: free and open to all
Piano Man
Cornell student Jasper Liang presents a senior piano recital, playing works by Beethoven, Liszt, Rachmaninoff, and more.
When: 7 p.m. Tuesday
Where: Barnes Hall
Cost: free and open to all
Queen of the Minor Key
A longtime favorite of CNY music fans, Eilen Jewell will make a welcome return to Ithaca for a show that was postponed from October due to flooding. She'll open with a rare duo set with her stellar guitarist, Jerry Miller, who's one of the best pickers around, and close out the night with a full band set. The Boise, Idaho-based Jewell's eighth album, "Gypsy," was released in 2019 by Signature Sounds – it showcases her trademark blend of country, blues and folk while further burnishing her reputation as "Queen of the Minor Key."
When: 8 p.m. Wednesday
Where: Hangar Theatre
Cost: $25-$30, available online here
More Events
The Notorious Stringbusters are at the Trumansburg Farmers Market at 4:30-7 p.m. Wednesday
Chickenwire Parachute is at Lucky Hare Brewing in Hector at 6 p.m. Wednesday
Sacred Root Kava Bar and Tea Lounge hosts its weekly Open Mic Night at 7 p.m. Wednesday
Jeremy Bussman hosts the weekly Open Mic Night at the Upstairs at 7-10 p.m. Wednesday
Aiken is at Cortland Beer Company at 6 p.m. Thursday
The Scale House Brewery hosts its weekly Open Mic Night at 6-9 p.m. Thursday
Benny T brings his Open Mic Posse back to Crossroads Bar and Grille in Lansing at 6:30 p.m. Thursday
The Vinyl Lounge continues its weekly residency at Trumansburg's Atlas Bowl at 7-10 p.m. Thursday
SingTrece and Stone Cold Miracle are at Hazlitt 1852 Vineyards at 5:30-8:30 p.m. p.m. Friday CANCELED!
Ted Walsh is at Bright Leaf Vineyard at 5:30-7:30 p.m. p.m. Friday
Steve Daniels and Friends are at Homer Hops at 6-8 p.m. Friday
Marc Ryan is at Drifters on Owasco at 6 p.m. Friday
Cielle On Solid Ground are at Hopshire Brewing at 6-8 p.m. Friday
Raedwald Howland-Bolton is at Two Goats Brewing at 6 p.m. Friday
Freight is at Grist Iron Brewing at 6-9 p.m. Friday
The Longwood Jazz Project is at Cortland Beer Company at 8 p.m. Friday
The Royal Enfield Blues Band is at Little Venice in Trumansburg at 9:30 p.m. Friday
The Double Standards are at Treleaven Winery at 1-4 p.m. Saturday
Brian Francis is at Chateau Dusseau at 3 p.m. Saturday
Freight returns to Stone Bend Farm at 4-7 p.m. Saturday
St. Vith is at Two Goats Brewing at 6 p.m. Saturday
Off The Rails is at Summerhill Brewing at 6-8 p.m. Saturday
Se Leigheas is at Brookton's Market at 6 p.m. Saturday
Pat Young is at Homer Hops at 6-9 p.m. Saturday
Planet Junior is at Grist Iron Brewing at 6-9 p.m. Saturday
The Glacial Erotics return to Garrett's Brewing in Trumansburg at 7 p.m. Saturday
M3 is at Cortland Beer Company at 8 p.m. Saturday
The Canaan Jazz Trio is at the Ithaca Farmers Market at 10 a.m. Sunday
Sandra Esparza is at Homer Hops at 12-3 p.m. Sunday
Rachel Beverly at Treleaven Winery at 1-4 p.m. Sunday
Sam Swanson is at Grist Iron Brewing at 2-5 p.m. Sunday
Trever Stribing is at Solera Tap House at 2-5 p.m. Sunday
The Ravines are at Brookton's Market at 3-5 p.m. Sunday
SingTrece is at Two Goats Brewing at 4 p.m. Sunday
Violin students of Ariana Kim will present a studio recital at 7 p.m. Monday at Cornell's Moakley House
The Center for the Arts in Homer hosts its weekly Open Mic Night at 7 p.m. Tuesday
Good Dog is at the Bike Bar at 6 p.m. Wednesday
Sacred Root Kava Bar and Tea Lounge hosts its weekly Open Mic Night at 7 p.m. Wednesday
Jeremy Bussman hosts the weekly Open Mic Night at the Upstairs at 7-10 p.m. Wednesday
The Northside String Band is at the Trumansburg Farmers Market at 4:30-7 p.m. Wednesday