25+ shows to see this week: August 3-10
It may be the dog days of summer, but there are still plenty of concerts to see around the region in the coming days, including Gov't Mule and Dashboard Confessional at Beak and Skiff, Journey at CMAC, and Papa Roach in Syracuse. Plus, a new Leonard Cohen doc screens at Cinemapolis, and dozens of area bands are in action around CNY this week!
Please be sure to check each show's event page for various venue protocols, as well as potential postponement or cancellation information. Stay safe, and enjoy as much live music as you can in the coming days!
And for a more extensive roundup of upcoming shows around the Finger Lakes and beyond, check out this curated list here!
(Note: the concerts are listed below in chronological order)
Horns o' Plenty
The Fall Creek Brass Band returns to the Downtown Ithaca Summer Concert, bringing their blend of funk, jazz, and pop to original tunes, New Orleans classics, and brassy arrangements of favorite pop songs. Find out more here:
https://www.fallcreekbrassband.com
When: 6-8 p.m. Thursday
Where: Bernie Milton Pavilion, The Commons
Cost: free
Songs to Share
Dan Forsyth of Driftwood hosts Songwriter's Night at Hopshire, a series taking place every first Thursday of the month at Hopshire Farms and Brewery: "This is an opportunity for songwriters to share their craft with each other. Bring a song you are working on, it doesn't have to be complete, to get input from your peers. All are welcome to come listen respectfully."
When: 6-8 p.m. Thursday
Where: Hopshire Farms and Brewery, Dryden
Cost: free
Ready to Rock
The 2022 Rockzilla Tour with Papa Roach and Falling in Reverse comes to Syracuse, with Hollywood Undead and Bad Wolves rounding out the bill. Papa Roach are touring in support of their recently released "Ego Trip" album, while Falling in Reverse issued the song "Zombified" earlier this year in advance of a new EP.
When: 6 p.m. Thursday
Where: St. Joseph's Health Amphitheater at Lakeview, Syracuse
Cost: $25-$289, available here:
Rocking on the Waterfront
The Town of Lansing's "Music in the Park" summer concert series continues at Myers Park, with Bad Alibi showcasing its energetic brand of classic rock. The band includes drummer Scott Hollister, singer-guitarist Steve Kern, bassist-vocalist Sergio Pedro, and keyboardist-vocalist Rob Romano.
When: 6:30 p.m. Thursday
Where: Myers Park, Lansing
Cost: free for Lansing residents, small entry fee for everyone else
Suddenly Sam
Georgia native Sam Hunt brings his R&B-inflected country sound to CMAC, ready to showcase hits such as "Drinkin' Too Much" and "Body Like a Back Road" from his albums "Montevallo" and "Southside." Learn more here: http://www.samhunt.com/
Dustin Lynch and McKenzie Porter open the show.
When: 8 p.m. Thursday
Where: CMAC, Canandaigua
Cost: $55-$125
Summer Jazz
The Marriott Summer Jazz Series continues at Monks on the Commons with the MAQ jazz trio, which will play everything from classic and modern jazz to Brazilian bossa and folk music. Learn more here.
Where: Monks on the Commons
Cost: free; donations welcome
We All Scream
So Good Ice Cream Stand and the Center for the Arts of Homer have teamed up to bring you the So Good Music Series every Thursday through September. This week's act is the Steve Daniels Band, featuring Cortland native and saxophonist Steve Daniels joined by some talented friends and family. So Good will feature "adult only" specialty ice cream for those 21 and up. Bring a chair or two to enjoy the show.
When: 7 p.m. Thursday
Where: 5 South West St., Homer
Cost: free
Let's Get Liquified
The weekly "Liquid Thursdays" debuts at Liquid State Brewing Company, with host Cooper Casterline (Double Tiger and New Planets) joined by a series of a rotating musicians and DJs for "an evening of live music, dance, and a full multi-media funky experience."
When: 9 p.m. to midnight Thursday
Where: Liquid State Brewing Company
Cost: $5
Tower of Song
Cinemapolis will screen "Hallelujah: Leonard Cohen, A Journey, A Song." Directed by Daniel Geller and Dayna Goldfine, the film is a "definitive exploration of singer-songwriter Leonard Cohen as seen through the prism of his internationally renowned hymn, 'Hallelujah.' This feature-length documentary weaves together three creative strands: The songwriter and his times; the song's dramatic journey from record label reject to chart-topping hit; and moving testimonies from major recording artists for whom 'Hallelujah' has become a personal touchstone. Approved for production by Leonard Cohen just before his 80th birthday in 2014, the film accesses a wealth of never-before-seen archival materials from the Cohen Trust including Cohen's personal notebooks, journals and photographs, performance footage, and extremely rare audio recordings and interviews."
See the trailer here:
When: Opens Friday
Where: Cinemapolis
Cost: $9.50, tickets are available here
Two of a Kind
Two electronica duos will join forces for an evening on Ithaca's South Hill, with Miami's own AfroBeta – the duo of Tony "Smurphio" Laurencio and Cuci Amador – teaming with Ithaca-based Dom Martyr – the recently formed pairing of Alicia Aubin and Angelo Peters. DJ Jesse Hill will start off the night.
When: 6 p.m. Friday
Where: South Hill Cider
Cost: $10
Country Cool
The Grammy-nominated and award-winning country act Thompson Square returns to the Treleaven stage, this time with the full band! The husband-and-wife duo of Keifer and Shawna Thompson have acquired multi-platinum international success with their No. 1 hits like "Are You Gonna Kiss Me Or Not" and "If I Didn't Have You," and honors as Vocal Duo of the Year from both the ACM and CMA Awards. Learn more here:
The Ampersand Duo opens the show
When: 6:30 p.m. Friday
Where: Treleaven Winery, King Ferry
Cost: $45, available online here
On Display
Ithaca Underground returns with a First Friday Gallery Night after-party featuring an eclectic lineup featuring locals Corey Loveless (hiphop) and Microbes, Mostly (garage rock) joined by Buffalo electrohouse producer denzelworldpeace and Hudson, N.Y.-based RRB, the project musician, artist, designer, and educator Rebecca R. Borrer.
When: 7-10:30 p.m. Friday
Where: The Rest Gallery
Cost: $8
Music and More
The SpiedieFest and Balloon Rally returns to Otsiningo Park in Binghamton, offering balloon rides, cooking contests, and much more, with concerts featuring Brian Kelley of Florida Georgia Line, (7 p.m. Friday), Lou Gramm (7 p.m. Saturday), and Gary Levox of Rascal Flatts (7 p.m. Sunday). Visit the website to learn more: https://www.spiediefest.com/
When: Friday-Sunday
Where: Otsiningo Park in Binghamton
Cost: $20-$99, available online here
A Good Cause
Several local bands will join forces for SOMAT 2022, a benefit concert for the Ithaca Health Alliance/ Ithaca Free Clinic in memory of Luke Vitarius, a local musician and longtime bartender at the Nines who passed away last November. The lineup includes MOFOS, The 86ers, Absolute Garbage, Thirsty, fatFinger, g9, and more to be announced. The all-ages, family-friendly event will be held outdoors, with BBQ and vegan food from Holy Smoke Catering. Find out more here!
When: 12-8 p.m. Saturday
Where: Hopshire Farms and Brewery
Cost: free; $10 donation requested
Going Underground
Johnny Dowd kicks off his August residency at the Downstairs; he'll feature a special guest at each show. This week will feature longtime local favorite Jennie Lowe, who will open the night with a set of her compelling originals.
When: 8-10 p.m. Friday
Where: The Downstairs
Cost: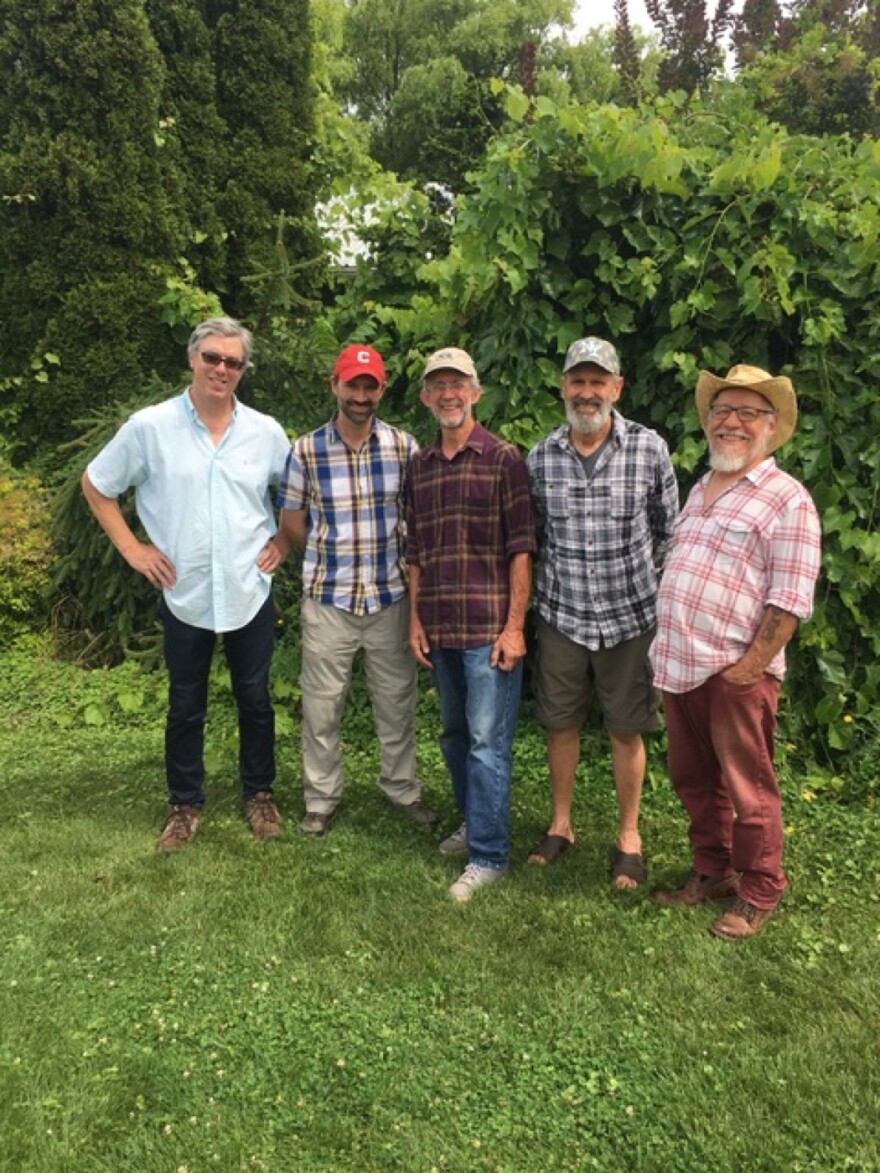 Good Times Roll
The Zydeco Trail Riders continue the 2022 summer concert series at Taughannock Falls State Park. The Ithaca-based dance band is guaranteed to get your feet moving with its infectious rhythms and grooves. The band is led by Greg Grodem, on vocals and accordions, with Jim Reidy on guitar, Ted Oberhaus on bass, Stuart Krasnoff on drums, and Pete Wolfanger on rubboard.
Learn more here: http://zydecotrailriders.com/
(See the rest of the summer series schedule here.)
When: 7-9 p.m. Saturday
Where: Taughannock Falls State Park
Cost: free; $5 parking fee per car (Empire Pass honored)
Still Riding Along
Gov't Mule returns to CNY, with frontman Warren Haynes fully recovered from the broken shoulder blade that cause the postponement of the band's April gig in Syracuse. The band recently released its first blues album, "Heavy Load Blues," which was recorded live in the studio at The Power Station New England on analog tape, utilizing vintage guitars, amps, and other equipment to capture an authentic sound. Haynes is joined in the band by drummer Matt Abts, keyboardist Danny Louis, and bassist Jorgen Carlsson.
When: 7 p.m. Saturday
Where: Beak and Skiff Apple Orchards, LaFayette
Cost: $45-$50, available here
Ramble On
The oldest bluegrass festival in New York State, Bill Knowlton's Bluegrass Ramble Picnic is back for its 49th year. This year's lineup features a batch of local and regional bands, including: Gospel Way, Salmon River Boys, Joe Davoli & Harvey Nussbaum, Melanie & the Boys, Simmer Stew, Joe LaMay & Sherry Reese, The New Snip City, The Cadleys, Barn Floor Groovers, The Atkinson Family, Northwater, Lake Effect, Larry Hoyt & the Good Acoustics, Lonesome Road Ramblers and the Delaney Brothers (host band). Bring a chair, blanket and snacks for this family-friendly event.
When: 10 a.m. to 7 p.m. Sunday
Where: Dwyer Memorial Park, Little York
Cost: free
Lakeside Lounge
The Ithaca Swing Dance Network presents "Swinging on Cayuga '22," with music by the Diana Leigh Quartet and dance workshops conducted by local instructors Cindy Overstreet and Steve Ryan. Masks are required for indoor dancing (and will be available onsite). An outdoor dance area, nearby, will be designated for those who wish to dance unmasked. See ithacaswing.org for more information.
When: 2-6 p.m. Sunday
Where: Large Pavilion, Stewart Park
Cost: Suggested admission is $5 to $10
Hair Apparent
Platinum-selling and GRAMMY-nominated singer Chris Isaak makes a rare Finger Lakes appearance, joined by his longtime band Silvertone. Best known for his 1989 hit "Wicked Game," from the stellar album "Heart Shaped World," Isaak has released nine albums during his 30+ year career. Find out more here: https://www.chrisisaak.com/
Sally Louise opens the show.
When: 3 p.m. Sunday
Where: Point of the Bluff Vineyards, Hammondsport
Cost: $55-$125, available online here
In Harmony
The Brother Brothers return to the area, touring to promote their new album, "Cover to Cover," which comes out August 5. Twins Adam and David Moss play a variety of instruments and possess an uncanny sense of vocal harmony. The new album includes songs from Richard Thompson, the Beatles, Tom T. Hall, James Taylor, and Jackson Browne. Find out more here: http://www.thebrotherbrothersmusic.com/
When: 7 p.m. Sunday
Where: Big Sky Studio, Sweet Land Farm, Trumansburg
Cost: $18, available here
A Rhythmic Remembering
Jazz Mondays return to South Hill Cider, with Djug Django reuniting to remember the late drummer Al Hartland (aka Al Micucci). Local vocalist Annie Burns will be a special guest for the evening, billed as a "Memorial and Celebration of a Memorable Music Life."
When: 5:30-8:30 p.m. Monday
Where: South Hill Cider
Cost: free; donations welcome
Anyway You Want It
Journey makes a welcome return to upstate New York, touring to promote their new album, "Freedom." But expect to hear plenty of classic tunes, such as "Separate Ways," "Lights," "Don't Stop Believin'" and many more. The current Journey lineup features founding guitarist Neal Schon, singer Arnel Pineda, keyboardist Jonathan Cain, bassist Todd Jensen, keyboardist Jason Derlatka, and drummer Deen Castronuovo. Find out more here: https://journeymusic.com/
When: 8 p.m. Monday
Where: CMAC, Canandaigua
Cost: $55 and up, available here
The Emo You Know
Dashboard Confessional and Andrew McMahon in the Wilderness bring their "Hello Gone Days" tour to central New York. Still fronted by Chris Carabba, Dashboard Confessional is touring to promote their new album, "All The Truth That I Can Tell." Formerly with Something Corporate and Jack's Mannequin, McMahon draws inspiration from 1970s singer-songwriters such as Billy Joel and Elton John.
When: 7 p.m. Tuesday
Where: Beak and Skiff Apple Orchards, LaFayette
Cost: $39-$45, available here
Power of Two
Good Dog continues the Newfield Music Series at Mill Park. The duo of Joe Hayward and Sarah Noell plays
"calm country folk" on pedal steel and acoustic guitar. Find out more here.
Fitnell Farms BBQ Food Truck and Dennis' Homemade Ice Cream also will be on-site for the event.
When: 6-8 p.m. Wednesday
Where: Mill Park, 222 Main St., Newfield
Cost: free
More Shows
Uncle Joe and the Rosebud Ramblers play the Trumansburg Farmers Market at 4-7 p.m. Wednesday
The Bollicine Brothers play Damiani Wine Cellers at 6-8 p.m. Wednesday
Matthews Family Tradition plays the Dryden VFW at 6 p.m. Wednesday
The Tribal Revival Trio plays the Virgil C.O.V.E. Concert Series at Virgil Town Hall at 6-8 p.m. Wednesday
Billy Golicki is at Drifers on Owasco at 6 p.m. Wednesday
Amy Varckette plays Bright Leaf Vineyard at 6-8 p.m. Wednesday ($5)
The Ithaca Concert Band plays a free "Sundaes on Wednesday" concert at Danby Community Church at 6:30 p.m. Wednesday
Tru Bleu plays Salt Point Brewing at 6:30 p.m. Wednesday
Travis Rocco plays the Homer Summer Concert Series on the Green at 7 p.m. Wednesday
Joe Henson hosts Open Mic Night at the Glen Haven at 7-9 p.m. Wednesday
Sacred Root Kava Bar and Tea Lounge hosts its weekly Open Mic Night at 7 p.m. Wednesday
The Range hosts its weekly Salsa Night Latin Dance Party, featuring DJs and dance lessons, from 7:30 p.m. to 1 a.m. Wednesday
Jeremy Bussman hosts the weekly Open Mic Night at the Upstairs at 8-11 p.m. Wednesday
The Inner Crazy is at Grist Iron Brewing at 5-8 p.m. Thursday
Tenzin Chopak is at South Hill Cider at 5:30-8 p.m. Thursday
Scott B Adams plays Atwater Winery at 5:30-8 p.m. Thursday
The Oasis at Hazlitt 1852 Vineyards hosts its weekly Open Mic Night at 6-8 p.m. Thursday
Erin and the Backwoods Blues Project plays the Six Mile Creek Vineyard's Sunset Music Series at 6-8 p.m. Thursday
The Cayuga Blue Notes are at Two Goats Brewing at 6 p.m. Thursday
Whiskey Business plays the Nautie Summer Nights series at Lucas Vineyards at 6-8:30 p.m. Thursday
Aiken is at Cortland Beer Company at 6 p.m. Thursday
Taking Back October is at the Glen Haven at 6 p.m. Thursday
Benny T brings his Open Mic Posse back to the Ridge in Lansing at 6:30 p.m. Thursday
GoGone plays Courthouse Park in Cortland at 7 p.m. Thursday
Fabi hosts an "electropical bash" for the weekly Elektro-Thursdays series at 10:30 p.m. Thursday at the Upstairs
Jimmy Jam is at Bagley's Winery at 5-8 p.m. Friday
Stereopticon is at Hazlitt 1852 Vineyards at 5:30-8:30 p.m. Friday
Erin and the Backwoods Blues Project are at Hopshire Farm and Brewery at 6-8 p.m. Friday
Dean's List plays Buttonwood Grove Winery at 6 p.m. Friday
Rust is at Grist Iron Brewing at 6-9 p.m. Friday
Stratcat Willie and the Strays are at Two Goats Brewing at 6 p.m. Friday
Levi and the Wranglers are at Homer Hops at 6-9 p.m. Friday
Madd Daddy is at Summerhill Brewing at 6-8 p.m. Friday
Jess Novak is at the Glen Haven at 6 p.m. Friday
Bad Alibi is at Wagner Vineyards at 6:30-9:30 p.m. Friday
Freeway continues the 2022 summer concert series at the Groton American Legion at 6:30-9 p.m. Friday
Wingnut plays the Finger Lakes Cider House at 6:30 p.m. Friday ($5)
The Midnight Mike Petroff Blues Harp Band is at ONCO Fermentations in Tully at 7 p.m. Friday
Organ Fairchild is at Prison City Brewing in Auburn at 7 p.m. Friday
Bog Brothers are at Heuga's Alpine in Tully at 7-10 p.m. Friday
People People are at Cortland Beer Company at 8 p.m. Friday
Louiston and Liam Lawson are at Nickel's Pit BBQ in Watkins Glen at 8-11p.m. Friday
Sine Caster is at the Range at 10 p.m. Friday
Chasing Neon is at the Red Jug Pub in Cortland at 10 p.m. Friday
Roger Decker and Brian Mingle (10 a.m. to noon) and Hangman's Heart (afternoon) play the "Divas and Dudes for a Cure" breast-cancer awareness event at the Homer Elks on Saturday
Spudz and Taggit plays Buttonwood Grove Winery at 1-4 p.m. Saturday
Tribal Revival plays Hosmer Winery's 37th Anniversary Party at 1-5 p.m. Saturday
The Tarps are at Brews and Brats at Autumn View at 5 p.m. Saturday
Feed the Fire is at Summerhill Brewing at 5-8 p.m. Saturday
Gerard Burke plays the Westy at 6-8 p.m. Saturday
Freight returns to Stone Bend Farm at 6-8 p.m. Saturday
The Endless Mountain Derelicts are at Two Goats Brewing at 6 p.m. Saturday
Clint Bush is at McGraw Box Brewing at 6-8 p.m. Saturday
The Rods will roll to Sharkey's Bar and Grill in Liverpool, with Lou Kaplan and Crazy Neighbors opening, at 6 p.m. Saturday
Billy Golicki is at Cortland Beer Company at 8 p.m. Saturday
The Upstairs hosts a Summer Salsa Celebration, featuring DJs and dance lessons, from 9 p.m. to 1 a.m. Saturday
The Jesse Collins Duo will play the Sunday Jazz Brunch at the Stonecat Café from 11 a.m. to 2 p.m. Sunday
The Inner Crazy plays Bright Leaf Vineyard from 11:30 a.m. to 3 p.m. Sunday
Rick Manning and Naomi Summers are at the Finger Lakes Cider House at 1-3 p.m. Sunday
The Tribal Revival Duo plays "Music and Mimosas" at Hosmer Winery at 1 p.m. Sunday
Fools Hill in Spencer hosts the weekly Open Mic "Chill on the Hill" at 1-7 p.m. Sunday
The Fabi World Music Summer Duo (featuring Martini) hosts the Buena Vista Sunday Club at Damiani Wine Cellars at 1-4 p.m. Sunday
Tenzin Chopak and Emmett Scott play Red Newt Cellars at 1-3 p.m. Sunday
Roadhouse Prophets play at Treleaven Winery at 1-4 p.m. Sunday
Tru Bleu is at Americana Vineyards at 2-4:30 p.m. Sunday
Bob Cook is at Solera Tap House at 2-5 p.m. Sunday
The Ampersand Project is at Wagner Vineyards at 2-5 p.m. Sunday
Unshackled is at Hazlitt 1852 Vineyards at 2-5 p.m. Sunday
Grassanova is at Two Goats Brewing at 4 p.m. Sunday
Adam Guinn is at Landon's Pub in Watkins Glen at 5 p.m. Sunday
Papa Muse plays Lincoln Hill Farms' "Sunday Fundays" in Canandaigua at 5 p.m. Sunday
The East-West Blues Band plays Maxie's Supper Club at 5:30-8:30 p.m. Sunday
Grease the Band is at Brookton's Market at 6 p.m. Sunday
Brett Beardslee brings his weekly Monday Night Blues back to Rasta Ranch Vineyards at 5-8 p.m. Monday
Rachel Beverly plays Barnstormer Winery at 5-8 p.m. Tuesday
The Jesse Collins Quartet is at Firelight Camps at 6 p.m. Tuesday
Tom and Marie are at Brookton's Market at 6 p.m. Tuesday
The Notorious Stringbusters play the "Music in the Hollow" concert series at the Ellis Hollow Community Center at 6-8 p.m. Tuesday
The Center for the Arts in Homer hosts its weekly Open Mic Night at 7-9 p.m. Tuesday
Cayuga Blue Notes play the Trumansburg Farmers Market at 4-7 p.m. Wednesday
Obvious Objects plays the Stonecat Café's DJ Pub Night Dance Party at 5-9 p.m. Wednesday
The Bollicine Brothers play Damiani Wine Cellers at 6-8 p.m. Wednesday
Tailor Made's Tink Bennett and Derek Gasque play the Dryden VFW at 6 p.m. Wednesday
Sydney Irving plays Bright Leaf Vineyard at 6-8 p.m. Wednesday ($5)
Not From Wisconsin plays Ithaca Beer at 6 p.m. Wednesday
Madd Daddy and Cloey Tierno play the Homer Summer Concert Series on the Green at 7 p.m. Wednesday
Sacred Root Kava Bar and Tea Lounge hosts its weekly Open Mic Night at 7 p.m. Wednesday
The Range hosts its weekly Salsa Night Latin Dance Party, featuring DJs and dance lessons, from 7:30 p.m. to 1 a.m. Wednesday
Jeremy Bussman hosts the weekly Open Mic Night at the Upstairs at 8-11 p.m. Wednesday