29+ shows to see: Oct. 19-26
Jonathan Richman returns to Ithaca for a Hangar Theatre show, Muriel Anderson comes to Homer Center for the Arts, the Del McCoury Band closes out the concert season at Hammondsport's Point of the Bluff Vineyards, and the Mark O'Connor Duo plays Geneva's Smith Opera House.
Plus, Cornell Cinema presents a 100th-anniversary screening of "Nosferatu" with a live score by Invincible Czars and Harry Nichols releases his new solo album at Hopshire Farms and Brewery.
For a more extensive roundup of upcoming shows around the Finger Lakes and beyond, check out this extensive, curated list right here!
(Note: the events are listed below in chronological order, in two separate sections)
Bowie on Screen
Cinemapolis is screening "Moonage Daydream," a "cinematic odyssey exploring David Bowie's creative and musical journey." Directed by Brett Morgen, the film features never-before-seen footage and performances. See the trailer here!
When: now playing
Where: Cinemapolis Cost: $7-$11
Pluck o' the Irish
Fiddler Allison Perkins and Nicolas Brown on uilleann pipes will present an evening of traditional Irish music. One of the brightest Irish music duos in the United States, the two have been playing music together for 15 years. Since the release of their album "All Covered With Moss," they have been bringing their close musical partnership to the stage. "Together and as individual artists, they have performed and taught at festivals, concerts, and tionóil across North America. The two musicians research forgotten settings of obscure tunes and introduce them to audiences in a musical style that is bold, spirited, unique, and undeniably rooted in the tradition. Over the years, they have continued to hone their signature sound and perform for Irish traditional music fans across the country, from San Francisco to Boston."
When: 7 p.m. Wednesday
Where: The Log House, 133 Sheffield Road, Ithaca
Cost: $20 suggested donation
Fall Fun
The Ithaca Concert Band (ICB) will present its fall concert, "When Autumn Leaves Start to Fall," at Ithaca High School's Kulp Auditorium. "This will be a joyous repeat of our Oct. 16 performance at The Historic Park Church in Elmira, NY."
When: 7-8 p.m. Tuesday, Oct. 18
Where: Kulp Auditorium, Ithaca High School
Cost: free and open to all; donations welcome
Spooky Screening
Cornell Cinema will host a 100th-anniversary screening of F.W. Murnau's legendary 1922 silent film "Nosferatu," with an original score performed live by the Austin, Texas-based band The Invincible Czars.
"The first cinematic version of Bram Stoker's 'Dracula' is still acclaimed as one of the most powerful films ever made. Murnau's haunting masterpiece stars Max Shreck as the cursed count, and while all of the elements familiar from later Dracula movies are present—the fangs, the blood, the haunted castle—Murnau's film is free of the cliches and melodrama. Instead, it offers a stark vision of the struggle between purity and evil, the living and the dead.
"This special centenary screening of the film will be accompanied by the Austin-based The Invincible Czars performing their original score that incorporates parts of Bela Bartok's 'Six Roumanian Folk Dances' and utilizes looping, samples, and effects-laden vocals. The music is written for four players and includes electric guitar, bass, violin, keyboard, music box, synthesizer, bass clarinet, flute, glockenspiel, bass guitar, and all manner of percussion."
When: 7:15 p.m. Wednesday
Where: Sage Chapel, Cornell University
Cost: $10-$12, available online here. "Tickets will be available at the door, but we can accept Cash or Check only! If you'd like to pay by credit card, please buy your ticket online in advance. ATMs are available at the Ho Plaza entrance to the Cornell Store. We will aim to open doors by 6:45 p.m. to accommodate the hundreds (!!) of attendees."
Flyin' Fingers
Pierre Bensusan returns to Trumansburg to showcase his dazzling guitar style. Described by the L.A. Times as "one of the most unique and brilliant acoustic guitar veterans in the world music scene today," Bensusan's name "became synonymous with contemporary acoustic guitar genius, long before the terms New Age, New Acoustic Music, or World Music were invented. He has the ability to make a single guitar sound like an entire band as he brings the audience on a mesmerizing musical journey. And yet, Bensusan is more than what any musician or music lover expects from a guitarist. He is a composer as well as a bilingual and a brave improvisational vocalist, melding whistles and resonant low notes with something like his own scat technique." Find out more here.
When: 7:30 p.m. Wednesday
Where: Trumansburg Conservatory of Fine Arts
Cost: $20, available online here
Going Big
The Deep Dive Big Band makes its debut under the direction of local jazz professor Greg Evans, who teaches at Ithaca College and Cornell University and plays drums with Rose and the Bros and other area bands. The DDBB will feature players from Cornell University, Ithaca College and the greater Ithaca Community every other Wednesday for the coming month.
When: 8-10 p.m. Wednesday, Oct. 5, Oct. 19 and Nov. 2
Where: Deep Dive
Cost: free; ages 18 and up
Cool for Cats
Cornell's Midday Music in Lincoln series continues with pianist Thomas Feng, who will give a recital titled "Short Stories for Cats and Keys." Featuring music by Daniel Pesca, Obadiah Díaz Wright, and Hiromi, Feng performs "a magical-realist-tinged recital inspired by the introvert's best friend: the domestic cat."
When: 12:30 p.m. Thursday
Where: Lincoln B20, Cornell University
Cost: free and open to all
Ready for Release
Local singer-songwriter Harry Nichols – known for his bands Noon Fifteen, The Funx, Julia Felice and the Whiskey Crisis, Baku, etc. – will host a release show for his new album, "Songs for the Rich and Beautiful," which is his first solo album since 2014. "We've got a full band for my stuff, and we're gonna play through some new tunes and all the oldies," says Nichols. "I'll have a few CDs of the new record with me if you like to kick it old school! Otherwise, check it streaming starting Oct. 14."
Local indie rockers Leo and the Maydays will open the show.
When: 6-8 p.m. Friday
Where: Hopshire Farms and Brewery, Dryden
Cost: free; donations welcome
Red Wave
"Big Red Icon Redux" will feature three bands from Cornell University: A6, a pop, R&B, and neo-soul band that plays originals and a wide variety of covers; The Fuse, who blend grunge, metal, and rock; and The Battlefront, a blues-rock band led by guitarist Spencer Nachman.
When: 8 p.m. Friday
Where: Deep Dive
Cost: $10
Eclectic Electricity
The Electrozone returns with another cool event, promising "an amazing evening of sounds to tickle your ears and smash your minds!" On the bill are Ithaca punk band Skip Tracer; Rochester's own Dr. Hamburger, who "provides emanating forces to heal hamburgers both psychically and energetically"; Alfred's Modular Moose, "a solo project which combines elements of electroacoustic and noise music to invent improvised acousmatic sound-environments with implied hallucinatory narratives. Their process involves sculpting sound as an artistic medium, creating and iterating feedback systems, and exploring space and time with standing waves and phasing phenomena (among other nodes of research)"; Ithaca's Piyawat Louilarpprasert, a "rebel Thai composer taking music to unheard heights," and Miles Jefferson Friday, a composer and musician "employing a variety of tools including programming languages, instruments, software, and other devices and objects"; and Ithaca's Phantom Project, "a sonic exploration of the Satanic Panic using samples and other diabolical devices."
When: 8 p.m. Friday
Where: Sacred Root Kava Lounge & Tea Bar
Cost: $10-$15
Guitar Great
An acclaimed guitarist/harp-guitarist and composer "who embraces music from all over the world with grace, joy and humor, Muriel Anderson returns to CNY, ready to showcase her impressive technique and sublime musicianship. Her multimedia show "brings you on a planetary tour of tastes, images, and music with a backdrop of stunning visuals by photo-artist Bryan Allen." Find out more about her here!
When: 8 p.m. Friday
Where: Center for the Arts, Homer
Cost: $30-$33, available online here
Coast to Coast
Two upstate acts who have recently received national attention will play this weekend at Funk 'N Waffles in downtown Syracuse. Friday, Sophistafunk returns for its first hometown show since appearing as the house band on Guy Fieri's new Food Network show, "Guy's Ultimate Game Night." The Balkun Brothers will open the show
Saturday, Rochester's Danielle Ponder will showcase the powerhouse vocal style that has earned her a rapidly growing following around the country, with an appearance on CBS and a tour with Leon Bridges just two recent highlights of her burgeoning career. Her debut solo album is titled "Some Of Us Are Free." Read more about her here! Stephen Phillips will open.
When: 8 p.m. Friday and Saturday
Where: Funk 'N Waffles
Cost: $20 for Sophistafunk, $15 for Danielle Ponder
International Ambassadors
Cornell Department of Music faculty pianist Miri Yampolsky welcomes cellist Ariel Tushinsky and violinist Yuval Herz for two chamber music concerts in Barnes Hall. At 8 p.m. Friday, Yampolsky and Tushinsky present a recital of romantic works including Brahms' Sonata in E Minor, Schumann's Fantasiestucke, Op. 73, and Grieg's Sonata for Cello and Piano. Herz joins them at 8 p.m. Sunday to perform Haydn's Trio in A Major, Brahms' Sonata for violin and piano No. 2 in A Major, and Beethoven's Archduke Trio Op. 97.
Praised by the New York Times for his "haunting and ravishing" artistry, Israeli violinist Yuval Herz is a regular guest leader with orchestras in Europe, including the Mahler Chamber Orchestra, Bayerischer Rundfunk Orchester, Luxembourg Philharmonic Orchestra, Dresden Staatskapelle Orchestra, and others. Cellist Ariel Tushinsky was one of the founders of the Jerusalem Trio, with which he performed for 30 years around the world. Tushinsky has performed as a soloist with orchestras including the Israeli Philharmonic, the Calgary Philharmonic, the Chile Philharmonic, the Rishon Lezion Symphony, the Israel Symphony and more, and he regularly performs at international festivals.
When: 8 p.m. Friday and Sunday
Where: Barnes Hall, Cornell University
Cost: free and open to all
Insane in the Brain
Legendary hiphop group Cypress Hill returns to central New York. "Three decades ago, B-Real, Sen Dog, and DJ Muggs sparked a trip that left popular culture stoned, stunned, and staggering in anticipation for more. Naming themselves after a local street in Los Angeles, Cypress Hill burst on the scene in '91 with the release of their self-titled debut album. Singles 'How I Could Just Kill a Man' and 'The Phuncky Feel One' became underground hits and the group's pro-marijuana stance earned them many fans among the alt-rock community. Cypress Hill followed their debut with Black Sunday in the summer of '93, which debuted at #1 on Billboard's Top 200, garnered three GRAMMY® Award nominations, and went 3X Platinum in the U.S. As a result, Cypress Hill became the first rap group to have two albums in the top 10 of the Billboard 200 charts at the same time and are the first Latino-American hip-hop group to achieve platinum and multi-platinum success."
When: 8 p.m. Friday
Where: The Vine Showroom, del Lago Resort and Casino, Waterloo
Cost: $59-$99, available online here
Voice of Bluegrass
The Del McCoury Band returns to the Finger Lakes region to close out Concerts at Point of the Bluff's 2022 season. A National Heritage Fellow, a member of the Grand Ole Opry, and a member of the International Bluegrass Hall of Fame, the 83-year-old McCoury is the most-awarded artist in bluegrass history, including nine IBMA Entertainer of the Year Awards. Find out more about him here! The Travelin' McCoury's, which is led by Del's sons Ronnie and Rob, will open the show.
When: 3 p.m. Saturday
Where: Point of the Bluff Vineyards, Hammondsport
Cost: $40-$75, available online here
In the Twilight
In the annual Chorus Twilight Concert, Cornell's celebrated treble choir, conducted by Joe Lerangis, presents an evening featuring Cornell songs and repertoire from around the world.
When: 6 p.m. Saturday
Where: Bailey Hall, Cornell University
Cost: Tickets are available for purchase at cornelltickets.com and at the door. Advance tickets are $15 for adults and $8 for students. Tickets at the door are $17 for adults and $10 for students.
New York Grooves
A couple of months after headlining the Ithaca Night Bazaar, Mikaela Davis returns for a club show. Hailing from the Rochester region, the singer-songwriter-harpist is now based in the Hudson Valley. Her debut album "Delivery" came out in 2018. Learn more here!
Opening the show is Babehoven, a Hudson, New York-based band led by singer-songwriter Maya Bon; their debut album, "Light Moving Time," is out on Oct. 28 via Double Double Whammy. Find out more here!
When: 8 p.m. Saturday
Where: Deep Dive
Cost: $15 in advance, available online here; $20 day of show
Richman Returns
Jonathan Richman makes a welcome return to Ithaca, performing for the first time in a theater setting. One of rock's most-beloved cult figures, Richman made his mark in the Modern Lovers in the early 1970s, and has since gone on to release a string of solo albums that showcase his inimitable lyrical and vocal style. He'll be, as always, by drummer Tommy Larkins, for the show. Richman notes: "The music we're doing now works well in quiet places like theaters and performing art centers. We still don't use a program or a set list so we don't know what we'll do until we do it. Please do not expect old songs. Many singers my age do a retrospective; this show is not like that. It's mostly stuff made up in the last 3 and 4 years. Some of the songs presented might be in different languages; this is not to be esoteric or clever, it's because the different languages help me express different feelings sometimes. One last thing, my idea of a good show has nothing to do with applause. It's about if all the songs I sang that night were ones that I felt." Hear some of his music here!
When: 8 p.m. Saturday
Where: Hangar Theatre, Ithaca
Cost: $36, available online here
Wright Angles
Acclaimed comedian Steven Wright returns to Ithaca to showcase his distinctive deadpan humor. Find out more about him here!
When: 8 p.m. Saturday
Where: State Theatre of Ithaca
Cost: $25-$45, available online here Event Info
Cat Scratch Fever
Syracuse's Trauma Cat will make its Ithaca debut at the Range, hot on the heels of releasing its latest album, "The Truth Doesn't Live Here." Self-described as "America's sorriest 'power' trio" – at "once a superlative and a self-own befitting of the strange, tongue-in-cheek musicians at the group's core," Trauma Cat is "equal parts band and absurdist performance art troupe." Co-fronted by guitarist Ralph Kojig and bassist Roman Pando with drummer Rutger DiBoyere, Trauma Cat's sound "is the bastard child of Cake and Tool, or a modern American answer to XTC — a collage of art rock and progressive rock with shades of post-punk, shoegaze, and powerpop. Lyrically, Kojig's and Pando's songs often reflect on religion, death, and the internet."
Local garage rockers Microbes, Mostly will open the show
When: 9 p.m. Saturday
Where: The Range
Cost: $10
Songs to Sing
Local favorite Bronwen Exter makes a welcome return to the stage, along with her full band, for their first show since Feb. 2020. She'll be joined by Jen Middaugh (harmonies), Michael Stark (keys), Matthew Saccuccimorano (drums), Jason Shegogue (guitar and lap steel) and John Young (electric and double bass), along with a surprise guest or two. "We've been rehearsing our butts off," says Exter. "We'll play two sets, all original, lots of new songs."
When: 7 p.m. Sunday (postponed from August 28)
Where: Argos Warehouse
Cost: $10-$20 sliding scale, open to all ages.
Bringing the Noise
Ithaca Underground presents a brief evening of live electronic+guitar from Baltimore's Overcalc, the solo project of Nick Skrobisz of Multicult, the Wayward, et al. Also on the bill are locals Flose, "a nondenominational live 'noise' project, extending out of an improvisational practice centered around a fascination with the sonic potential of small, toy, and non-instruments exploded by contact mics and manipulated by pedals," and the dichotomy of sound, a new project from Andrew Hernandez II and Park Doing.
When: 7 p.m. Sunday CANCELED!!
Where: The Rest Gallery, 113 W. State St., Ithaca
Cost: $10
Perfect Pair
The Mark O'Connor Duo comes to Geneva, with the legendary multi-instrumentalist – guitar, fiddle, mandolin – joined by his wife, violinist and fiddler Maggie O'Connor. Mark has won three Grammys, seven CMA awards as well as several national fiddle, guitar and mandolin champion titles, while Maggie has performed a variety of styles around the world. Together they have appeared as guest soloists with the Singapore Chinese Orchestra, the Santa Rosa Symphony, the Walla Walla Symphony, the Nashville Symphony with the O'Connor Band, and many other symphony orchestras performing his compositions ranging from his "Strings and Threads Suite" to his "Double Violin Concerto" and "Johnny Appleseed Suite." Find out more here! And here!
When: 8 p.m. Sunday
Where: The Smith Opera House, Geneva
Cost: $33-$43, available online here
Get Rhythm
Dave Davies RhythmMakers return for Jazz Mondays, as Dave Davies, Doug Robinson, Brian Earle, and Chad Lieberman will play classic jazz, blues, originals, and more.
When: 5-8 p.m., second and fourth Mondays of each month
Where: South Hill Cider
Cost: free; donations welcome
Cool Beans
Magic Beans returns to downtown Ithaca. Hailing from Boulder, Colo., the funk-Americana-improv project has built up a national reputation and resume in its 10-year career. In April, the band released its third studio album, "Slice of Life," a "14-song documentation of a year spent away from the familiar confines of the road." Find out more here. Southern Tier funk-rock trio Amongst the Monks opens the show.
When: 8 p.m. Monday, Oct. 24
Where: The Upstairs
Cost: $15 in advance, available online here; $20 at the door
Ready to Rock
Connecticut hardcore heroes Hatebreed bring their "20 Years Of Perseverance" tour to upstate New York to promote their eighth album "Weight of the False Self." Fronted by singer Jamey Jasta, the band also includes guitarists Frank Novinec and Wayne Lozinak, bassist Chris Beattie, and drummer Matt Byrne. Find out more here. Gatecreeper, Bodysnatcher, and Dying Wish will open the show.
When: 6 p.m. Tuesday, Oct. 25
Where: The L, 116 Breesport Road, Horseheads
Cost: $35, available online here
The Session Must Commence
Harkening back to the late 1990s, Jay Spaker's Soul Session Tuesdays reunites members of Sugarmoan, one of the best Ithaca bands of its era, as the Real Live Sextet. Spaker will be joined by Mike Stark, Lee Hamilton, Thom Sayers, Zaun Marshburn, and Brian "Willie B" Wilson for a "weekly get down featuring classic soul, funk & boom bap" with "deejays & live players cookin' up the abstract."
When: 9 p.m. Tuesdays beginning Oct. 18
Where: Argos Warehouse Lounge & Event Space
Cost: $10 at the door (cash or Venmo)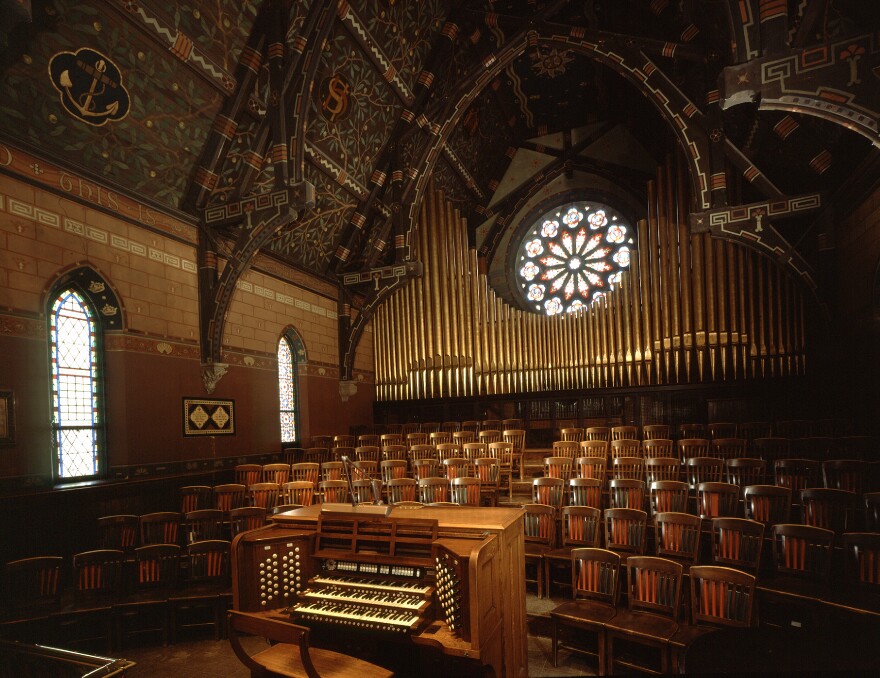 Going Galactic
Cornell's Midday Music for Organ series with Jeffrey Snedeker, who performs Gustav Holst's "The Planets." "The orchestral colors of Gustav Holst's popular work 'The Planets' are exquisitely captured in Peter Sykes' transcription for the organ, created specifically for a large Aeolian-Skinner instrument very similar to the organ at Sage Chapel. The recent restoration of this organ has revealed a dazzling sonic palette, with sounds that have not been heard in their original brilliance for decades."
When: 12:30 p.m. Wednesday, Oct. 26
Where: Sage Chapel, Cornell University
Cost: free and open to all
Going Deep
Practice Presents hosts its first event at Deep Dive, with local hardcore stalwarts Mill Bastards joined by fast-rising garage rockers Microbes, Mostly and metal riffmeisters Cobra Cadaver, who just unveiled their debut album.
When: 9 p.m. Wednesday, Oct. 26
Where: Deep Dive
Cost: $10
Orchestral Maneuvers
Symphonic rock legends Renaissance, featuring founding vocalist Annie Haslam, will bring its Legacy Tour to Central New York. The band, which celebrated its 50th anniversary in 2019, is "widely recognized for its integration of rock and classical music, the use of a full symphony orchestra, and the five-octave voice of Haslam. Renaissance secured its place on the world stage with a top ten hit 'Northern Lights' and performed at some of the world's most prestigious venues including the Royal Albert Hall in London and Carnegie Hall in New York each with full orchestra live on stage. An album release from one of the Carnegie Hall concerts is considered a staple among fans of symphonic rock to this day." The band and orchestra will be playing a unique line up of selections that will include Haslam's favorite Renaissance classics alongside favorites from her many solo recordings. Find out more here.
When: 8 p.m. Wednesday, Oct. 26
Where: Center for the Arts, Homer
Cost: $35-$40, available online here
More Shows
Lloyd Graves, Harry Aceto, and Friends play the Trumansburg Farmers Market at 4-7 p.m. Wednesday
Joey Arcuri, Nate Richardson and Greg Evans play jazz at the Argos Inn at 5-7 p.m. Wednesday
Sacred Root Kava Bar and Tea Lounge hosts its weekly Open Mic Night at 7 p.m. Wednesday
The Range hosts its weekly Salsa Night Latin Dance Party, featuring DJs and dance lessons, from 7:30 p.m. to 1 a.m. Wednesday
Jeremy Bussman hosts the weekly Open Mic Night at the Upstairs at 8-11 p.m. Wednesday
Raedwald Howland-Bolton returns to South Hill Cider at 5-8 p.m. Thursday
Louiston returns to Atwater Winery at 5:30-7:30 p.m. Thursday; he'll be joined by Chris Ploss and Joey Arcuri for a rare full-band concert
Aiken is at Cortland Beer Company at 6 p.m. Thursday
Benny T brings his Open Mic Posse to Crossroads Bar & Grille in Lansing at 6:30 p.m. Thursday
Sarah Haggerty makes her Ithaca debut at the Downstairs at 8-10 p.m. Thursday
Bob Roberts Calamity is at Pete's Cayuga Bar at 9 p.m. Thursday
GoGone plays happy hour at Deep Dive at 5-6:30 p.m. Friday
Tenzin Chopak and Emmett Scott are at Two Goats Brewing at 5 p.m. Friday
The Gabe Stillman Band plays the Oasis at Hazlitt 1852 Vineyards at 5:30-8:30 p.m. Friday
The East-West Blues Band is at Seneca Lake Brewing's Beerocracy Pub at 6-9 p.m. Friday
Sam Swanson is at Grist Iron Brewing at 6-9 p.m. Friday
Billy Golicki is at Seneca Lake resorts at 6-9 p.m. Friday
Johnny West is at McGraw Box Brewing at 6-8 p.m. Friday
Rocco Rich is at the Dryden Hotel at 6-8 p.m. Friday
Rachel Beverly is at BRU64 at 6-8 p.m. Friday
The Junkyard Heights Trio is at Homer Hops at 6-9 p.m. Friday
Butternut Creek Revival is at Heuga's Alpine in Tully at 7-10 p.m. Friday
TJ Sacco and Brianna Jesse are at The Glen Haven at 8-11 p.m. Friday
M3 is at Cortland Beer Company at 8 p.m. Friday
Chasing Neon is at the St. Charles Hotel in Cortland at 8:30 p.m. Friday
Bad Alibi is at Matt's Place in Beaver Dams at 8 p.m. Friday
Rochester's Personal Blend joins forces with Ithaca's own Metasequoia at the Range at 9 p.m. Friday ($5)
Triple 5 Spout continues its October residency at the Downstairs at 9 p.m. Friday; this week, they're joined by Mazurka, a new project from Steve Gollnick, Jason Dengler and Susanna Drbal.
Opera Ithaca will be presenting its Pop-Up Concert series taking place inside The Gallery at South Hill from 10:30 a.m. to 12:30 p.m. Saturday in conjunction with Ariel Bullion Ecklund and Domenica Brockman's "Interpretation of Line X 2" exhibit
Electrolyte plays brunch at Deep Dive at 12-4 p.m. Saturday
Chasing Neon is at Tim's Pumpkin Patch in Marietta at 2-5 p.m Saturday
Joel Kane is at Chateau Dusseau in Locke at 2-5 p.m Saturday
Cisco and Friends will play Lucky Hare Brewing's fourth annual Hare Roast at 2-5 p.m. Saturday in Hector
Amongst the Monks play the Lucky Hare Brewing Stage in Press Bay Alley at 3-5 p.m. Saturday
Patchwork Down will play at an Open House at a newly renovated event facility at 2100 Agard Road in Trumansburg at 4-6 p.m. Saturday
The Mary Ott Band is at Liquid State North Shore at 4-7 p.m. Saturday
Nikolai Ruskin plays Brookton's Market at 5-7 p.m. Saturday
Past My Bedtime is at McGraw Box Brewing at 5-8 p.m. Saturday
Wayne Gottlieb and Harry Aceto play Ithaca Coffee Company at 5-7 p.m. Saturday
Kaity Davis is at Owasco Lake Brewing at 5-7 p.m Saturday
The FAR Trio is at Two Goats Brewing at 5 p.m. Saturday
Tenzin Chopak and Emmett Scott are at Stone Bend Farm at 6-8 p.m. Saturday
Stereopticon will play Lucky Hare Brewing's fourth annual Hare Roast at 6-9 p.m. Saturday in Hector
Molly and the Ringwalds are at Owego Street Makery in Cortland at 6-9 p.m. Saturday
Hot Dogs and Gin are at Grist Iron Brewing at 6-9 p.m. Saturday
The Kitestring Duo is at Summerhill Brewing at 6-8 p.m. Saturday
Black & Blue is at Homer Hops at 6-9 p.m. Saturday
Jimi Marley plays ONCO Fermentations in Tully at 6 p.m. Saturday
Adam Parker is at the Homer Elks Lodge at 7-9 p.m. Saturday
86ers frontman Josh Dolan plays a couple of solo sets at Sacred Root Kava Bar at 8 p.m. Saturday
Jess Novak is at The Glen Haven at 8-11 p.m. Saturday
Exit 11 is at Cortland Beer Company at 8 p.m. Saturday
Wayne Gottlieb, Ken Zeserson, and Stu Zimny play the Sunday Jazz Brunch at the Stonecat Café from 11 a.m. to 2 p.m. Sunday
Small Tattoo — Jeff Claus, Michelle Delco, Judy Hyman, Sally Freund, and David Jones — is at Brookton's Market from 11 a.m to 1 p.m Sunday
Khalil Jade plays Treleaven Winery at 1-4 p.m. Sunday
Deep Dive hosts the Caravan Vintage Bazaar at 2-7 p.m. Sunday
The Tarps play Americana Vineyards Winery at 2-4:30 p.m. Sunday
CNY Songbirds, as "Babylon Sisters" will sing the songs of Steely Dan at the Homer Center of the Arts at 4 p.m. Sunday
Cielle on Solid Ground is at Two Goats Brewing at 4 p.m. Sunday
The Downstairs hosts a Jazz Jam at 6 p.m. Sunday
Rochester rockers Maybird will play a free show at Deep Dive at 8 p.m. Sunday
Brett Beardslee brings his weekly Monday Night Blues back to Rasta Ranch Vineyards at 5-8 p.m. Monday
The Center for the Arts in Homer hosts its weekly Open Mic Night at 7-9 p.m. Tuesday
Jasperoo plays the Trumansburg Farmers Market at 4-7 p.m. Wednesday
Joey Arcuri and Friends play jazz at the Argos Inn at 5-7 p.m. Wednesday
Sacred Root Kava Bar and Tea Lounge hosts its weekly Open Mic Night at 7 p.m. Wednesday
The Range hosts its weekly Salsa Night Latin Dance Party, featuring DJs and dance lessons, from 7:30 p.m. to 1 a.m. Wednesday
Jeremy Bussman hosts the weekly Open Mic Night at the Upstairs at 8-11 p.m. Wednesday