12+ shows to see this week: July 17-20
It's time for the annual Finger Lakes GrassRoots Festival of Music and Dance, with three more days of Culture Camp followed by the festival itself beginning on Thursday. Plus, Bronwen Exter returns to the Argos Warehouse, Park Doing kicks off his monthly "House Party" series at the Downstairs, and The Bigness and Honeychile play South Hill Cider.
Note: there's no Downtown Ithaca Summer Concert Series show this week on the Commons.
MAQ Attack
South Hill Cider's Monday Night Jazz series continues this week with MAQ, a quartet that performs everything from classic and modern jazz to Brazilian bossa and folk music. The lineup includes Eric Aceto (violin), Harry Aceto (bass), Doug Robinson (guitar, vocals), Chad Lieberman (accordion), and Steve Pond (percussion). MAQ plays the 1st and 3rd Mondays of each month.
When: 5:30-8:30 p.m. Monday
Where: South Hill Cider
Cost: free
Under Pressure
Angelo Paradiso (New Planets, Living Myths, Big Mean Sound Machine, Swamp Kids) continues his weekly residency at Deep Dive, with multi-instrumentalist Fabi visiting for this edition of Sound Pressure Monday.
"Angelo Paradiso (multi - instrumentalist / mad scientist) brings you a VS battle that will make that tush pop and jaw drop. Man VS machine : Angelo invites a rotating cast of characters that range in instruments, names and forms to battle machine sequences, modular synths and all things sample-able. All styles from all places. All things funky. No computers, just humans. Bring your dancing shoes, your party hat, and dial 1-800-NOREQUESTS."
When: 8:30 p.m. Monday
Where: Deep Dive
Cost: $10
Bon Ton Roulet
GrassRoots Culture Camp presents a Cajun Dance with the Pine Leaf Boys. Hailing from southwest Louisiana, the band has made a name for itself by "presenting their own inimitable brand of Louisiana music with youthful exuberance, blending the sounds of Cajun, Zydeco, Swamp-Pop, Country, and Soul." Rolling Stone called them "... the next best thing to a Saturday night dance in Lafayette!" The dance will be preceded by a Mexican meal prepared by a native Oaxacan, Gabriel Emilio Gomez Recio, at 6:30 p.m. Learn more here!
When: 8:30-11:30 p.m. Monday
Where: Trumansburg Fairgrounds
Cost: $18 for dance, $45 for dinner and dance
Event Info
Songs to Sing
Ithaca singer-songwriter Bronwen Exter returns to Argos Warehouse to perform two sets of all original music. She'll be back by her ace band that includes Jen Middaugh (harmonies), Michael Stark (keys), Matthew Saccuccimorano (drums), Jason Shegogue (guitar and lap steel), and John Young (electric and double bass).
When: 7 p.m. Tuesday
Where: Argos Warehouse
Cost: Sliding scale cover charge at the door, with a suggested donation of $10-$20 to pay the musicians and sound
Jump for Joy
GrassRoots Culture Camp presents a Jump Blues Dance featuring Texas bluesman and former Asleep At The Wheel frontman Johnny Nicholas performing with an all-star band assembled by Culture Camp director TaraNevins; she's recruited area players Alicia Aubin (trombone), Lee Hamilton (sax), Brian Williams (bass), Bobby Henrie (guitar), and Mike Bram (drums) for a night of swing, blues, and other danceable American music. That will come after a meal prepared by Jo Vidrine, "the Freelance Cajun" from Lafayette, Louisiana.
When: 8:30-11:30 p.m. Tuesday
Where: Trumansburg Fairgrounds
Cost: $18 for dance, $45 for dinner and dance
Lotsa Laughs
Deep Dive continues its new bi-weekly comedy night, "Dive Into Comedy," produced by Comedy On The Commons. "Brace yourselves for waves of laughter every other Wednesday, as the stand-up scene in Ithaca takes a deep dive into humor! Your hosts for the night, Mike Stewart and Andre 'Pnut' Williams, promise to keep your spirits afloat with their unique styles. Mike, known for his sharp wit and original observations, has been making waves on the comedy scene with his relatable humor. And what can we say about Pnut? Though relatively new on the comedy scene, his rich life experiences and nique perspective guarantee plenty of laughs and food for thought. So mark your calendars, call your friends, and get ready to dive into a night filled with laughter, good vibes, and the most diverse comedy acts in town. Who knows? You might even discover your new favorite comedian!"
When: 6:30 p.m. every other Wednesday
Where: Deep Dive
House Music
"House Party with Park Doing" debuts at The Downstairs. Local singer-songwriter Park Doing says: "Every 3rd Wednesday I am hosting a 'House Party with Park Doing' at the Downstairs in Ithaca, NY. I bring my stereo system to the club and play records - Post Punk - Berlin School - Psych - LoFi - House - Psych - Glam - Trash Techno - Wave. Then I perform - and then play more records! Fun!"
When: 8-11:55 p.m. Wednesday
Where: The Downstairs
Cost: no cover!
Read a recent interview with Park Doing here!
Jump for Joy
GrassRoots Culture Camp presents a Zydeco Dance featuring longtime festival favorite Preston Frank backed by Donna the Buffalo. He says: "I don't play that new zydeco or Acadian music. I play Creole zydeco. It's in between both of them. It's got a good drive and a good swing to it." A Cajun dinner prepared by the Pine Leaf Boys will preceded the dance starting at 6:30 p.m.
When: 8:30-11:30 p.m. Tuesday
Where: Trumansburg Fairgrounds
Cost: $18 for dance, $45 for dinner and dance
Ready for Liftoff
The Galactic Escort Service returns every other Wednesday to Deep Dive, promising "another epic journey through sonic cosmology." Core players include Tenzin Chopak, Emmett Scott, Michael Schuler, Josh Oxford, and Ashley Ickes, who create improvisations on a variety of instruments. "Join us for an extra special Galactic Wednesday featuring super special guests as we all prepare to blast-off into GrassRoots weekend!"
When: 9:30 p.m. Wednesday, July 19
Where: Deep Dive
Cost: $10
A Music Lover's Paradise
The 31st annual Finger Lakes GrassRoots Festival of Music & Dance returns, featuring more than 100 bands performing on five stages during the four-day event. Host band Donna the Buffalo will welcome a variety of headliners from around the world, including Watchhouse, Kabaka Pyramid, the Mavericks, Sona Jobarteh, Dahkabrakha, Rising Appalachia, and Jupiter & Okwess along with the usual roster of local and regional favorites and top-notch roots bands from around the country
When: Thursday-Sunday
Where: Trumansburg Fairgrounds
Cost: a four-day pass is $164 in advance, $179 at the gate; daily admission ranges from $45 to $78; learn more here!
Make It Bigness
The Bigness – the duo of Kristin Bigness and John Bueno – returns to South Hill Cider.
"The Bigness is an indie pop/rock band founded in 2011 by singer-songwriter Kristin Bigness and her partner, John Bueno. For years they operated as a guitar-centric power pop band based out of Philadelphia. In 2020, what started as a playful exploration of electronic music became a necessity. In lieu of weekly rehearsals with their longtime bandmates, they built a new sound as a duo—consuming a steady diet of Portishead, Mazzy Star, Sylvan Esso, Talking Heads, Emily Haines, and Fleetwood Mac in the process. Their current indie-pop catalog of originals and covers rests upon dance beats, keys, electric guitar, and looping, lush vocals."
John Bueno will be playing a few of his solo songs during a set; his "solo work combines the sounds of guitar-centric indie rock in the spirit of bands like Pavement, Sonic Youth, and Silver Jews with those of synth-focused new wave such as Tears For Fears, Echo & the Bunnymen, Joy Division, and New Order."
Sharing the bill is Honeychile. "Philadelphia-based musician, singer, and songwriter Becca Graham explores themes of identity and coming-of-age by taking on the roles of a hip hop emcee and a jazz diva. Through a mix of humor, vulnerability and sass, Honeychile wishes to challenge listeners perceptions of the Black musical canon following in the footsteps of giants past and present." Check out her new single, "Fine," here!
When: 5:30-8:30 p.m. Thursday
Where: South Hill Cider
Cost: free; donations welcome
More Shows
Brett Beardslee is back with the blues at Rasta Ranch Vineyards at 5-8 p.m. Mondays
Mark Maynard hosts Open Mic Night at Lucky Hare Brewing in Hector at 6-8 p.m. Mondays
The East-West Blues Band is at the Downstairs at 6 p.m. Monday
Disguised at Humans play the downtown Ithaca Farmers Market at 3-6 p.m. Tuesday
Freight is at Barnstormer Winery at 5-8 p.m. Tuesday
The Diana Leigh Quartet plays jazz, swing, and standards at Firelight Camps at 6-8 p.m. Tuesday
Rachel Beverly is at the 2023 "Music in the Hollow" summer concert series at the Ellis Hollow Community Center at 6-8 p.m. Tuesday
Kenneth McLauren hosts Open Mic Stand Up Comedy Night at The Downstairs at 7-9 p.m. Tuesday
The Center for the Arts in Homer hosts Open Mic Night at 7 p.m. Tuesdays
Auburn Public Theatre hosts Open Mic Night at 7:30 p.m. Tuesdays
The Westy hosts its Open Mic Night at 9 p.m. Tuesdays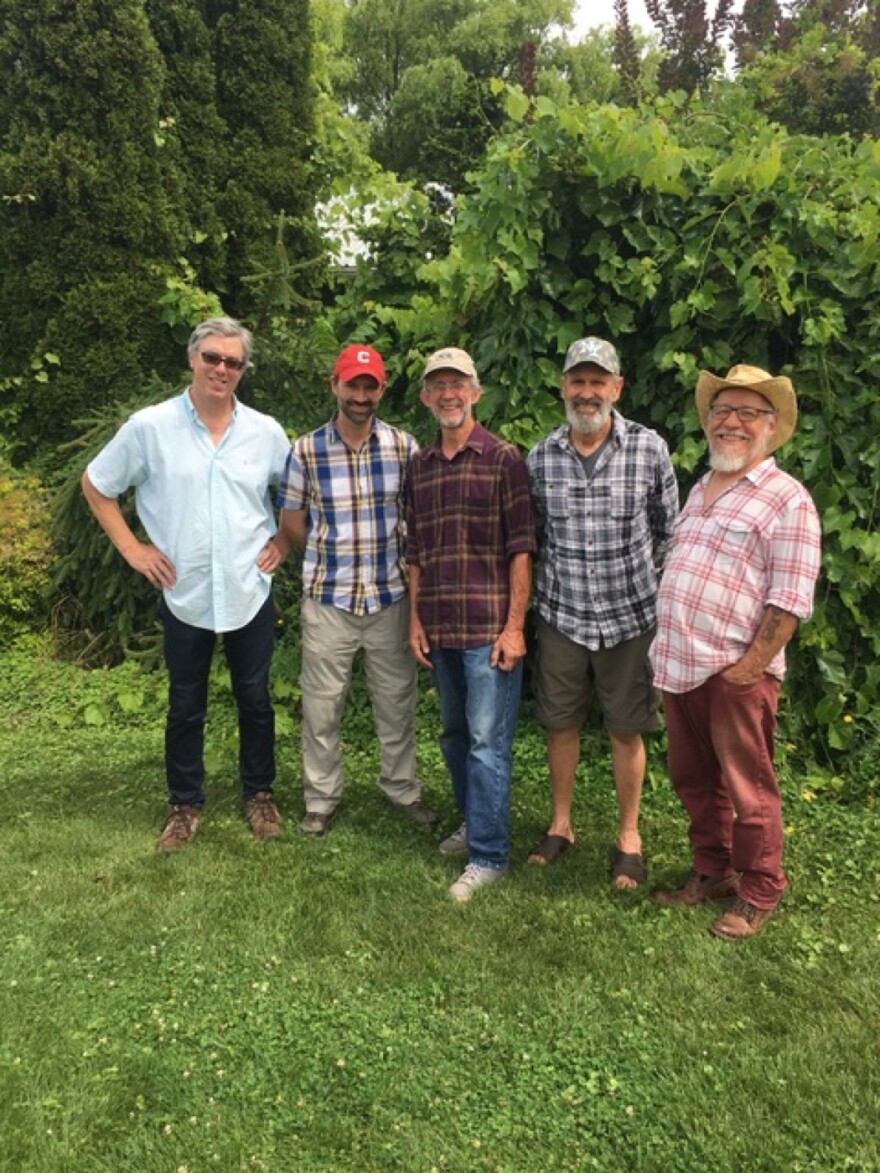 Zydeco Trail Riders are at the Trumansburg Farmers Market at 4-7 p.m. Wednesday
Cam Caruso is at Stonecat Café's Pub Night at 5-7 p.m. Wednesday
The Argos Trio plays jazz at the Argos Inn at 5-7 p.m. Wednesdays
Jesse Collins and Friends host the Sandwich Sessions at Brookton's Market at 5:30-7:30 p.m. Wednesdays
The London McDaniel Trio is at Ithaca Beer Company at 6-8 p.m. Wednesday
Mike Aiken is at Cortland Beer at 6-8 p.m. Thursday
The Pelotones are at Bright Leaf Vineyard in King Ferry at 6-8:30 p.m. Wednesday
Fabi is at Cayuga Shoreline at 6-9 p.m. Wednesdays
Stiv Morgan plays on the Homer Village Green at 7-8 p.m. Wednesday
DJ Dale hosts Trivia Night at Revelry Yards at 7-9 p.m. Wednesdays
Sacred Root Kava Bar and Tea Lounge hosts its weekly Open Mic Night at 7 p.m. Wednesday
The Salsa Night Dance Party returns to the Range at 7:30 p.m. Wednesdays
The Upstairs has resumed its weekly Open Mic Night, now at 8:30 p.m. to midnight Wednesdays
Mystic Twangers are at Grist Iron Brewing at 5-8 p.m. Thursday
Off The Rails are at Six Mile Creek Winery at 6-8 p.m. Thursday
Rachel Beverly is at Atwater Vineyards at 6-8 p.m. Thursday
The Delta Mike Shaw Band is at Lucas Vineyards at 6-8:30 p.m. Thursday
Gerard Burke is at Two Goats Brewing at 6-9 p.m. Thursday
Travis Durfee hosts Open Mic Night at El Rancho in Watkins Glen at 6-9 p.m. Thursday
Benny T brings his Open Mic Posse to Crossroads in Lansing at 6:30 p.m. Thursday
City Limits is at Myers Park in Lansing at 6:30 p.m. Thursday
Molly and the Ringwalds are at Courthouse Park in Cortland at 7-8:30 p.m. Thursday
Atlas Bowl in Trumansburg hosts the weekly Vinyl Showcase at 7-10 p.m. Thursdays
Regional Shows
July 17, Bywater Call, 443 Social Club, Syracuse
July 20, Jill Sobule, Abilene Bar and Lounge, Rochester
July 22, Culture Club, Berlin, and Howard Jones, Bethel Woods Center for the Arts, Bethel
July 22, Jackson Dean, Del Lago Resort, Waterloo
July 22, Lil Ed and the Blues Imperials, 443 Social Club, Syracuse
July 22, Blood Sweat & Tears, Point of the Bluff Vineyards, Hammondsport
July 23, Phish, St. Joseph's Health Amphitheater at Lakeview, Syracuse
July 23, Jerron "Blind Boy" Paxton and Dennis Lichtman, Abilene Bar and Lounge, Rochester
July 25, Ted Nugent, Kodak Center, Rochester
July 27, Old Dominion, MVP Arena, Albany
July 27, Larkin Poe and Allman Betts Band, Artpark, Lewiston
July 27, Nickel Creek and Aoife O'Donovan, Beak & Skiff Apple Orchards, LaFayette
July 27, The Young Dubliners, Center for the Arts, Homer
July 28, Abbie Gardner, 443 Social Club, Syracuse
July 28, Jesse Cook, Point of the Bluff Vineyards, Hammondsport
July 28, Dierks Bentley, Bethel Woods Center for the Arts, Bethel
July 28, Foreigner and Loverboy, Darien Lake Performing Arts Center, Darien Center
July 29, matchbox twenty, St. Joseph's Health Amphitheater at Lakeview, Syracuse
July 29, Summer Jam '23, Lincoln Hill Farms, Cazenovia
July 29, Boy George and Culture Club, Howard Jones, and Berlin, Darien Lake Performing Arts Center, Darien Center
July 29, Outlaw Music Festival with Willie Nelson, Gov't Mule, Nathaniel Rateliff, Kathleen Edwards, and Particle Kid, Bethel Woods Center for the Arts, Bethel
July 29, Gary Talley, Earlville Opera House, Earlville
July 29, Rock of the 70s with The Guess Who, Firefall, and Atlanta Rhythm Section, Point of the Bluff Vineyards, Hammondsport
July 30, Outlaw Music Festival with Willie Nelson, Gov't Mule, Nathaniel Rateliff, and Kathleen Edwards, Darien Lake Performing Arts Center, Darien Center
July 30, Lyle Lovett & His Large Band, Point of the Bluff Vineyards, Hammondsport
July 30, matchbox twenty, Saratoga Performing Arts Center, Saratoga Springs