30+ shows to see this weekend: Sept. 28-Oct. 2
Hip hop/R&B artist and Cornell alumnus LGN returns to Ithaca, Jakobs Castle sets up at Deep Dive, the 41st Apple Harvest Festival returns to downtown Ithaca, the ElectroZone hosts a fundraiser at Forest Lodge 180, and bluesman Larry McCray comes to the Center for the Arts of Homer. Plus, the 40th anniversary restored edition of Talking Heads' "Stop Making Sense" opens at Cinemapolis!
Fall Fun
The 41st Annual Apple Harvest Festival returns to Downtown Ithaca this weekend, with three days of festivities on the Commons and Dewitt Park
"Apple Harvest Festival will host plenty of farm-stand fresh apples and produce, delectable apple and seasonal baked goods, a variety of food vendors offering tasty bites, and a craft fair with artisans from around the region. There will also be live music and entertainment, plus plenty of great apple and apple-inspired products for sale inside shops in and around Downtown."
Here's the live music schedule for the weekend:
Bernie Milton Pavilion – The Commons
Saturday
12 p.m. Noon Fifteen
1 p.m. L'il Anne & Hot Cayenne
2 p.m. Kitestring
3 p.m. Fusebox
4 p.m. Fall Creek Brass Band
5 p.m. Alex Cano
Sunday
12 p.m. The Pelotones
1 p.m. Running 2 Places
2 p.m. City Limits
3 p.m. Freight
4 p.m. Southside
5 p.m. Papa Muse
Dewitt Park
Saturday
12 p.m. Mirage Belly Dancers
1 p.m. Motherwort
2 p.m. Diana Leigh Quartet
3 p.m. Premium Blend
4 p.m. Destiny La Vibe
5 p.m. Hannah T
Sunday
12 p.m. GIAC Jumpers
1 p.m. Yamatai
2 p.m. Good Dog
3 p.m. Easy Joe
4 p.m. Penelope Voss
5 p.m. Rob Ervin
Press Bay Stage
Saturday
12-2 p.m. JP and Loveday
2-3 p.m. Josh Barr of Klaus Dafoe
3-4 p.m. Lydia Garrison
4-6 p.m. Michael Martinez
Sunday
12-2 p.m. SingTrece
2-4 p.m. Cisco and Toby from the Soul Benders
4-6 p.m. Max Moses and Rev Ezra
When: Friday-Sunday
Where: The Commons and Dewitt Park, downtown Ithaca
Cost: free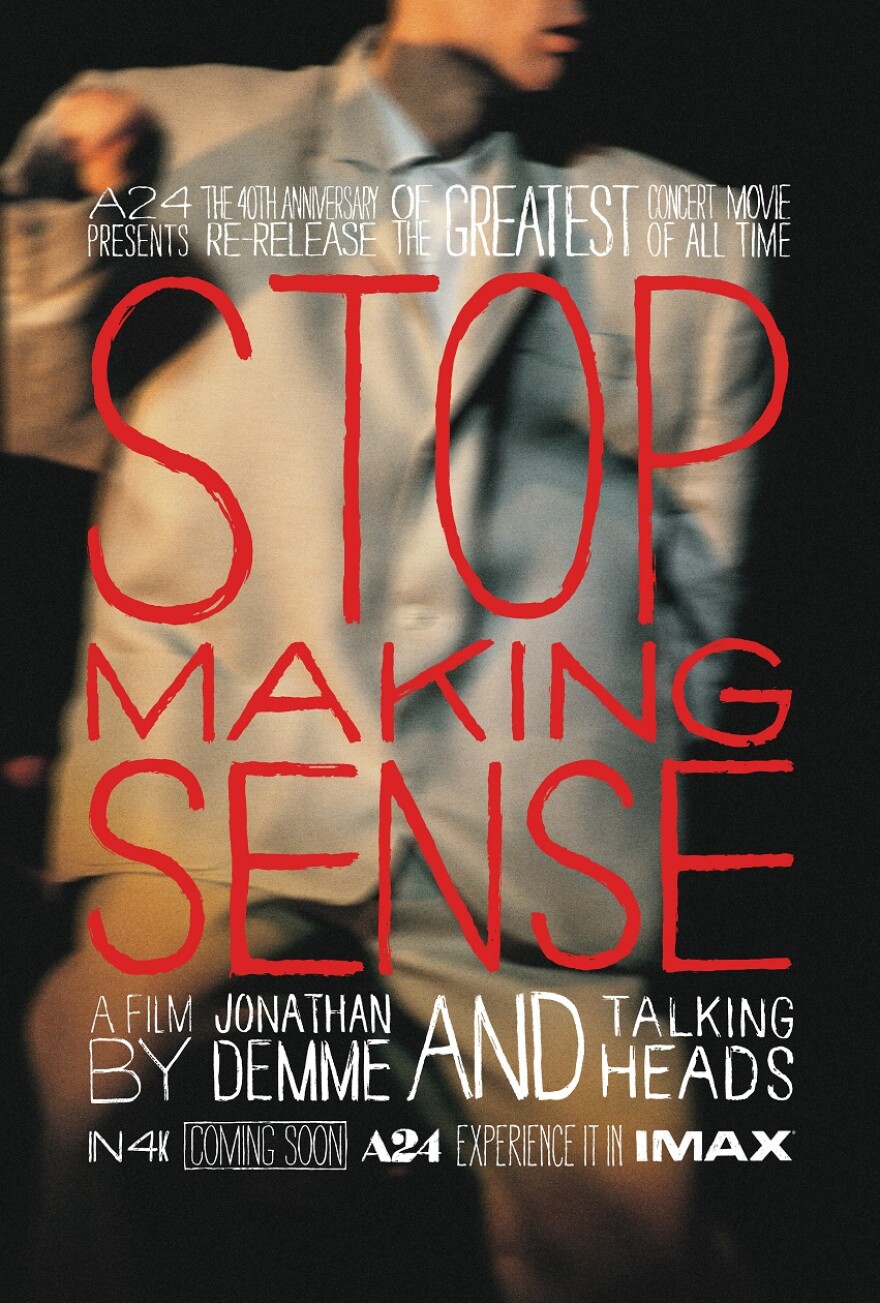 Once in a Lifetime
Opening at Cinemapolis Friday is widely considered the greatest concert film of all time. "Stop Making Sense" brings to the screen "Talking Heads at Hollywood's Pantages Theater in December 1983: David Byrne, Tina Weymouth, Chris Frantz, and Jerry Harrison, alongside an ecstatic ensemble of supporting musicians. Renowned filmmaker Jonathan Demme captures the band at their exhilarating best, in this new and complete restoration for the film's 40th anniversary."
When: Opens Friday
Where: Cinemapolis
Cost: $7-$11
Harvest Season
South Hill Cider hosts its second annual Harvest Jam. "Hosted by FABI and his NY €l€CTRIC TRIO. Some of UpNy's finest musicians will join in! Come say hello and harvest on the vibez!!" The event also will feature cider by the glass, cocktails crafted with NY spirits and artisanal food menu available all day long.
When: 5:30-8:30 p.m. Friday
Where: South Hill Cider
Cost: $10
A Good Cause
The ElectroZone is "Ithaca's salon for electromusicians and experimenters, a pop-up reality devoted to the weird, the new, and the DIY, specializing in unforgettable performances, unique events, and creative workshops with a community focus." It returns Friday with another cool event that doubles as a fundraiser for the non-profit organization.
"The rumors are true! We're doing a fundraiser September 29th at the Forest City Lodge! This will be an epic dance party that will run late! Plus, we will be raffling off cool items like a guitar from Ithaca Guitarworks, and there will be the much-vaunted return of ElectroZone T-shirts! Tungsten Lungs, Black, MA, Stepwriterun, and Panther Smoothie will be providing your entertainment! This is going to be one great night! Don't Come Alone!"
When: 7 p.m. Friday
Where: Forest City Lodge 180
Cost: suggested donation of $10-$20.
Voices Raised
The Cornell Department of Music presents a homecoming concert featuring Cornell's Glee Club and Chorus, conducted by Joe Lerangis. "The concert will present works by Chesnokov, Maniano, Tallis, Bloch, Ramsey, Weelkes, Hogan, and more, with music from around the world spanning five centuries and six languages. Celebrating Cornell's rich tradition of choral music, the concert will bring us home with rousing renditions of Cornell songs to kick off the weekend."
When: 7 p.m. Friday
Where: Bailey Hall, Cornell
Cost: Advance tickets are $15 for the general public and $8 for students, available online here
American + Canadian
The Janet Batch Trio returns to downtown Ithaca for a night of twangy originals and cool covers. And in a one-night-only appearance, members of local Americana bands Freight, Mortal Combine, and the Dart Brothers will join forces for the first time!
And back on the bill after solving their visa issues is the Canadian duo Moonfruits, who are touring to promote their new album, "Salt." Kaitlin Milroy and Alex Millaire will be joined by cellist Desiree Sky for this show.
When: 8-11 p.m. Friday
Where: The Downstairs
Cost: $10
Hello, Larry!
Powerhouse blues guitarist and singer Larry McCray returns to Central New York. Since emerging on the scene in 1990, McCray has released several albums, including his latest, 2022's "Blues Without You." Over the past three decades of nonstop touring and recording, McCray also has played and shared the stage with such blues and rock greats as BB King, Buddy Guy, Albert King, John Mayall, Johnny Winter, Robert Cray, Keb Mo, Jonny Lang, Joe Walsh, Levon Helm, Kenny Wayne Shepherd, Bobby "Blue" Bland, Albert Collins, and Joe Bonamassa. "No stranger to the deep and endless world of the jam band universe either, Larry is beloved by and has performed with many of the greats in that world, including touring with The Allman Brothers Band, Warren Haynes, Gov't Mule, Phil Lesh, Chris Robinson of the Black Crowes, and countless others."
"Now, with the release of his new album 'Blues Without You' (March 25, 2022), Larry McCray is poised to re-emerge as one our great American roots and blues performers. The new album is a masterful, genre busting 12-track release that touches on country, jazz, gospel…and of course the blues. Recorded on famed guitarist Bonamassa's Keeping the Blues Alive label with producer Josh Smith, the breadth of McCray's songwriting talents are on full display, found on tracks such as the classic blues shuffle Arkansas, the retro soul of 'Breaking News' and the poignant ballad 'Down To The Bottom' (featuring Warren Haynes)."
When: 8 p.m. Friday
Where: Center for the Arts of Homer
Cost: $22-$25, available online here
Goin' Cali
Jakobs Castle makes its Ithaca debut at Deep Dive. "The passion project of magnetic artist Jakob Nowell (son of late Sublime vocalist Bradley Nowell) is proud to announce their signing to the legendary Epitaph Records. The 28-year-old Nowell got his start playing in the popular Southern California rock act LAW, but Jakobs Castle is an unfiltered version of his personal musical identity which he created alongside producer and co-collaborator Jon Joseph. 'I think that Jon was the guy who really helped me discover my sound because I would show him the synth sounds I wanted or what I liked for vocal effects and it became this affected cyber ska weirdness,' Nowell says."
Read Ryan Yarmel's on-air interview with Jakob Nowell here!
Local rockers Metasequoia will open the show; the band has released new several singles in recent months.
When: 9 p.m. Friday
Where: Deep Dive
Cost: $9 in advance, available online here; $15 day of show
Throwin' Down Upstairs
Cast Iron Cowboys and DJ Juno team up for a show in downtown Ithaca.
"The Upstairs will be hosting the Cowboys for a rockin' honky-tonk all night long. with DJ Juno to set the level high starting at 9. Be ready to drink, dance, scream n shout. Cast Iron Cowboys on at 11 featuring the viciously talented IC senior Margaret Harper (@mrgrthrpr) on harmonies and lead vocals. We're going party so hard that Green Day wakes up 2 days early."
@abigailtessierartist
When: 9 p.m. Friday
Where: The Upstairs
Cost: $5
A Welcome Return
Alex Cano returns to the Range with his blend of rock and Americana influences. A graduate of Ithaca College, Cano is now based in the Hudson Valley. "Known for his combination of smooth baritone and powerful rock vocals, Cano's sound ranges from high energy alternative and blues-based rock 'n' roll, to intimate Americana/folk/roots rock. He has been compared to artists/bands such as Foo Fighters, Led Zeppelin, Pearl Jam, The Black Crowes, Jason Isbell, and Johnny Cash.
"Cano's debut album 'Every Rise of the Sun' is a story of resilience and survivorship that hits straight to the heart, while making you want to drum along on your steering wheel. It's an authentic, raw record that tells the truth from cover to cover, and has received high acclaim from publications such as Paste Magazine and Indie Current. 'Every Rise of the Sun' was supported by a full US tour, and Cano has toured actively throughout North America since 2019. He has opened for artists such as Plain White T's, Gin Blossoms, and Band of Heathens. Cano is currently working on his second record, with singles set to release throughout the fall of 2023."
When: 10 p.m. Friday
Where: The Range
Cost: $10; $5 with a student ID
Fall Festivities
The Homer Hops Fall Festival returns, featuring "live music, food trucks, craft vendors, fall beer releases and pumpkin painting. Family friendly and no cover charge." Bands performing are Thompson Hall (1-3 p.m.), J. Schnitt (3:30-5:30 p.m.), and DarkWine (6-9 p.m.)
When: 12-10 p.m. Saturday
Where: Homer Hops, 700 State Route 90, Homer
Cost: free and open to all
Sunny Sounds
Michael Franti & Friends return to the Finger Lakes to close out Concerts at Point of the Bluff's 2023 season.
"Franti is a globally recognized musician, activist, hotel owner (Soulshine Bali) and award-winning filmmaker revered for his high-energy live shows, inspiring music, devotion to health and wellness, worldwide philanthropic efforts and the power of optimism. Throughout his multi-decade career, Franti has earned three Billboard No. 1's with triumphantly hopeful hits "Sound of Sunshine," "Say Hey (I Love You)" and "I Got You," as well as six Top 30 Hot AC singles, 10 Top 25 AAA Singles and three Billboard Top 5 Rock Albums. Spearhead's 12th studio album 'Follow Your Heart,' released in June 2022 and debuted at No. 2 on the iTunes Pop Chart behind Harry Styles.
"One thing I learned these last couple of years is that people need people," shares Franti. "I wrote many songs about connection, resilience and finding the light, even in the midst of all the crazy. Somewhere in there we find resilience, and I hope 'Follow Your Heart' gives fans the courage to continue looking for and holding onto that perseverance."
Evan Meulemans will open the show with a solo set.
When: 2 p.m. Saturday
Where: Point of the Bluff Vineyards, Hammondsport
Cost: $65-$95, available online here
Forest Fire
Log Country Inn Bed & Breakfast of Ithaca will host "Party in the Woods! Cast Iron Cowboys playing that good ol' country music at 6, ilium works doing whatever it is we do at 7:15. Free music. Free food. Charming log cabin B&B. Come let us sing to you!"
When: 6 p.m. Saturday
Where: Log Country Inn Bed & Breakfast of Ithaca, 4 Larue Road, Spencer
Cost: free
Nearing the End
Bendher brings its "End of an Era Tour" to Ithaca, performing its penultimate show of the four-show farewell tour to the band's longtime guitarist, Scott Fletcher. "We come back home!!! This is Fletch's last show in Ithaca. Show him some love and come out and say goodbye ...we've only got 1 more show after this one !!"
When: 7 p.m. Saturday
Where: Fraternal Order of Eagles #1253, 161 Cecil Malone Dr., Ithaca
Two in Tandem
"Louiston – the moniker of CNY-based Lou DiPietro – has morphed into something resembling a band in the last year, welcoming several seasoned musicians on gigs across New York state. One of these new Louiston configurations, the guitar-keys duo – featuring Colleen Countrymen on keys – pairs Lou's signature uptempo flat-picking and Chet Atkins-esque finger-picking styles with Colleen's masterful, varied playing for a delicate and rich sound that criss-crosses genres, from ragtime and classic country to folk and rock n' roll. All original tunes."
When: 7 p.m. Saturday doors
Where: The Downstairs
Cost: $5
Fiery Fingers
Acclaimed guitarist Preston Reed comes to Trumansburg this weekend. "To watch Reed perform is to witness the bending of reality. The New York master tweaks the nose of musical convention, pokes the eye of received wisdom and burns the rulebook of the past. Using an evolution of the two-handed acoustic technique he pioneered in 1987, he fuses chord-based grooves, soaring melodic runs and polyrhythmic percussion that integrates the breathtaking potential of the guitar body. The power and depth of his original compositions are as unique as the man's execution, from his roots in blues, rock, funk and jazz to explorations in Middle Eastern and neo-classical styles, Reed's music embraces familiar sounds in a fresh and original way. Preston Reed doesn't need a band. He is the band."
When: 7:30 p.m. Saturday
Where: Trumansburg Conservatory of Fine Arts
Cost: $18 in advance, available online here; $22 at the door
Dynamic Duo
The Cornell Department of Music presents a recital from Cornell piano faculty Xak Bjerken and classical saxophonist/composer Steven Banks. The duo will perform a program that explores fantasy and family through music. Pieces include arrangements of Robert Schumann's Fantasy Pieces, Op. 73, Maurice Ravel's Mother Goose Suite, Camille Saint-Saens' Oboe Sonata in D Major, and Banks' own composition, Come As You Are.
"Banks is establishing himself as a compelling and charismatic soloist and in 2022, he was awarded the prestigious Avery Fisher Career Grant and was a chosen artist for WQXR's Artist Propulsion Lab. He was the first saxophonist to be awarded First Prize at the Young Concert Artists Susan Wadsworth International Auditions. Banks has appeared with The Cleveland Orchestra, Montreal Symphony, Utah Symphony, Colorado Symphony, Mostly Mozart Festival Orchestra, and Aspen Festival Orchestra, as well as at Merkin Hall, The Kennedy Center, The Kravis Center, and Festival Napa Valley, among others. Critics have consistently recognized Banks for his warm yet glowing tone, well-crafted and communicative musical expression, and deft technical abilities. Banks serves as a visiting faculty member at the Cleveland Institute of Music. He was previously Assistant Professor of Saxophone at both Ithaca College and the Baldwin Wallace Conservatory, and held the Jackie McLean Fellowship at the University of Hartford."
When: 8 p.m. Saturday
Where: Barnes Hall, Cornell
Cost: free and open to all
Collective Techno Healing
Microtones returns with another event featuring DETOUR crew member and resident Naeem, who "first became enamored by dance music while working at Pittsburgh radio station WRCT (where the crew formed). Fast forward some years, those familiar with the Pittsburgh dance scene know Naeem is no stranger to the inner workings and mechanisms of the dance floor. Building off this deep knowledge and releases in recent years on Electric Cafe Records and Lost Soul Enterprises, he continues to reference his past experiences to hone his skills in the booth and studio."
Glitter Skulls and Nube_Nunca round out the bill
When: 8 p.m. Saturday
Where: Forest City Lodge 180, West Green St., Ithaca
Cost: cover charge
Talk About The Passion
"Get ready to ignite your passion at the ultimate party hosted by DJ ha-Meen and the Mighty Mickie Quinn!"
"Inspired Fashion: Fashion: Think fire. Think fall.
Reds, oranges, and golds.
Leather, lingerie... whatever makes you feel HOT & FREE!
Take the passion home: Body safe, erotic products available for purchase. Provided by Sustainable Passion
All actions on and off the dance floor will be consensual.
Zero tolerance for harassment, discrimination, and mood killers."
-------------
"Deep Dive and the Passion Party is a space for everyone to feel welcome and free to express themselves. We have a zero tolerance policy for harassment, unwanted touch, and discrimination. Always ask consent before touching anyone at our events. If someone is making you uncomfortable, speak to the consent monitor, a security guard, the emcee, the DJ, a bartender, or ask for a manager. We will believe you, and we will help. All restrooms in our venue are gender neutral. The entrance to the venue is ADA accessible. Strobe lights are used during performances and parties."
When: 9 p.m. Saturday
Where: Deep Dive
Cost: $9 in advance, available online here; $15 day of show
Hip Hop Homecoming
Hip hop/R&B artist and Cornell album LGN comes to downtown Ithaca, where he'll joined by locals Mike Parker (drums) and Mike Caporizzo (guitar) and DJ Joey Merryfield along with legendary producer Alex Perialas (Pyramid Sound Studios) running front-of-house sound. They'll be playing tracks from LGN's debut album "… of Love," which was mixed and mastered by Perialas and Chris Gehringer.
Local hiphop collective 607-SOS – eYeBee, KayTee, DeO & J. Corleone – will open the show.
When: 9:30 p.m. Saturday
Where: The Upstairs
Cost: $15 at the door
Going Underground
1980_Underground returns to Sacred to host its second event of September. "We transition into the season of hallows and fire! THIS IS A DANCE PARTY IN THE UNDERGROUND. Music, spirits, and scenery will be provided, but you are the cabaret and the conspirator. Wear your finest! SOUNDS::: MINIMAL WAVE. NEW WAVE. COLD WAVE. NO WAVE. POST PUNK. NEW ROMANTIC. MINIMAL SYNTH. DARK WAVE. WITCH HOUSE. PUNK."
When: 10 p.m. Saturday
Where: Sacred Root Kava Lounge & Tea Bar
Mighty Winds
The Cornell Wind Symphony, conducted by James Spinazzola, will present a concert that features "continuous performances by subsets of the Wind Symphony, from flute choir to saxophone quartet, brass quintet to brass choir, and mixed instrumental ensembles to percussion groups." Also on the program are George Gershwin's Cuban Overture (1932) and James Stephenson's American Fanfare (2006).
When: 12 p.m. Sunday
Where: Bailey Hall, Cornell
Cost: free and open to all
Roots Fire
The Canaan Institute will host a house concert with the duo of Bruce Molsky and Reed Stutz. The "Grammy-nominated, described as 'an absolute master' (No Depression), Molsky transports audiences to another time and place, with his authentic and personal interpretations of rarities from the Southern Appalachian songbook and other musical traditions from around the globe. Best known for his work on the fiddle, Bruce's banjo, guitar and his distinctive, powerful vocals also resonate with listeners. His combination of technical virtuosity and relaxed conversational wit makes a concert hall feel like an intimate front porch gathering."
"Reed Stutz brings a powerful rhythmic sensibility and evocative, soulful energy to string band music. Adept as a multi-instrumentalist and singer (mandolin, guitar, banjo), he is fueled by a love for old time and early bluegrass, and his inclination to dig into their roots has fed a distinctive sound with colorful blending of tradition and personality. Close study of Bill Monroe's mandolin style serves as one anchor to Reed's sound, off which he has delicately constructed a hard-driving, fiery edge woven into tender expressiveness. Regardless the instrument, these qualities come through in his music."
Please RSVP to cinst.org/rsvp for directions and to reserve your seat at this private venue. Visit www.cinst.org for more information.
When: 3-5:30 p.m. Sunday
Where: Canaan Institute, Brooktondale
Cost: $30 donation at the door
In Session
Traonach and Friends continue their Live Irish Music Session at the Watershed, carrying on in the fine tradition of their much-beloved sessions at the Argos, The Chapter House, and Micawbers on the first and third Sundays of each month
When: 5-8 p.m. Sunday
Where: The Watershed
Cost: free; donations are welcome
Celebrating Silents
Cornell Cinema is celebrating Silent Movie Month in Ithaca with three special silent film events with live musical accompaniment during the month of October.
The first takes place on Sunday, with a screen of the 1922 film "The Toll of the Sea." In this tragic tale of Western exploitation, an American man in China falls in love with and marries a young Asian woman named Lotus Flower (Anna May Wong). After he leaves her to return to the United States, Lotus Flower gives birth to a son, whom she dotingly raises on her own. When the man later returns to China with his new American wife Elsie, he meets his mixed-race son and his understanding white wife urges adoption. In a destructive act of self-sacrifice, Lotus Flower allows her son to return to America with his father."
Cloud Chamber Orchestra – Robby Aceto, Peter Dodge, and Chris White – will perform an original, experimental score along with the film
"The Toll of the Sea" kicks off Cornell Cinema's fall series, "From Silent Film Star to American Icon: Celebrating Anna May Wong," presented in partnership with the Wharton Studio Museum and Cinemapolis in honor of the 12th annual Silent Movie Month in Ithaca in partnership with the Wharton Studio Museum and Cinemapolis in honor of the 12th annual Silent Movie Month in Ithaca.
When: 5:30 p.m. Sunday
Where: Willard Straight Theatre, Cornell University
Cost: $8-$12, available online here
Miami Mix
Miami-based electro-pop duo Afrobeta serves up "an eclectic mix of electronic, funk, and Latin rhythms that ignites an unforgettable dance party wherever they land their bass-ship. They are currently on tour supporting their latest single, "Head Games," off their upcoming album, "ESO ES."
When: 6 p.m. Sunday
Where: Deep Dive
Cost: $9 in advance, available online here; $15 day of show
Crossing Borders
The Beacon on Aurora Concert Series presents Canadian singer-songwriter Scott Cook, who will be joined by bassist-banjoist-singer Pamela Mae.
"In 2007, Albertan songwriter Scott Cook quit his job teaching kindergarten in Taiwan and moved into a minivan. He's made his living as a troubadour ever since, touring almost incessantly across Canada, the US, Europe, Asia, Australia, New Zealand, and elsewhere, averaging 150 shows and a dozen summer festivals a year, and releasing seven albums of plainspoken, keenly observant verse along the way. His latest collection Tangle of Souls comes packaged in a cloth-bound, 240-page hardcover book of road stories and ruminations. The album spent two weeks at #1 on Alberta's province-wide community radio network CKUA, and earned Scott his third Canadian Folk Music Award nomination, for English Songwriter of the Year. Its second single "Say Can You See" was the second most-played song of 2020 on Folk Alliance International's folk radio charts, and took top honours for the folk category in both the 2020 UK Songwriting Competition and the 2020 Great American Song Contest. He's currently touring with his sweetheart Pamela Mae on upright bass, banjo, and vocals, believing more than ever that songs can change your life, and your life can change the world."
When: 7 p.m. Sunday
Where: First Unitarian Society of Ithaca (FUSIT), 306 N. Aurora St.
Cost: $20 suggested donation for tickets, which are available online here; No one turned away for lack of funds
Musical Nomads
A native of Hulunbuir, Inner Mongolia, throat-singer and multi-instrumentalist Tamir Hargana will perform songs from Mongolia, Inner Mongolia, and Tuva, highlighting diasporic crossover of Mongolian singing, sounding, and playing styles. His band, Tuvergen, aims to create "modern nomadic music," blending Mongolian sounds with American folk idioms.
When: 7 p.m. Sunday
Where: Barnes Hall, Cornell
Cost: free and open to all
On Monday afternoon, Tamir will also present an artist talk in which he'll discuss musical styles from Tuva and Mongolia, as well as his own creative processes in blending those styles into a more contemporary sound, drawing inspiration from American blues, bluegrass, and modern electroacoustic music. Tamir will give an introduction into throat-singing (khöömii), and his two main instruments, the horse-head fiddle (morin khuur), and tovshuur, a lute-like instrument common to Western Mongolia and Tuva.
When: 12:30 p.m. Monday
Where: Lincoln Hall B20, Cornell
Cost: free and open to all
MAQ Attack
South Hill Cider's Monday Night Jazz series continues this week with MAQ, a quartet that performs everything from classic and modern jazz to Brazilian bossa and folk music. The lineup includes Eric Aceto (violin), Harry Aceto (bass), Doug Robinson (guitar, vocals), Chad Lieberman (accordion), and Steve Pond (percussion). MAQ plays the 1st and 3rd Mondays of each month.
When: 5:30-8:30 p.m. Monday
Where: South Hill Cider
Cost: free
Setting Up Shop
Area native Trevor Exter, who now lives on the West Coast, continues his weekly residency at the Downstairs. A cellist and electric bassist by trade, Exter has recently switched to electric guitar for his current gigs. He'll be joined by bassist John Young, drummer Matthew Saccuccimorano, and guitarist Jason Shegogue, who all play in his sister Bronwen Exter's band.
"For most of his life, Trevor Exter has been a professional singer and cellist with his own approach to all aspects of composing, songwriting, producing, performing and touring. He's had a few bands where he got to make a spectacle of himself, and some producers like to use him as a secret weapon. Exter has toured with De La Guarda, Steve Kimock, author James McBride, DJ Tasha Blank and his duo with John Kimock, XVSK. He frequently performs solo, and is currently workshopping new material for a forthcoming record."
Exter also has his own Substack newsletter, "Play It Like It's Music," which you can check out here!
When: 7 p.m. Monday
Where: The Downstairs
Cost: $10 or pay what you can
Pressure Drop
Angelo Paradiso (New Planets, Living Myths, Big Mean Sound Machine, Swamp Kids) continues his weekly residency at Deep Dive, joined by a guest drummer.
"Angelo Paradiso (multi-instrumentalist/mad scientist) brings you a VS battle that will make that tush pop and jaw drop. Man vs. Machine: Angelo invites a rotating cast of characters that range in instruments, names, and forms to battle machine sequences, modular synths and all things sample-able. All styles from all places. All things funky. No computers, just humans. Bring your dancing shoes, your party hat, and dial 1-800-NOREQUESTS."
When: 8:30 p.m. Monday
Where: Deep Dive
Cost: $10
More Shows
Alex Cano is at Two Goats Brewing at 5-8 p.m. Thursday
Dallas Louis is at Grist Iron Brewing at 5-8 p.m. Thursday
The Brewhouse Blues Jam returns to Hopshire Farm and Brewery at 6-8 p.m. Thursday
Roger Decker and Pat Nadge are at Cortland Beer Company at 6 p.m. Thursday
Scale House Brewery hosts Open Mic Night at 6-8 p.m. Thursday
Rev Ezra is at Atwater Vineyards at 6-8 p.m. Thursday
Dane Hendrix & The Hangdog Saints are at Six Mile Creek Winery at 6-8 p.m. Thursday
Benny T brings his Open Mic Posse to CrossRoads in Lansing at 6:30 p.m. Thursday
Atlas Bowl in Trumansburg hosts the weekly Vinyl Showcase at 7-10 p.m. Thursdays
DJ Dale hosts Karaoke Night at the Upstairs at 10 p.m. Thursday
Special Guest is at Liquid State North Shore at 5 p.m. Friday
The Forty Thieves are at Hazlitt 1852 Vineyards at 5:30-8:30 p.m. Friday
The 86ers are at Stone Bend Farm at 6-8 p.m. Friday
Sandbox is at Hopshire Farms and Brewery at 6-8 p.m. Friday
Just Joe is at ONCO Fermentations in Tully at 6-9 p.m. Friday
The Rollin' Rust is at Heuga's Alpine at 6-9 p.m. Friday
The Dart Brothers are at Grist Iron Brewing at 6-9 p.m. Friday
Whistlin' Dyl is at the Scale House Brewery at 6-9 p.m. Friday
SingTrece and Stone Cold Miracle are at Two Goats Brewing at 6-9 p.m. Friday
Iron Horse is at Treleaven Winery at 6-9 p.m. Friday
Old World Warblers are at Finger Lakes Cider House at 6-9 p.m. Friday
Chloe Solan is at Homer Hops at 6-9 p.m. Friday
Clint Bush is at the Dryden Hotel at 7-9 p.m. Friday
The Homebrewed Comedy Show is at McGraw Box Brewing at 7-10 p.m. Friday
Bri and Me is at the Glen Haven at 7-10 p.m. Friday
Levi and the Wranglers are at Cortland Beer Company at 8 p.m. Friday
Richman and the Poorboys are at Ivan's Bar and Grill in Cortland at 9 p.m. Friday
Solera Taphouse hosts an Oktoberfest Celebration with Two Horse Johnson (1 p.m.) and NEO Project (3 p.m.) performing on Saturday afternoon
The Delta Mike Shaw Band is at Knapp Winery at 2-5 p.m. Saturday
Quinn Bedore is at Liquid State North Shore at 4:30-7:30 p.m. Saturday
Madd Daddy is at Summerhill Brewing at 5-8 p.m. Saturday
BRIZ brings its Neil Young tribute to the Scale House Brewery at 6-8 p.m. Saturday
DJ Vision is at Atwater Vineyards at 6-8 p.m. Saturday
PA Line is at Two Goats Brewing at 6-9 p.m. Saturday
Sweats are at Grist Iron Brewing at 6-9 p.m. Saturday
JT Horne is at McGraw Box Brewing at 6-9 p.m. Saturday
Morris & The Hepcats are at Cortland Beer Company at 8 p.m. Saturday
The Savage Club of Ithaca presents "September Song" at the First Unitarian Church of Ithaca at 7-9:30 p.m. Saturday
The Diana Leigh Trio plays the Jazz Brunch at Stonecat Café from 11 a.m. to 2 p.m. Sunday
Grist Iron Brewing hosts the Great GIB Pumpkinfest at 11 a.m. to 5 p.m. Sunday, with the Ampersand Project performing at 12-3 p.m.
Mark Douglas is at Heuga's Alpine from 11:30 a.m. to 2:30 p.m. Sunday
ONCO Fermentations hosts its "Rock Steady Round Three" benefit show for Empower Parkinson from 11 a.m. to 5 p.m. Sunday, with James and the Kyusonics performing at 2-5 p.m.
Tom Chick is at Treleaven Winery at 1-4 p.m. Sunday
Fools Hill Farm in Spencer hosts the weekly "Chill on the Hill" Open Mic at 1-7 p.m. Sunday
M3 will play a BBQ fundraiser at the Cortland DAV (91 Owego St.) at 2-5 p.m. Sunday; $20 for food and fun!
Dana Twigg is at Bright Leaf Vineyard at 2:30-4:30 p.m. Sunday
The Savage Club of Ithaca will host "The Verb Takes a Walk, and Poetry Meets Music at the Lansing Performance Hall (1004 Auburn Road) at 3-5 p.m. Sunday
Cayuga Blue Notes are at Two Goats Brewing at 4-7 p.m. Sunday
The Savage Club of Ithaca continues its Jazz Stars Concert & Conversation Series, with local guitar legend Steve Brown joined by singer Alex Van Tassel at the Lansing Performance Hall (1004 Auburn Road) at 6:30-8:30 p.m. Sunday
Brett Beardslee is back with the blues at Rasta Ranch Vineyards at 5-8 p.m. Mondays
Mark Maynard hosts Open Mic Night at Lucky Hare Brewing in Hector at 6-8 p.m. Mondays
The Downstairs hosts its monthly Poetry & Prose Open Mic Night at 6:30-9 p.m. Monday