17+ shows to see this weekend: Oct. 6-9
Steve Hackett returns to the State Theatre to celebrate the 50th anniversary of "Foxtrot," the iconic Genesis album, the New York Harvest Festival sets up shop in Trumansburg, the Silent City Film Festival continues at Deep Dive, and three cast members of "Napoleon Dynamite" come to the State Theatre on Sunday night to discuss that much-loved 2004 film. Plus, several fall festivals are set for this weekend, including the 26th annual Great Cortland Pumpkinfest!
Also, today concludes our weeklong fall membership drive at The Route. If you'd like to support the work we're doing to bring the music of the Finger Lakes region to a wider audience, please consider becoming a member by visiting the website and clicking the "SUPPORT" button.
Film Festivities
The inaugural Silent City Film Festival will continue this weekend at Deep Dive. Running Thursday-Sunday, the festival is "dedicated to the virtual and visual relationship of music and film." Single-day and weekend passes are available.
From the festival organizers: "For more than 100 years music and film have experienced a thriving and constantly evolving relationship. From the live musical accompaniment of silent films at the turn of the 20th century, the proliferation of popular music woven into the fabric of feature films, to the explosion of music videos in the 80s, to today: a world where it has never been more accessible to set music to images in motion as we move through the world armed with pocket-sized film studios, cameras, software, and millions of hours of audio at our fingertips.
Our goal with this festival is to treat attendees to an exciting blend of feature-length and short films, video art and music videos, roundtable discussions, exhibits, and performances... all exploring the interconnectivity and accessibility of music and motion pictures.
"And to top it all off, Silent City Film Festival will be anchored by Ithaca's history as the Silent Era's "'Hollywood Before Hollywood.' Screenings of silent films with live accompaniment, talks, an engagement with history and more." Check out the website for the complete schedule!
When: Friday-Sunday
Where: Deep Dive
Cost: $12-$34, available online here
Event Info:
Deep Dive also will be screening some free concert films this weekend!
10 p.m. Friday: Burning Spear, "Live at Le Zenith, Paris" (1988)
Funkface, "Live at Max's Ithaca" (1992)
Bob Marley, "Live in Santa Barbara" (1979)
9 p.m. Saturday: Taylor Swift - 1989 World Tour Live Concert Film
9 p.m. Sunday: Billie Eilish Live at Lollapalooza Chicago 2023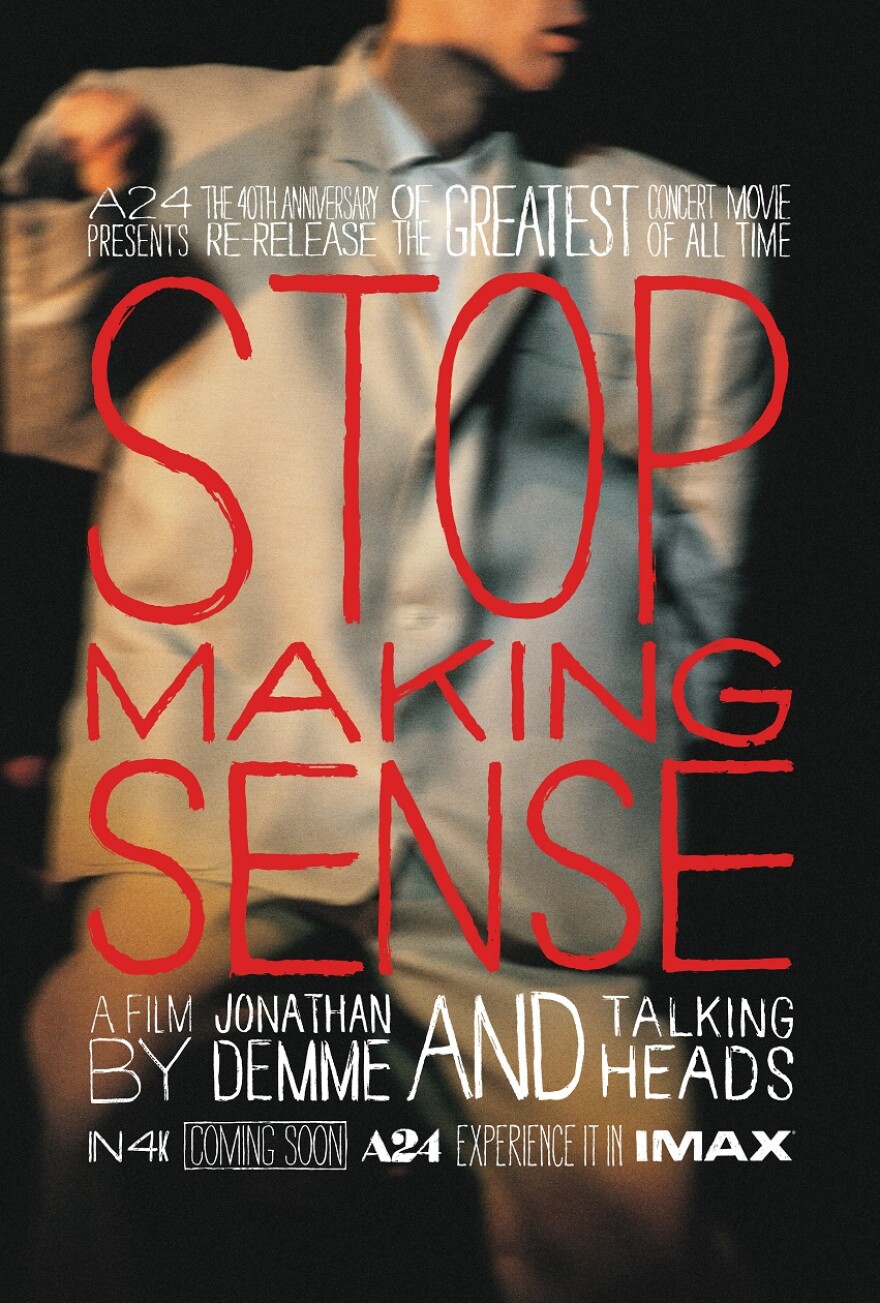 Once in a Lifetime
Continuing at Cinemapolis is widely considered the greatest concert film of all time. "Stop Making Sense" brings to the screen "Talking Heads at Hollywood's Pantages Theater in December 1983: David Byrne, Tina Weymouth, Chris Frantz, and Jerry Harrison, alongside an ecstatic ensemble of supporting musicians. Renowned filmmaker Jonathan Demme captures the band at their exhilarating best, in this new and complete restoration for the film's 40th anniversary."
When: Opens Friday
Where: Cinemapolis
Cost: $7-$11
Downtown Sounds
Ithaca Underground returns with an early Halloween party, this one at Hair•Color•Art. On the bill are Milk Cousin, Water Bears, and Microbes, Mostly, with art by Zinc Curriculum. Costumes are encouraged! Open to all ages.
When: 6:30 p.m. Friday
Where: Hair•Color•Art, Press Bay Court
Cost: $10, available online here and at the door
South Hill Sounds
South Hill Cider hosts a show with Road Man, the solo project of Jon Petronzio, who's previously known best for his vocal and keyboard work with the bands John Brown's Body and Revision. "This is music that you can dance and sing along to on a hot summer night with your friends. A voice of hope for those who have yet to find theirs. A call to sing along, a chance to stand up and shout about what makes you FEEL."
When: 5:30-8:30 p.m. Friday
Where: South Hill Cider
Cost: $10 at the door
A Good Cause
Cedarwood Venue hosts a show featuring FLX country band Whiskey Business and Between the Lakes BBQ. Cover charge benefits nonprofit horseback riding programs at D&K Ranch.
"All three of these businesses are Interlaken-based, and Cedarwood is Seneca County-based (in Covert!). In addition to amazing BBQ and country music, we will also have a cornhole tournament - entry fee gets split between the winners and D&K Ranch to support the work they do with the community." Cornhole tournament sign-ups begin at 6 p.m. and Whiskey Business performs at 7-10 p.m.
When: 6-11 p.m. Friday
Where: Cedarwood Venue, 9632 State Route 96, Trumansburg
Cost: $7 suggested donation
Harvest Season
NY Harvest Fest takes over the Trumansburg Fairgrounds, with a bunch of regional bands on tap for the weekend. On the bill are Skeleton Keys, Sophistafunk, Gratefully Yours, The Garcia Project, and many more, as well as several speakers. Check out the full schedule online here!
"NY Harvest Fest is a Northeast Classic featuring multiple stages, diverse musical lineup, huge shakedown street vendor village, fine art gallery, public and celebrity cannabis cup, edible cup, workshops, activist & educational speakers, kids / family area, drum circle, farmers market, onsite camping, great people, good vibes and SO much more...
Harvest Fest is a celebration of our cannabis culture. A place where the culture could always feel free, despite prohibition. Now that cannabis is legal and its potential is being realized, we are excited to bring this event, this culture, back into the light. The Trumansburg Fairgrounds, home of the world-famous Grassroots Festival, is a perfect place (among the gorges of the finger lakes) to host this northeast staple festival.
We host the longest running cannabis competition in AMERICA! Everyone is a judge!"
"Prior to the last two years, Harvest Festival and Freedom Fair was celebrated as a "protestival". We have worked long and hard to earn the respect of the cannabis community in New York (and beyond)!"
When: Friday-Sunday
Where: Trumansburg Fairgrounds
Cost: $53-$133, available online here
Forest Bathing
Trance-fusion pioneers The Disco Biscuits will host a new festival in LaFayette this weekend. "The first ever BISCOLAND will take place across 2 stages at Wonderland Forest, a new event space, campground and concert venue located in the rolling hills of Central New York's Apple Valley.
"Coming off of 3 nights of camping in the woods with our fans in Montana, we are excited to introduce a new festival called BISCOLAND. 2 nights in central New York with our Biscuits family, a carefully curated lineup, a blank canvas, a new beginning, that is a dream for the band and our community," says the band's Marc Brownstein.
"The inaugural lineup features long-time friends and collaborators in the jam, jamtronica, and electronic music scenes, showcasing 4 sets of The Disco Biscuits and 2 sets of Lotus across both days. BISCOLAND will also include sets from Emancipator, Papadosio, Opiuo, Sunsquabi, The Floozies, Eggy (2 sets), Maddy O'Neal, and Space Bacon, in addition to a special Spaga Plays Dead set, featuring Disco Biscuits' member Aron Magner."
When: Friday and Saturday
Where: Wonderland Forest, 4812 South Cook Road, LaFayette
Cost: $120 and up for single-day and weekend passes; available online here
'Foxtrot' @ 50
Steve Hackett returns to Ithaca with his "Steve Hackett Genesis Revisited - Foxtrot at Fifty + Hackett Highlights" tour, which marks the 50th anniversary of the legendary Genesis album "Foxtrot," which, in 1972, was pivotal in establishing the band as a major force in British rock.
"Guitarist Steve Hackett joined Genesis in 1971, making his band debut on the 'Nursery Cryme' album which enjoyed a greater commercial success in Europe than the UK. After extensive touring, the band were encouraged, by audience reactions, to further experiment with ever longer compositions and develop their ability to incorporate strong narratives. This, in turn, allowed frontman Peter Gabriel more opportunity to indulge in the theatrics which helped to raise the band's profile.
"I think Foxtrot was a terrific achievement for Genesis at that time," says Hackett. "I think there is not one weak track on the album, they all have their strong points and I'm really looking forward to doing the whole album live."
When: 8 p.m. Friday
Where: State Theatre of Ithaca
Cost: $38.50 and up, available online here and at the State box office
Read a Goldmine Magazine interview with Steve Hackett here!
College Practice
Practice at Presents will set up shop at The Downstairs for a weekly residency. "We'll be bringing some rock and roll for you every Friday of the month!! First up we have two fantastic college acts, Small Bandit and Bobo Doll! "
When: 8 p.m. Friday
Where: The Downstairs
Cost: $10; $5 if you wear a costume
This is the End, My Friend
Bendher brings its "End of an Era Tour" to Apalachin, performing its last show of the four-show farewell tour to the band's longtime guitarist, Scott Fletcher. "We make our last stop with Captain Scott at the helm," says frontman Robert Angel. "Let's send him off in a big way...we'll be playing our entire record!!! be loud and proud and show Fletch some love!!"
When: 9 p.m. Friday
Where: Ransom Steele Tavern, Apalachin
Fall Fun
The 26th annual Great Cortland Pumpkinfest returns to Courthouse Park in downtown Cortland. On tap is plenty of fall fun, including crafts, foods, a pumpkin-decorating contest, and much more. Here's the live music schedule for the weekend:
Saturday
12pm: Jon Keefner & Jenna Noelle
12:45pm: Lost Marble Theory
2pm: Raedwald Howland-Bolton
3:30pm: Billy Golicki and the Therapists
5pm: Past My Bedtime
6:30pm: Tailor-Made
Sunday
12pm: Rachel Beverly
12:45pm: Brad Allen
2pm: Molly & Merkley
3:30pm: Madd Daddy
When: Saturday & Sunday
Where: Courthouse Park, Cortland
Cost: free
Dungeon Dread
The ElectroZone returns to kick off its latest series in downtown Ithaca.
"This October Dungeon Knights presents its first campaign: Domains of Dread! Four nights of mayhem! Four nights of Synth!" Night 1 will feature Texas's Mortwight, Rochester's Hermit Knight, and Ithaca's own Avoidance.
"The ElectroZone is Ithaca's salon for electromusicians and experimenters, a pop up reality devoted to the weird, the new, and the DIY, specializing in unforgettable performances, unique events, and creative workshops with a community focus."
When: 8 p.m. Saturday
Where: The Downstairs
Cost: $10
Band of Brothers
Long Island-based trio MJT returns for a show in downtown Ithaca.
"MJT is a musical force of nature and a long-time fixture of Long Island's live music scene. The Godfrey brothers' musical trifecta is built on Matt's ambidextrous virtuosity, playing simultaneous keyboards and synth bass, Jordan's bombastic, edge-of-your-seat drumming and David's atmospheric chord melody guitar parts and soulful vocals. The Godfrey brothers' magic has captivated audiences opening for Slash and Miles Kennedy, Alter Bridge, and Sevendust while also backing diverse, national touring acts like Yellowman, Stone Bwoy, and Tash Neal."
"The Godfrey brothers first gained national attention in 2009 by sneaking out of a homeless shelter to win the fabled Amature Night contest at the historic Apollo Theatre in Harlem, NYC. Having grown up playing music as a means of survival, the Godfrey brothers are so close and familiar with one another, they are able to morph as a unit, moving through space and time with a collective mind share that is a wonder to behold.
"MJT's live show showcases the band's unique blend of groove, heaviness, and emotion with interwoven melodies, complex harmony, counterpoint, timing, and sheer intensity. Heightening the sense of orchestral grandeur emanating from the 3-piece live band, MJT has evolved from an underage virtuoso jazz combo into a world-class musical powerhouse of epic proportions, delivering ambitious compositions without losing the energy and soul of rock music."
When: 10 p.m. Saturday
Where: The Range
Cost: $10; $5 with student ID
Let's Dance
Artist Resource Quarters will host a Square Dance to celebrate the fall season.
"Come enjoy fall weather and warm company! Bring the family and friends for a potluck party and square dance! No experience is needed for square dancing besides a willingness to make raucous fun together. Plates/bowls/utensils will be provided, bring your best fall dishes to share the bounty of this time of year.
The incomparable Marc Faris and Meg Michelle will be calling. Pete Thompson, Liz Toffee, Lora Pendleton, and Sarah Jamison will be leading the jam but this will be an open jam- if you play old-time music please bring your instrument and join!"
When: 4-8 p.m. Sunday
Where: Artist Resource Quarters, 6340 Carman Road, Trumansburg
Trio Grande
Electrolyte kicks off its monthly residency at The Downstairs; the local trio will perform on the second Sunday of every month.
"Electrolyte is a fusion trio from Central New York that seeks to respectfully agitate evolving musical traditions from across the globe. Deeply rooted in jazz and prog rock, these three electro-acousticians are eager to do more, and sound vast with less. It consists of Ithacan Paul Merrill who plays a collection of quarter-tone brass instruments, keyboards, and effects; Rochesterian Peter Chwazik, master of the nine-string electric bass; and Denmark native and percussionist, Simon Bjarning."
When: 7:30 p.m. Sunday
Where: The Downstairs
Cost: $5-$15
Vote for Pedro
The State Theatre of Ithaca will host " Napoleon Dynamite: A Conversation with Jon Heder, Efren Ramirez & Jon Gries." This event is BYOT (Bring Your Own Tots)
"The beloved indie classic 'Napoleon Dynamite' was made almost 20 years ago. Since then much has changed; but the characters, as enduring as they are endearing, stay in our hearts. Appealing to the inner-teenager in each of us, the story, and more importantly the dialogue, makes 'Napoleon Dynamite' one of the most quoted movies of our time.
"This unique evening includes a full screening of 'Napoleon Dynamite' followed by a lively, freewheeling, moderated discussion with fan-favorite cast members; Jon Heder (Napoleon Dynamite), Efren Ramirez (Pedro) and Jon Gries (Uncle Rico)."
When: 8 p.m. Sunday
Where: State Theatre of Ithaca
Cost: $25-$45, available online here and at the State box office
Get Rhythm
Dave Davies RhythMakers return for Jazz Mondays, as Dave Davies, Doug Robinson, Brian Earle, and Chad Lieberman will play classic jazz, blues, originals, and more.
When: 5:30-8:30 p.m., second and fourth Mondays of each month
Where: South Hill Cider
Cost: free; donations welcome
Setting Up Shop
Area native Trevor Exter, who now lives on the West Coast, concludes his residency at the Downstairs. A cellist and electric bassist by trade, Exter has recently switched to electric guitar for his current gigs. He'll be joined by bassist John Young, drummer Matthew Saccuccimorano, and guitarist Jason Shegogue, who all play in his sister Bronwen Exter's band.
"For most of his life, Trevor Exter has been a professional singer and cellist with his own approach to all aspects of composing, songwriting, producing, performing and touring. He's had a few bands where he got to make a spectacle of himself, and some producers like to use him as a secret weapon. Exter has toured with De La Guarda, Steve Kimock, author James McBride, DJ Tasha Blank and his duo with John Kimock, XVSK. He frequently performs solo, and is currently workshopping new material for a forthcoming record."
Exter also has his own Substack newsletter, "Play It Like It's Music," which you can check out here!
When: 7 p.m. Monday
Where: The Downstairs
Cost: $10 or pay what you can
Pressure Drop
Angelo Paradiso (New Planets, Living Myths, Big Mean Sound Machine, Swamp Kids) continues his weekly residency at Deep Dive, joined by a guest drummer.
"Angelo Paradiso (multi-instrumentalist/mad scientist) brings you a VS battle that will make that tush pop and jaw drop. Man vs. Machine: Angelo invites a rotating cast of characters that range in instruments, names, and forms to battle machine sequences, modular synths and all things sample-able. All styles from all places. All things funky. No computers, just humans. Bring your dancing shoes, your party hat, and dial 1-800-NOREQUESTS."
When: 8:30 p.m. Monday
Where: Deep Dive
Cost: $10
More Shows
Jackson Cavalier is at Liquid State North Shore at 4:30-7:30 p.m. Friday
The Junior Rich Project is at Hazlitt 1852 Vineyards at 5:30-8:30 p.m. Friday
The Immortal Jellyfish are at Hopshire Farms and Brewery at 6-8 p.m. Friday
Steve Daniels is at Homer Hops at 6-9 p.m. Friday
Brass Inc. returns to Treleaven Wines at 6-9 p.m. Friday (Cancelled due to bad weather)
Nora Starr is to the Scale House Brewery at 6-8 p.m. Friday
Dylan Doyle are at Grist Iron Brewing at 6-9 p.m. Friday
Adam Guinn is at Two Goats Brewing at 6-9 p.m. Friday
Rena Guinn and Annie Sumi close out the 2023 "Friday Night Farm Jams" series at the Finger Lakes Cider House at 6-9 p.m. Friday
Country Duo is at McGraw Box Brewing at 6:30-8:30 p.m. Friday
Judah is at Cortland Beer Company at 8 p.m. Friday
Virgil Cain is at Landon's Pub in Watkins Glen at 8 p.m. Friday
DJ Lawn Dart is at the Range at 10:30 p.m. Friday ($5-$10)
Underground Springhouse and Green River play the Hops & Swaps Brewfest at Greek Peak in Virgil at 1-5 p.m. Saturday; advance tickets are available online here
DarkWine plays Treleaven Winery's Oktoberfest at 1-4 p.m. Saturday
Freight and Steam Boiler Works play Salt Point Brewing's Oktoberfest, which runs 12-9 p.m. Saturday
Still Kickin' plays the Montour Falls Harvest Festival at 4-7 p.m. Saturday
Levi Dusseau is at Owasco Lake Brewing at 4-7 p.m. Saturday
Rocco Rich and Aaron Craig are at Summerhill Brewing at 5-8 p.m. Saturday
M3 is at McGraw Box Brewing at 5:30-8:30 p.m. Saturday
Jarrod Dickenson is at ONCO Fermentations in Tully at 6-8 p.m. Saturday
Rachel Beverly is at Brewer's Kitchen and Taproom at 6-8 p.m. Saturday
Quona Hudson is at Homer Hops at 6-9 p.m. Saturday
John McConnell is at Heuga's Alpine at 6-9 p.m. Saturday
The Patrick Jouen Band is at Grist Iron Brewing at 6-9 p.m. Saturday
StratCat Willie & The Strays are at Two Goats Brewing at 6-9 p.m. Saturday
Brotherhood are at Cortland Beer Company at 8 p.m. Saturday
First Saturday Salsa Night returns to the Upstairs at 9 p.m. Saturday
Wayne Gottlieb and Harry Aceto play the Jazz Brunch at Stonecat Café from 11 a.m. to 2 p.m. Sunday
Jason Dyer is at Heuga's Alpine from 11:30 a.m. to 2:30 p.m. Sunday
Sandra Esparza is at Summerhill Brewing at 12-3 p.m. Sunday
Jess Novak and Ben Wayne are at Treleaven Winery at 1-4 p.m. Sunday
Fools Hill Farm in Spencer hosts the weekly "Chill on the Hill" Open Mic at 1-7 p.m. Sunday
Pedro and Murphy play ONCO Fermentations' "Books & Brews" benefit at 1-5 p.m. Sunday
Zydeco Trail Riders are at Two Goats Brewing at 4-7 p.m. Sunday
Bluesman Walter Trout returns to the Center for the Arts of Homer for a sold-out show at 8 p.m. Sunday
Brett Beardslee is back with the blues at Rasta Ranch Vineyards at 5-8 p.m. Mondays