22+ shows to see this weekend: Oct. 13-16
Robert Cray returns to the State Theatre, the Cornell Concert Series and NYS Baroque kick off their seasons, and The Kennedys make their long-awaited return to Ithaca! Plus, lots of local favorites are in action this weekend around the region!
Local Heroes
Ithaca's own Gunpoets will take South Hill Cider for the first time, bringing their mix of hip hop, rock, and pop to the stage for Finger Lakes Cider Week. Frontmen Dan Lisbe and Josh Higgins will be backed by fellow founding members Colin Smith (keyboards), DJ Double A (turntables), and Eliot Rich (guitar), longtime bassist Michael Wu, and recently added drummer Phil Shay for a night of original tunes and even a choice cover or two.
When: 5:30-8:30 p.m. Friday
Where: South Hill Cider
Cost: $10, available in advance online here, and at the door
Fall Fun
Homer Hops will host its "Brews, Burgers, and Beats Weekend," featuring three days of food, music, and craft beer. Stiv Morgan will play at 6-8 p.m. Friday, followed by Molly and the Ringwalds at 6-8 p.m. Saturday and Virgil Cain at 2-5 p.m. Sunday. The Smash Me 607 food truck will be on hand throughout the weekend serving up smashburgers and more!
When: Friday-Sunday
Where: Homer Hops, 700 State Route 90, Cortland
Cost: free
Songs to Share
Cayuga Shoreline will host two of the area's top songwriters, Tenzin Chopak and Bess Greenberg (aka Kid Bess).
"Tenzin Chopak is a singer-songwriter and artist living in Ithaca, NY. He is joined by his dear friend Emmett Scott on keys. Chopak and Scott as a duo have a reputation for both elegantly crafted songs and cinematic soundscapes. Close your eyes and you'll have no idea it's only two people creating this world, as Tenzin simultaneously covers percussion, guitar, and vocals while Emmett Scott's left hand rides the Moog bass, his right hand is on piano and Moog Voyager, and his vocals back haunting lyrics." The pair released the album "Live at Red Newt" in July.
"KidBess & The Magic Ring is a 5-piece songwriter / psychedelic space rock band born on the west side of Binghamton, N.Y. Bess Greenberg fronts this talented ensemble, with passionate, haunting vocals and impactful lyrics. Their dynamics will lift you up and move your heart — a unique sonic chemistry you don't want to miss." The Magic Ring features cellist Jeff McAuley, bassist Mike Amadeo, drummer Moses Valle, and guitarist Joe Alston. Kid Bess released her debut album "Pearls" in late 2022.
When: 7 p.m. Friday
Where: Cayuga Shoreline, 7930 County Road 153, Interlaken
Cost: free
Read a recent interview with Tenzin Chopak here!
Fantastic Four
The Cornell Concert Series kicks off its 2023-2024 season with the Dover Quartet. "Named one of the greatest string quartets of the last hundred years (BBC Music Magazine), the twice GRAMMY-nominated Dover Quartet has become one of the most in-demand chamber ensembles in the world."
The group formed at the Curtis Institute of Music and its name pays tribute to Dover Beach by fellow Curtis alumnus Samuel Barber. The quartet now serves as Ensemble in Residence at Curtis and holds further residencies with the Kennedy Center, Northwestern University, Artosphere, and the Amelia Island Chamber Music Festival.
"The young American string quartet of the moment." - The New Yorker
"…Expert musicianship, razor-sharp ensemble, deep musical feeling and a palpable commitment to communication [make] their performances satisfying on many levels." – Chicago Tribune
When: 7:30 p.m. Friday
Where: Bailey Hall, Cornell University
Cost: Adult tickets are $29-$39, $19 for students, and free with Student Membership; all are available online here
Going for Baroque
NYS Baroque kicks off its 2023-2024 season with "Knights of the Lute," which features
Paul O'Dette playing solo lute music from the Albani Manuscripts, only recently discovered in an Italian villa. The program also features music by Kapsberger, Lorenzino, Cavaliere del Liuto, and more. US premiere!
When & Where: 7:30 p.m. Friday: May Memorial Unitarian Universalist, 3800 East Genesee St. Syracuse; 7:30 p.m. Saturday: First Unitarian Society, 306 N. Aurora, Ithaca
Cost: $10-$30, available online here and at the door
Ready to Rock
Rose Hall and American Vintage Productions will host Genitor, Assemble, and No Complyance for a night of punk rock garage pop music. "It might get loud! Standing room only."
When: 8 p.m. Friday
Where: Rose Hall, Cortland
Cost: $10, available online here and at the door
Friday Night Frights
Practice at Presents continues its weekly Friday night residency at the Downstairs. "We'll be bringing some rock and roll for you every Friday of the month!!" On tap this week are local favorites Secret Service Men and Teencat.
When: 8 p.m. Friday
Where: The Downstairs
Cost: $10/$5 if you wear a costume
Powerful Stuff
SingTrece and Stone Cold Miracle bring their blend of funk, soul, gospel, rock, and R&B to Deep Dive.
"SingTrece is a powerful live performer. She is an independent recording artist who changes hearts one positive note at a time. Her voice has been called ''Milk and Honey to the Ears'' and you can't help but feel something with every note she sings. SingTrece tours Europe, singing in Hungry, Malta, Norway, Germany, Italy, and even the Vatican multiple times." Stone Cold Miracle includes bassist Andy Adelewitz, rhythm guitarist and songwriter Dustin Stuhr, guitarist Peter Glanville, and drummer Zaun Marshburn.
Marshburn's project Plan Z will open the show – it's a "collaboration of original music, mixing jazz, funk, blues, fusion and plenty of soul" that also includes keyboardist Mike Stark, bassist Andrew Battles, and some other stellar local musicians.
When: 7 p.m. Friday
Where: Deep Dive
Cost: $15 day of show
Into the Woods
"White Woods is all original alt/rock from Springwater N.Y. Founded by Garth Clark in 2010, the band has toured the northeast extensively over the last decade while releasing three studio albums and sharing the stage with artists including Jackie Greene, The Head and The Heart, Langhorne Slim, and Willie Watson." Their latest release is the digital EP "Go Out Dancing."
When: 10:30 p.m. Friday
Where: The Range
Cost: $10 or $5 w/ a Student ID
Let's Dance
Hands Four Dancers of Ithaca will host a contradance event at Beverly J. Martin School, featuring "an afternoon and evening of dancing with beloved caller George Marshall and exciting band River Road. We welcome more experienced dancers for an afternoon Advanced Contras session, and we welcome all to an evening dance. New dancers are encouraged to join us at 6:30 for a beginners' workshop."
"One of the best known and loved contra callers in the country, George Marshall's mission is to share the joy of dance! George got hooked on contra in the early 70s, and has an active musician, caller, and dance teacher ever since.... George specializes in teaching and calling New England style contra dances he has collected throughout the country. He is known for his knack of matching music to dance and his smooth, concise teaching and presentation."
"River Road delivers beauty, power, and groove to contra dances with a highly revered mixture of contemporary and traditional tunes with strong influences from Quebecois, New England, & Maritime traditions, featuring Sarah-Hadley Yakir on fiddle, Kristen Planeaux on piano, flute, and accordion, and Jesse Ball on mandolin, guitar, accordion, and foot percussion."
When: 3-10 p.m. Saturday
3-5 p.m. - contras for experienced dancers
Dinner break
6:30 p.m. - beginners' workshop
7-10 p.m. - contra dance for all
Where: Beverly J Martin Elementary School
Cost: "Admission for each session is $17 for members, $20 for non-members, and $10 for students. Admission for both sessions is $32 for members, $38 for non-members, and $19 for students. Children under 12 dance for free!"
Rose and the Bros are the featured band at "Brews & Bluegrass," a benefit event at the Smith Opera House, which has been "providing music and merriment to the Finger Lakes for 129 years! This fundraiser features a lineup of local breweries offering samples of their prized ales during the 6-8 p.m. tasting portion of the evening. At 8 p.m., Rose & The Bros will take the stage and attendees can dance to a full set brimming with Zydeco rhythms. And while you're getting ready to enjoy the festivities, don't forget to choose your favorite flannel shirt for that cozy, autumnal vibe!"
Proceeds benefit Geneva's Smith Opera House,
When: 6 p.m. Saturday
Where: Smith Opera House, Geneva
Cost: $50 per person ($85 per couple or $350 for groups of 10 or more.), available online here
Kava Bar Chaos
Practice at Presents returns to Sacred Root for an eclectic show featuring Dumbwaiter, avant-noise rock from Richmond, Virginia; Strong Maybe, "mostly-improvised psychotic cartoon animal music" from Ithaca; Grass Jaw, the solo project of Brendan Kuntz; and Blue Envy, a Rochester-based hard rock band that incorporates blues and progressive influences." Skeleton Hands will provide the visuals throughout the night.
When: 7 p.m. Saturday
Where: Sacred Root Kava Lounge & Tea Bar
Cost: $10
Movin' In
Wade Preston returns to Cortland Repertory Theatre Downtown with his new show titled "Every Year is a Souvenir." "Best known for his role as 'the piano man' in Billy Joel's Broadway hit 'Movin' Out,' Wade was an original cast member and performed in the show for the full 3-1/2 year run on Broadway. His "one-night-only" concerts of stories and songs by Billy Joel and other artists are always memorable events for everyone who attends. With amazingly versatile piano skills and vocal talent, child-like stage charm, and a great sense of humor, Wade delivers an undeniably unique night of incredible rock n roll music!"
When: 7:30 p.m. Saturday
Where: Cortland Repertory Theatre Downtown, 24 Port Watson St., Cortland
Cost: $25-$35, available online here
Life is Large
The Kennedys make their long-awaited return to Ithaca to mark the release of "Headwinds," their first CD of all original songs in five years. The wife-husband duo of Syracuse-born Ithaca College alumnus Maura Kennedy and guitar master Pete Kennedy have long been one of the folk circuit's most-beloved acts, releasing more than a dozen albums since 1995 as well as performing weekly livestreamed shows during the pandemic.
"If you get a charge from a rich folk-rock vibe, love a super sharp guitar lick, or appreciate a moving story song, you will find all of that on The Kennedy's 'Headwinds.' Pete Kennedy's astonishing range on any guitar he touches deftly underpins every mood of Maura Kennedy's warm, lyrical voice. You'll get no resistance from these Headwinds, only pleasure." - Marilyn Rea Beyer, Host, WFMT's The Midnight Special & Folkstage
When: 7:30 p.m. Saturday
Where: The Meetinghouse 120 Third Street (corner of Third & Madison Streets), Ithaca
Cost: $22 at the door
Strong Persuader
The Robert Cray Band returns to Ithaca, ready to showcase the many talents of its Grammy-winning frontman, who is equally gifted as a guitarist, vocalist, and songwriter.
"Over the past four decades, Cray has created a sound that rises from American roots, blues, soul and R&B, with five Grammy wins, 20 acclaimed studio and live albums that punctuate the Blues Hall of Famer's career. On 'That's What I Heard,' Robert celebrates the music of Curtis Mayfield, Bobby 'Blue' Bland, The Sensational Nightingales and more, alongside Cray's own songs."
Cray will be joined by his stellar band, which features Richard Cousins (bass), Dover Weinberg (keyboards), Terence F. Clark (drums).
When: 8 p.m. Saturday
Where: State Theatre of Ithaca
Cost: $38.50-$58.50, available online here
Ready for Release
Local honky-tonk band Red Betty will celebrate the release of its new music video with a show at the Argos Warehouse. The band includes a bunch of talented players, including Liz Pickard, Josh Chamberlain, Joe Hayward, Zeb Whitford, and Sam Schmidt. The video premiere will take place at 9:45 p.m.
When: Saturday: doors at 7:30, dance lesson at 8, music at 8:30-11:30 p.m.
Where: Argos Warehouse
Cost: $10
Tricks AND Treats
"It's gonna get wild from the jump" as Bob Roberts Calamity returns to the Range, promising "Tricks, Treats, Dope A$$ Beats" along with its "high energy, nostalgia-laden alternative rock, (with) humorous banter, witty repartee!"
When: 10:30 p.m. Saturday
Where: The Range
Cost: $10/$5 w/ Student ID
Dungeon Domain
The ElectroZone returns with another cool event, "Domains of Dread."
"From the dark and shadowy lands of upstate New York, we bring you Avoidance, Landscapes of Unease, and Thornede Crown (Dungeon Folk from Rochester)!!! Come for the dungeon! Stay for the Synth!"
"The ElectroZone is Ithaca's salon for electromusicians and experimenters, a pop-up reality devoted to the weird, the new, and the DIY, specializing in unforgettable performances, unique events, and creative workshops with a community focus."
When: 8 p.m. Saturday
Where: The Downstairs
Cost: $10
Pop Music
"After Six is a pop, R&B, and Neo-soul band that plays a mix of originals and covers drawing influence from a wide variety of popular artists. Originally founded in 2012 as a smooth jazz group, After Six has evolved through several genres with a focus on staying at the forefront of contemporary music while consistently drawing influence from jazz. Most recently, After Six opened Cornell's Slope Day main stage, opening for artists COIN, Snakehips, and Coco & Clair Clair. They were last seen at Deep Dive opening for the band Couch. The band features three powerful singers, a lively trumpet-saxophone duo, and a groovin' rhythm section!"
When: 10 p.m. Saturday
Where: The Upstairs
Cost: $10 or $5 w/ a student ID // 21+
Sunday Jazz
"Join us for an afternoon of music and tasting at the Finger Lakes Distilling Company. Collaborators Venissa Santí, Michael Stark, and Olive Mitra play songs from their signature repertoire, a mix of obscure jazz gems, original songs and Latin favorites."
When: 1-4 p.m. Sunday
Where: Finger Lakes Distilling Company
Cost: donations welcome
Are you ready to Ramble?
The Center for the Arts of Homer will host The Harvest and The Ramble on Sunday afternoon.
"Come and enjoy the Harvest, an exhibition of local food makers displaying the different products made right here in our own backyard. Sample their goods and learn what goes into producing, marketing, and selling at the local level.
"Following the Harvest, join us for the Ramble. The Whiting Theater will take on the look and feel of Nashville's Ryman Auditorium, and you will enjoy an evening reminiscent of the variety shows of yesteryear. Your host will introduce you to local musicians bringing you original and traditional Americana folk and bluegrass music. In between acts, you'll be entertained with surprise appearances and advertisements from the event's local sponsors. Bring your singing voice and be ready to join in!"
Featuring area musicians Molly Reagan, Quona Hudson, Tom Gath, Patrick Young, The Right Brothers, and The Gospel Way.
When: 2 p.m. Sunday
Where: Center for the Arts of Homer
Cost: The Harvest is free; $20 for the Ramble, which starts at 4 p.m.; advance tickets are available online here
Going Solo
"Michael Stark, often found weaving his sound among a flight of diverse Ithaca bands, on this rare night will perform 2 sets solo... improvisations & compositions driven by effected piano, analog bass pedals and vintage drum machine."
When: 7:30 p.m. Sunday
Where: The Downstairs
Cost: $10/PWYC
Get Rhythm
Dave Davies RhythMakers return for Jazz Mondays, as Dave Davies, Doug Robinson, Brian Earle, and Chad Lieberman will play classic jazz, blues, originals, and more.
When: 5:30-8:30 p.m., second and fourth Mondays of each month
Where: South Hill Cider
Cost: free; donations welcome
Sonic Vortices
The Experimental Sound Series at Cornell presents a residency with TAK Ensemble. TAK will perform new works by Cornell composers María Bulla, Laura Cetilia, Michele Cheng, Matias de Roux, Coral Douglas, Seare Farhat, Michael Li, and James Parker. Regarded as "one of the most prominent ensembles in the United States practicing truly experimental music" (I Care If You Listen), TAK delivers energetic performances "that combine crystalline clarity with the disorienting turbulence of a sonic vortex" (The WIRE), and "impresses with the organicity of their sound, their dynamism and virtuosity" (New Sounds, WQXR). Founded on the principles of curiosity, change, and caring communication, TAK is dedicated to the commissioning of new works and direct collaboration with composers and other artists, and they have premiered hundreds of works to date. TAK is Laura Cocks, flute; Madison Greenstone, clarinet; Charlotte Mundy, voice; Marina Kifferstein, violin; and Ellery Trafford, percussion.
When: 7:30 p.m. Monday
Where: Schwartz Center Flex Theater, Collegetown
Cost: free and open to all
Pressure Drop
Angelo Paradiso (New Planets, Living Myths, Big Mean Sound Machine, Swamp Kids) continues his weekly residency at Deep Dive, joined by a guest drummer.
"Angelo Paradiso (multi-instrumentalist/mad scientist) brings you a VS battle that will make that tush pop and jaw drop. Man vs. Machine: Angelo invites a rotating cast of characters that range in instruments, names, and forms to battle machine sequences, modular synths and all things sample-able. All styles from all places. All things funky. No computers, just humans. Bring your dancing shoes, your party hat, and dial 1-800-NOREQUESTS."
When: 8:30 p.m. Monday
Where: Deep Dive
Cost: $10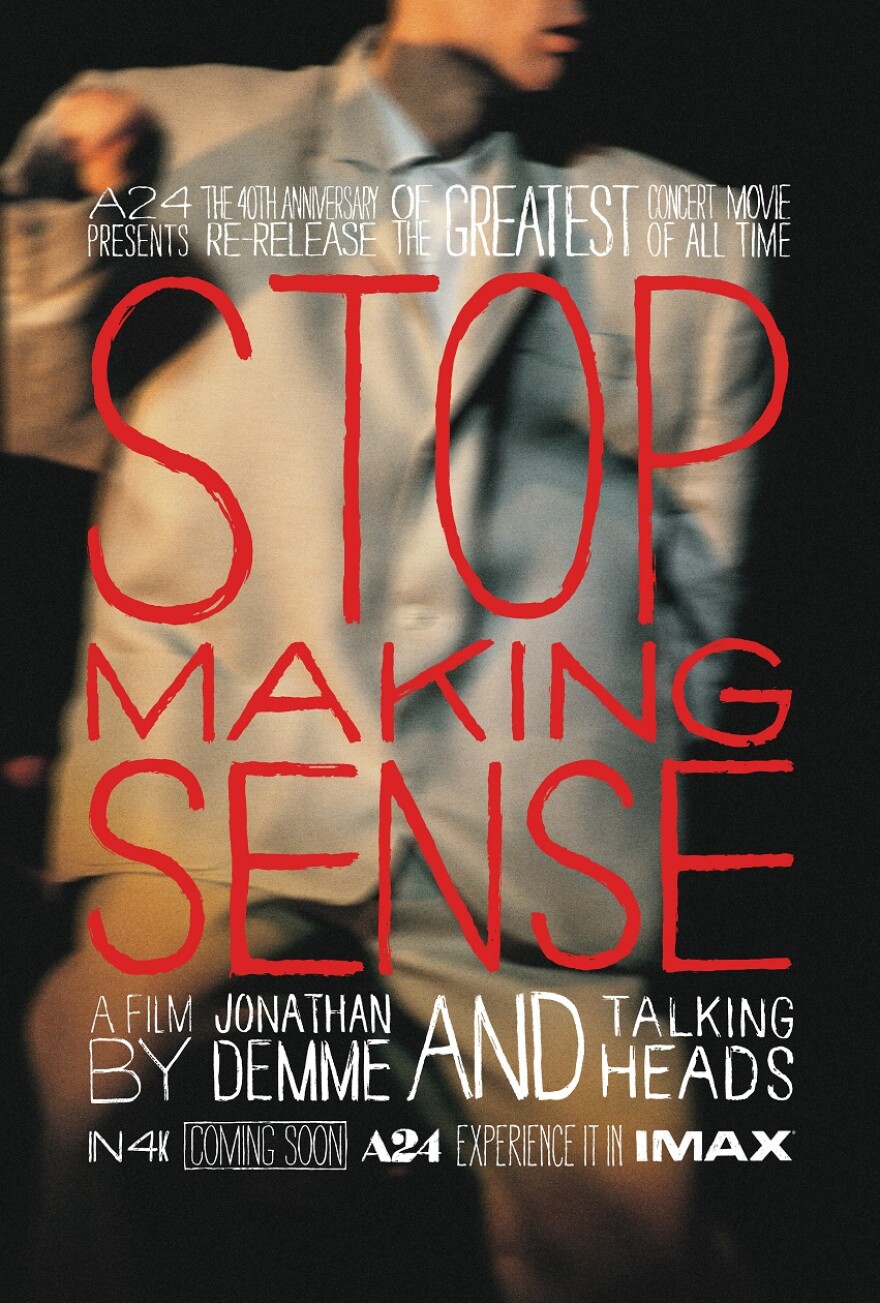 Once in a Lifetime
Continuing at Cinemapolis is widely considered the greatest concert film of all time. "Stop Making Sense" brings to the screen "Talking Heads at Hollywood's Pantages Theater in December 1983: David Byrne, Tina Weymouth, Chris Frantz, and Jerry Harrison, alongside an ecstatic ensemble of supporting musicians. Renowned filmmaker Jonathan Demme captures the band at their exhilarating best, in this new and complete restoration for the film's 40th anniversary."
When: runs through Oct. 19
Where: Cinemapolis
Cost: $7-$11
More Shows
The Pelotones are at Liquid State North Shore at 4:30-7:30 p.m. Friday
The Endless Mountain Derelicts are at Two Goats Brewing at 5-8 p.m. Friday
Dane Hendrix and the Hangdog Saints are at Hazlitt 1852 Vineyards at 5:30-8:30 p.m. Friday
Jim VanDeuson is at McGraw Box Brewing at 6-8 p.m. Friday
Benny and The Mex are at Aurora Brewing Company at 6-8 p.m. Friday
Mosaic is at the Scale House Brewery at 6-8 p.m. Friday
Michael Francis McCarthy is at Grist Iron Brewing at 6-9 p.m. Friday
Tru Bleu is at Lucky Hare Brewing in Owego at 7-9 p.m. Friday
M3 is at ONCO Fermentations at 7-9 p.m. Friday
Stereopticon plays Hector Winery Company's 13th Anniversary Party at 7-10 p.m. Friday
The Midnight Mike Petroff Blues Band is at Cortland Beer Company at 8 p.m. Friday
Proper Philth lays down some "dirty ass house music" at the Upstairs at 10:30 p.m. Friday ($5)
Anderson Farm Market in Homer hosts "Pun'kin Palloossa" from 10 a.m. to 4 p.m. Saturday
Betty's Ghost is at Lucas Vineyards at 1-4 p.m. Saturday
Shawn Halloran plays Treleaven Winery at 1-4 p.m. Saturday
Delta Mike Shaw goes solo at Knapp Winery at 1-4 p.m. Saturday
Tom Gath is at ONCO Fermentations in Tully at 4-7 p.m. Saturday
Tru Bleu is at Liquid State North Shore at 4-7:30 p.m. Saturday
Clint Bush is at Owasco Lake Brewing in Moravia at 5-7 p.m. Saturday
Barrel Aged is at Two Goats Brewing at 5-8 p.m. Saturday
Darkwine is at Summerhill Brewing at 5-8 p.m. Saturday
The Kitestring Duo (Josh Ross and Joe Massa) is at Brewer's Kitchen and Taproom at 6-8 p.m. Saturday
Unearth and Revocation are at the L in Horseheads at 6 p.m. Saturday
Jess Novak and Ben Wayne are at Heuga's Alpine at 6-9 p.m. Saturday
Claudia Hoyser is at Grist Iron Brewing at 6-9 p.m. Saturday
The John Liuzzo Trio is at McGraw Box Brewing at 6:30-8:30 p.m. Saturday
Scuba Jerry is at Liquid State Brewing Company at 7-10 p.m. Saturday
People People are at Cortland Beer Company at 8 p.m. Saturday
Past My Bedtime at the St. Charles Hotel in Cortland at 8-11 p.m. Saturday
Gunpoets are at the John Barleycorn Tavern in Owego at 9 p.m. Saturday ($5)
The Mary Ott Band plays the Jazz Brunch at Stonecat Café from 11 a.m. to 2 p.m. Sunday
Paul Davie is at Heuga's Alpine from 11:30 a.m. to 2:30 p.m. Sunday
Prime Box is at Brookton's Market at 1-4 p.m. Sunday
The Lakeside Drifters Duo is at Treleaven Winery at 1-4 p.m. Sunday
Fools Hill Farm in Spencer hosts the weekly "Chill on the Hill" Open Mic at 1-7 p.m. Sunday
Band by the River plays a benefit show for CNY SNAP (Spay/Neuter Assistance Program) at McGraw Box Brewing at 2-4 p.m. Sunday
Payton and Fried are at ONCO Fermentations in Tully at 6-8 p.m. Sunday
SingTrece is at Two Goats Brewing at 4-7 p.m. Sunday
Brett Beardslee is back with the blues at Rasta Ranch Vineyards at 5-8 p.m. Mondays