12+ shows to see this week: Oct. 16-19
Practice at Presents brings Toronto's ON and Arizona's Snailmate to Deep Dive, Richie Stearns and Aaron Lipp reunite at South Hill Cider, and Rose & the Bros play a barn dance in Freeville. Plus, "Start Making Sense" and "Joan Baez: I Am a Noise" continue their runs at Cinemapolis!
Note: This week's shows are listed in chronological order in two sections below.
Get Rhythm
Dave Davies RhythMakers return for Jazz Mondays, as Dave Davies, Doug Robinson, Brian Earle, and Chad Lieberman will play classic jazz, blues, originals, and more.
When: 5:30-8:30 p.m., second and fourth Mondays of each month
Where: South Hill Cider
Cost: free; donations welcome
Time to Practice
Practice at Presents returns to Deep Dive with another cool show, this one headlined by Snailmate and ON along with local punks Shoptalk.
"Snailmate is the Phoenix-based musical duo composed of lyricist, singer, and synth-wizard Kalen Lander and drummer and backup vocalist Bentley Monet. Together, the two create music that fuses synthpunk, grindcore pop, and nerd rap for an unpredictable and explosive sound. The band is known for their frenetic and impressive live shows. Performing over a thousand shows, Snailmate has cultivated a fervent fanbase that aims to be inclusive with the band priding their shows as a safe space for all genders and people of all sexualities." Their latest release is "Stress Sandwich."
Hailing from Toronto, "ON is a sonic guitar-based landscape centered around the undeniable chemistry of Lucy Di Santo (vocals, bass), Dan Cornelius (drums), and Steve Fall (guitars). Well crafted songs with an attention to groove and performance a la carte, On is a createive force with global reach. Always pushing forward with an eye in the rearview mirror with roots in classic postpunk, new wave, old school funk, metal and timeless rock n' roll."
When: 8 p.m. Tuesday
Where: Deep Dive
Cost: $10
Organ Explorer
Cornell's Midday Music for Organ series continues as guest organist Jeffrey Snedeker performs "The Nightingale and the Cuckoo," with works by Steigleder, Daquin, Couperin, and Handel.
When: 12:30 p.m. Wednesday
Where: Anabel Taylor Chapel, Cornell
Cost: free and open to all
Wednesday Night Jazz
Kicking off a full night of jazz, Greg Lofaro and The Firefly Trio return for the Deep Dive Jazz Happy Hour. They'll be followed by the Deep Dive House Big Band at 8-10 p.m. and the new People's Jam hosted by Drew Martin at 10:30 p.m.
When: 6-8 p.m. Wednesday
Where: Deep Dive
Cost: free
Ready to Rip
The ElectroZone returns with "Another Ripper," featuring an eclectic lineup: Farrah Faucet (ghostly noise from Pittsburgh), Spreaders (harsh tapes from Ellenville), Modular Moose (synthetic sound sculptures from Alfred), Captain Lemo (industrial dance noise from Rochester), Each Night I Dream of Razors (confessional electronics from Ithaca), and Phantom Planet ("satanic panic and fringe theory noise and suspense" from Ithaca, in their last performance!). "Don't come alone!"
When: 7 p.m. Wednesday
Where: Forest City Lodge, 536 W. Green St., Ithaca
Cost: $10
Fall Fun
The Ithaca Concert Band returns under the baton of co-conductor Rick Eleck with a fall concert "that will leave you smiling!" The concert theme is "Shenanigans: An Evening of Mayhem and Mischief." The program's "musical selections will be joyful, fun and light," the ICB says, promising that "this is a terrific concert for kids of all ages."
When: 7 p.m. Wednesday
Where: Kulp Auditorium Ithaca High School
Cost: free and open to all; donations are welcome.
Going Big
The Deep Dive House Big Band continues its every-other-Wednesday residency under the direction of local jazz professor Greg Evans, who teaches at Ithaca College and Cornell University and plays drums with Rose and the Bros and other area bands. The DDBB will feature players from Cornell University, Ithaca College, and the greater Ithaca Community every other Wednesday for the coming months.
When: 8-10 p.m. every other Wednesday
Where: Deep Dive
Cost: free; ages 18 and up
People Get Ready
"The People's Jam," a new jam night hosted by saxophonist Drew Martin, continues every other Wednesday right after Deep Dive House Big Band. A native of the Bronx, Martin is currently a jazz studies major at Ithaca College and has played a key role in the local music scene over the past couple of years.
When: 10:30 p.m. every other Wednesday
Where: Deep Dive
Cost:
House Music
"House Party with Park Doing" returns to The Downstairs. Local singer-songwriter Park Doing says: "Every 3rd Wednesday I am hosting a 'House Party with Park Doing' at the Downstairs in Ithaca, NY. I bring my stereo system to the club and play records - Post Punk - Berlin School - Psych - LoFi - House - Psych - Glam - Trash Techno - Wave. Then I perform - and then play more records! Fun!"
When: 8-11:55 p.m. Wednesday
Where: The Downstairs
Cost: no cover!
Read a recent interview with Park Doing here!
Dynamic Duo
Richie Stearns and Aaron Lipp return to South Hill Cider for an evening of old-time tunes, originals, and more. A native of Naples, multi-instrumentalist Lipp has been busy this year touring with the Sam Grisman Project, while Ithaca native Stearns is a longtime stalwart of the regional music scene from his banjo work with The Horse Flies, Evil City String Band, Ti Ti Chickapea, Donna the Buffalo, and other bands.
When: 5:30-8:30 p.m. Thursday
Where: South Hill Cider
Cost: $5 suggested donation for the band
Underground Sounds
Sacred Root will host a night of woman-fronted cello-centric music, with locals Strange Heavy (moody folk/sultry rock) and Silver Rein (electric dark folk) joined by special guests Hollings and La Llorona.
When: 7 p.m. Thursday
Where: Sacred Root Kava Lounge & Tea Bar
Cost: $5-$10 or PWYC
Barn Dance
"Come celebrate fall with Rose and the Bros… They will be playing in a beautiful old barn in Freeville with a great wood floor. Bring a snack or beverage if you feel inspired, along with your dance shoes!"
When: 7-9 p.m. Thursday
Where: 59 Palmear Road, Freeville
Cost: $15
Lotsa Laughter
"Get ready for an uproarious night of comedy with the hilarious Ariel Evans! Join us for Thursday Night Laughs at The Downstairs, where Ariel, a NYC-based comedy writer and stand-up comedian, will headline the show with her signature 'social commentary with family baggage' style." Thursday Night Laughs is held on the Third Thursday of every month at The Downstairs. Find out more at comedyonthecommons.com.
When: 7-9 p.m. Thursday
Where: The Downstairs
Cost: $15-$35, available online here
Keeping It Going
"AFTIES (A Team607 joint) at The Downstairs will feature music and ambience by local DJs and producers, so you can keep the drinks and conversation flowing, after the show. No cover, just presence. (21+)"
2nd & 3rd Thursdays
When: 9 p.m. 2nd & 3rd Thursdays of the month
Where: The Downstairs
Cost: none
Feet, Don't Fail Us Now
Deep Dive will host Squeaky Feet, a band from Denver that has shared the stage with Dopapod, Aqueous, Spafford, and other jam bands while completing three national tours.
"Squeaky Feet is an electrifying band guided by the infinite potential of musical improvisation. The sonic diversity attracts listeners with all types of musical tastes. Whether it's dance, trance, jazz-funk, progressive rock, or metal, Squeaky Feet delivers something for everyone. The band specializes in cerebral and stimulating compositions, accompanied by relentlessly intoxicating grooves." The band includes Colin Shore (guitar/vocals), Greg King (guitar), Jimmy Finnegan (bass/vocals), Brian Keller (keyboards/sax/flute/vocals), and Kevin D'Angelo (drums).
When: 9 p.m. Thursday
Where: Deep Dive
Cost: $9 in advance, available online here; $15 day of show
Diamonds and Rust
"Joan Baez: I Am A Noise" continues its run at Cinemapolis."At the end of a 60-year career, legendary singer and activist Joan Baez takes an honest look back and a deep look inward as she tries to make sense of her large, history-making life, and the personal struggles she's kept private." Directed by Miri Navasky, Maeve O'Boyle, and Karen O'Connor
When: runs through Thursday
Where: Cinemapolis
Cost: $7-$11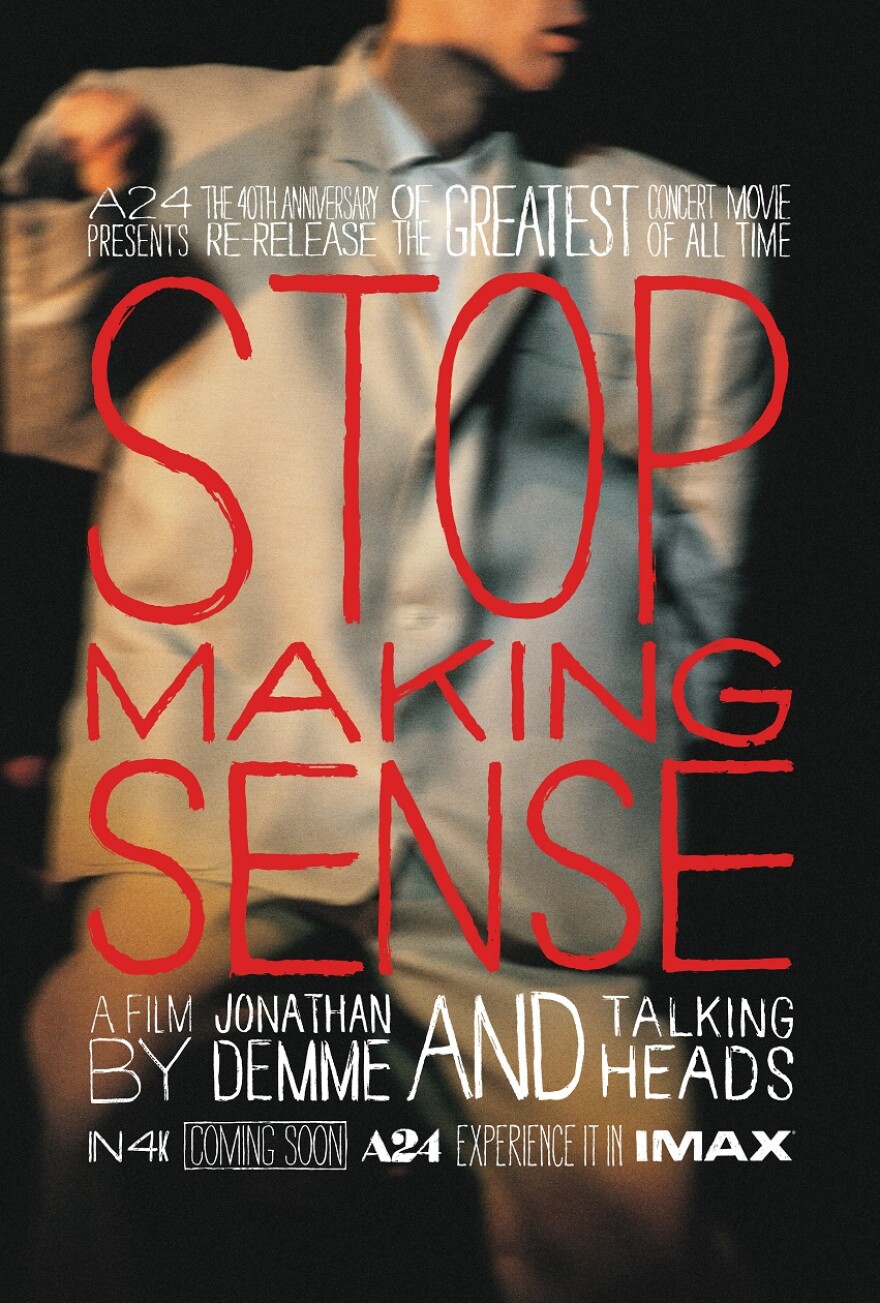 Once in a Lifetime
Continuing at Cinemapolis this week is widely considered the greatest concert film of all time. "Stop Making Sense" brings to the screen "Talking Heads at Hollywood's Pantages Theater in December 1983: David Byrne, Tina Weymouth, Chris Frantz, and Jerry Harrison, alongside an ecstatic ensemble of supporting musicians. Renowned filmmaker Jonathan Demme captures the band at their exhilarating best, in this new and complete restoration for the film's 40th anniversary."
When: runs through Thursday
Where: Cinemapolis
Cost: $7-$11
More Shows
Brett Beardslee is back with the blues at Rasta Ranch Vineyards at 5-8 p.m. Mondays
Joe Hayward, Richie Stearns and Friends play old-time tunes at Bike Bar Ithaca at 6-8 p.m. Tuesday
Open Mic Standup Comedy Night returns to the Downstairs at 6:30-9 p.m. Tuesday
The Center for the Arts in Homer hosts Open Mic Night at 7 p.m. Tuesdays
Auburn Public Theatre hosts Open Mic Night at 7:30 p.m. Tuesdays
The Westy hosts its Open Mic Night at 9 p.m. Tuesdays
Cayuga Blue Notes are at the Trumansburg Farmers Market at 4-7 p.m. Wednesday
The Argos Grove Trio plays jazz at the Argos Inn at 5:30-7:30 p.m. Wednesdays
Jesse Collins and Friends play jazz at Brookton's Market at 6-8 p.m. Wednesdays
Rick Testa is at Scale House Brewing at 6-8 p.m. Wednesday
Green Street plays cool jazz at Brookton's Market at 6-8 p.m. Wednesday
Levi Dusseau returns to Salt Point Brewing at 6:30-8:30 p.m. Wednesday
DJ Dale hosts Trivia Night at Revelry Yards at 7-9 p.m. Wednesdays
Sacred Root Kava Bar and Tea Lounge hosts its weekly Open Mic Night at 7 p.m. Wednesday
Salsa Ithaca presents the weekly "Salsa Wednesdays" dance event at the Range at 8 p.m. Wednesday
Jon Statham is at Grist Iron Brewing at 5-8 p.m. Thursday
Levi Gangi is at Two Goats Brewing at 5-8 p.m. Thursday
Scale House Brewery hosts Open Mic Night at 6-8 p.m. Thursday
Scott Tremelo is at Atwater Vineyards at 6-8 p.m. Thursday
Aiken & Nadge is at Cortland Beer Company at 6 p.m. Thursday
Benny T brings his Open Mic Posse to The Ridge in Lansing at 6:30 p.m. Thursday
The Rollin' Rust play a sold-out show at the 443 Social Club and Lounge in Syracuse at 7 p.m. Thursday
Atlas Bowl in Trumansburg hosts the weekly Vinyl Showcase at 7-10 p.m. Thursdays
DJ Dale hosts Karaoke Night at the Upstairs at 10 p.m. Thursday