15+ shows to see this weekend: Oct. 19-23
Mary Chapin Carpenter and Shawn Colvin return to the State Theatre – this time together! Driftwood visits South Hill Cider, Grateful Dub comes to Deep Dive, Sun Parade plays the Upstairs, Alasdair Fraser and Natalie Haas return to the Morgan Opera House, and Cornell hosts a pair of concerts highlighting the music of Mongolia. Plus, lots of local favorites are in action around the region in the coming days!
Note: listings are in chronological order in two sections below.
Dynamic Duo
Richie Stearns and Aaron Lipp return to South Hill Cider for an evening of old-time tunes, originals, and more. A native of Naples, multi-instrumentalist Lipp has been busy this year touring with the Sam Grisman Project, while Ithaca native Stearns is a longtime stalwart of the regional music scene from his banjo work with The Horse Flies, Evil City String Band, Ti Ti Chickapea, Donna the Buffalo, and other bands.
When: 5:30-8:30 p.m. Thursday
Where: South Hill Cider
Cost: $5 suggested donation for the band
Underground Sounds
Sacred Root will host a night of woman-fronted cello-centric music, with locals Strange Heavy (moody folk/sultry rock) and Silver Rein (electric dark folk) joined by special guests Hollings and La Llorona.
When: 7 p.m. Thursday
Where: Sacred Root Kava Lounge & Tea Bar
Cost: $5-$10 or PWYC
Barn Dance
"Come celebrate fall with Rose and the Bros… They will be playing in a beautiful old barn in Freeville with a great wood floor. Bring a snack or beverage if you feel inspired, along with your dance shoes!"
When: 7-9 p.m. Thursday
Where: 59 Palmear Road, Freeville
Cost: $15
Lotsa Laughter
"Get ready for an uproarious night of comedy with the hilarious Ariel Evans! Join us for Thursday Night Laughs at The Downstairs, where Ariel, a NYC-based comedy writer and stand-up comedian, will headline the show with her signature 'social commentary with family baggage' style." Thursday Night Laughs is held on the Third Thursday of every month at The Downstairs. Find out more at comedyonthecommons.com.
When: 7-9 p.m. Thursday
Where: The Downstairs
Cost: $15-$35, available online here
Keeping It Going
"AFTIES (A Team607 joint) at The Downstairs will feature music and ambience by local DJs and producers, so you can keep the drinks and conversation flowing, after the show. No cover, just presence. (21+)"
2nd & 3rd Thursdays
When: 9 p.m. 2nd & 3rd Thursdays of the month
Where: The Downstairs
Cost: none
Feet, Don't Fail Us Now
Deep Dive will host Squeaky Feet, a band from Denver that has shared the stage with Dopapod, Aqueous, Spafford, and other jam bands while completing three national tours.
"Squeaky Feet is an electrifying band guided by the infinite potential of musical improvisation. The sonic diversity attracts listeners with all types of musical tastes. Whether it's dance, trance, jazz-funk, progressive rock, or metal, Squeaky Feet delivers something for everyone. The band specializes in cerebral and stimulating compositions, accompanied by relentlessly intoxicating grooves." The band includes Colin Shore (guitar/vocals), Greg King (guitar), Jimmy Finnegan (bass/vocals), Brian Keller (keyboards/sax/flute/vocals), and Kevin D'Angelo (drums).
When: 9 p.m. Thursday
Where: Deep Dive
Cost: $9 in advance, available online here; $15 day of show
Roots on the Hill
South Hill Cider's Friday Night Concert Series continues with local favorite Driftwood.
"Join us for an unforgettable evening of music, food (our full menu plus Silo Food Truck), and fun with Driftwood… Get ready to groove to the energetic tunes of this talented folk-rock band while enjoying the beautiful surroundings of Ithaca… this in-person event promises a night filled with good vibes and great company… This event will be held outdoors, so come prepared for the weather!"
When: 5:30-8:30 p.m.
Where: South Hill Cider
Cost: $22 in advance, available online here; $25 day of show. Ages 12 & under are free with parents; 13 & up must purchase tickets.
It's Magic!
Local singer-songwriter Ana Florencia will present "Fall Magic," an evening of original music. "I'm known for my covers, but I actually have enough originals to fill way more than this three-hour set. Featuring songs from Izzy's playlist, realize, masterpieces, and other from college and even elementary school times: I will be performing the first song I wrote in the US for the first time. It will be a night to remember!"
When: 6:30-9:30 p.m. Friday
Where: First Unitarian Society of Ithaca (FUSIT), 306 N. Aurora St.
Mongolian Music
The Cornell Department of Music presents The Endless Steppe Project featuring two concerts of Mongolian music celebrating composer Byambasurengiin Sharav at Barnes Hall.
The first concert on Friday features piano soloist Shuree Enkhbold and will trace the evolution in Sharav's music for piano and chamber ensemble, following his life from an upbringing in a nomadic herding family in Mongolia's eastern Khentii Province, to his experience studying in Sverdlovsk at the State Conservatory of the Urals, to his critical hand in shaping Mongolian music in the post-socialist era.
When: 7:30 p.m. Friday
Where: Barnes Hall
Cost: free and open to all
The second performance on Sunday, Oct. 22 at 3:00 pm explores the sounds of the Mongolian steppe. A country of just over 3 million people with a vast expanse of land, Mongolia has produced a kaleidoscope of music over the past century. Linked inextricably to Mongolia's natural landscape, its mountains and rivers, and the nomadic pastoral lifestyle, Sharav's soundscape has shaped a generation of Mongolian composers. The afternoon will feature Sharav's works for large ensemble and soloists. Both concerts feature guests Urtnasan Gantulga on Horse Head Fiddle and long-song vocalist Ganchimeg Badamsuren and are led by Cornell faculty Joe Lerangis.
The concerts are sponsored by the Society for the Humanities and are part of the Endless Steppe Project, an initiative founded by Lerangis and Enkhbold to foster musical exchange between Mongolia and the United States.
When: 3 p.m. Sunday
Where: Barnes Hall
Cost: free and open to all
Bring The Noise
Prime Ruin presents a cool noise show at Angry Mom Records headlined by the return of Kjostad.
"Massachusettes-based artist Kjostad brings forth panoramic displays of nature woven with layers of carefully arranged static and electronic textures. Kjostad is the moniker of Stefan Aune who is also involved in Form Hunter and Breaking The Will, in addition to running the prolific New Forces label. Kjostad weaves together an organic tapestry of man-made and natural sonics. Capturing highly personal sounds focused on northern Minnesota, Aune takes these moments and introduces layers of electronics and magnetic tape, not just blending the two but utilizing the strong qualities of both to achieve an even more impactful statement that expresses the ultimate power of pure sound."
Rounding out the bill are Green Tea, Driller, Human Kindness, and Mound of Glass.
When: 8 p.m. Friday
Where: Angry Mom Records
Cost: $8
Downtown Sounds
Practice at Presents continues its month-long Friday night residency at the Downstairs with locals Patchwork Down and Circus Owl.
When: 8 p.m. Friday
Where: The Downstairs
Cost: $10; $5 if you wear a costume
Dub Dive
Deep Dive will host Grateful Dub, a reggae-infused tribute from RoC (Roots of Creation) to the Grateful Dead. "Combining their longtime love for Reggae-Dub style music and the Grateful Dead, RoC reworked some of the world's favorite Dead tunes into a new studio album. RoC had the pleasure of working in the studio with the legendary 5-time Grammy winner Errol Brown, who was Bob Marley's sound engineer for this project. Grateful Dub is also being performed live in its entirety at festivals, theatres, and clubs around the country, and features rotating live special guests that has included Melvin Seals (Jerry Garcia Band), Scott Guberman (Phil Lesh), Zach Nugent, RyMo, AG, & Paul W. (Slightly Stoopid), G. Love (G. Love & Special Sauce), Mihali (Twiddle), Dan Kelly (Fortunate Youth) and others. Grateful Dub captures the spirit and magic of the Grateful Dead, while laying it down Reggae-Dub style.
The Album: Grateful Dub: a Reggae infused tribute to The Grateful Dead debuted at #1 on the Reggae Billboard charts and features guest performances by Stephen Marley, G. Love, Melvin Seals (Jerry Garcia Band), Marlon "Ganja Farmer" Asher, Hayley Jane, Andy "AG" Geib (Slightly Stoopid), Dan Kelly (Fortunate Youth), Billy Kottage (Reel Big Fish / The Interrupters live bands), Jesse Wagner (The Aggrolites), Alex Brander (Big D & the Kids Table), and more.
When: 8 p.m. Friday
Where: Deep Dive
Cost: $18, available online here
Tasty Tunes
Hailing from Binghamton, Caviar & Grits plays "original music with an R&B flair and a whole lot of soul." Vocalist/songwriter Michaela Clark is joined by Tyson Alston (keys), Joe Kollar (guitar), Nate Calzetoni (guitar), Jim Lomonaco (bass), and Moses Valle (drums). The band's debut album is titled "Ticket to Flavor Town"; a follow-up release is currently being recorded.
When: 9:30 p.m. Friday
Where: The Range
Cost: $10; $5 with a student ID
The Sunny Side
Making their debut at the Upstairs, "Sun Parade is a 5-piece psychedelic pop-fusing rock and roll band with deep grooves and sizzling harmonies from Northampton, Massachusetts. The band is songwriters Chris Marlon Jennings and Jeff Lewis, in addition to Karl Helander (drums), Niko Lapinski (bass), and Eli Salus-Kleiner (keyboards)." Sun Parade is currently producing a new record with Ian Hersey that is set to be released in 2023. The band has shared shows with Lake Street Dive, Felice Brothers, Brazilian Girls, Dr. Dog, Rogue Wave, Martin Sexton, Illiterate Light, Big Thief and Grace Potter.
LongStory will open the show
When: 10:30 p.m. Friday
Where: The Upstairs
Cost: $10 or $5 with a student ID
A Tribute to Toni Morrison
Featuring voice students from Cornell University and Ithaca College, this recital will include performances of two song cycles with words written by Toni Morrison and music by Richard Danielpour, celebrating Morrison's broad artistic reach across genres. Also included in the program will be Samuel Coleridge-Taylor's setting of "The Willow Song." The recital is in support of the Performing and Media Arts Department's upcoming production of Morrison's play Desdemona and the campus-wide commemoration of the 30th anniversary of Toni Morrison's Nobel Prize.
When: 3 p.m. Saturday
Where: Barnes Hall, Cornell
Cost: free and open to all
Second Coming
The Cayuga Chamber Orchestra presents its second Music Director finalist of the season, as Guillaume Pirard conducts a program featuring works by Beethoven, Shostakovich, and Pärt.
"With a deep belief in the power of collaborative music-making to create transformational experiences for musicians and audiences alike, Guillaume Pirard has become a highly respected artist and educator of his generation. Pirard has conducted orchestras including the New York University and Cornell University Orchestras, Ensemble X, Opus Ithaca, the Philharmonic of Moravia, the Metamorphosis Chamber Orchestra, the Lviv Philharmonic, the Mannes School of Music Opera and the Mannes Orchestra and the Buffalo Philharmonic and Ensemble 21. He was also co-concertmaster and founding member of The Knights, touring extensively through the United States and Europe, and previously led the esteemed Cornell University Orchestra. Pirard will serve as Visiting Professor of Violin at Ithaca College for the 2023-24 academic year. He will be joined by British Cellist Guy Johnston."
When: 7:30 p.m. Saturday
Where: Ford Hall, Ithaca College
Cost: $13-$40, available online here
S00P's On!
Forest City Lodge presents S00P Nite, an eclectic event featuring a host of DJs and electronic musicians such as Sine Caster. Plus, soup!
"A night of bowls and bass, 6 different DJs with delicious food served by @akemi_food Don't miss it! S00P."
When: 7:30 p.m. Saturday
Where: Forest City Lodge 180, 536 W. Green St.
Cost: $10
String Thing
The acclaimed duo of Alasdair Fraser and Natalie Haas returns to Central New York for a show in the village of Aurora.
"Alasdair Fraser & Natalie Haas's Scottish fiddle and cello performance in 2013 was one of the warmest and most uplifting and memorable concerts in the Morgan Opera House's history. We are delighted to have them back. As ever, they will be playing traditional Scottish music and newer music that respectfully extends the tradition. The live acoustics of the Opera House are especially suited to enjoying them."
When: 8 p.m. Saturday
Where: Morgan Opera House, 370 Main St,, Aurora
Cost: "The show is free, but donations are encouraged ($20 is the recommended donation)."
Ready to Rock
Locals indie rockers Chimes of Bayonets, Milk Cousin, and Triple Five Spout will be joined by Baltimore's Credit for a show at Angry Mom.
When: 8 p.m. Saturday
Where: Angry Mom Records
Cost: $5
Dreadly Domain
The ElectroZone presents Night 3 of its "Domains of Dread" series. On the bill are Jenn Taiga, who "combines an array of synthesizers with a background in classical music and inspired ear for the phantasmal to create eerie soundscapes and blistering melodies"; Avoidance, "Ithaca's local purveyors of Dungeon and Synth!"; His Divine Shadow, the duo of Jim Wells (aka Staticer) and Reka Wells (aka Fainting Lessons); and Vermont's Psychic Hood, "Dungeon synth that explores the grimdark far-future."
"The ElectroZone is Ithaca's salon for electromusicians and experimenters, a pop-up reality devoted to the weird, the new, and the DIY, specializing in unforgettable performances, unique events, and creative workshops with a community focus."
When: 8 p.m Saturday
Where: The Downstairs
Cost: $10
Two in Tandem
The State Theatre of Ithaca will host two of the most acclaimed singer-songwriters of the past few decades: Mary Chapin Carpenter and Shawn Colvin.
"With hits like "Passionate Kisses" and "He Thinks He'll Keep Her," Mary Chapin Carpenter has won five Grammy Awards (with 16 nominations), two CMA awards, two Academy of Country Music awards and is one of only fifteen female members of the Nashville Songwriters Hall of Fame. Over the course of her acclaimed career, Carpenter has sold over 16 million records. In 2020, Carpenter recorded two albums - "The Dirt And The Stars," released in August 2020, and "One Night Lonely," recorded live without an audience at the legendary Filene Center at Wolf Trap in Virginia during the COVID-19 shut down, and nominated for "Best Folk Album" at the 64th Grammy Awards in 2022." Her latest album, "The Dirt And The Stars," produced by Ethan Johns (Ray LaMontagne, Paul McCartney, Kings of Leon) and recorded entirely live at Peter Gabriel's Real World Studios in Bath in southwest England.
"Shawn Colvin stopped the industry in its tracks with her arresting 1989 debut, 'Steady On.' The following spring, Colvin took home the GRAMMY Award for Best Contemporary Folk Album, establishing herself as a mainstay in the singer-songwriter genre. In the ensuing 30 years, Colvin has won three GRAMMY Awards, released thirteen superlative albums, written a critically acclaimed memoir, maintained a non-stop national and international touring schedule, appeared on countless television and radio programs, had her songs featured in major motion pictures and created a remarkable canon of work."
Colvin triumphed at the 1998 GRAMMY Awards, winning both Record and Song of the Year for the Top 10 hit "Sunny Came Home," from the platinum-selling album A Few Small Repairs"; her inspiring and candid memoir, Diamond In The Rough, was published by Harper Collins in 2012.
When: 8 p.m. Saturday
Where: State Theatre of Ithaca
Cost: $45-$95, available online here and at the State box office
Trio Grande
The Downstairs will host the Ryan Peterson Trio, led by its eponymous award-winning jazz guitarist, band leader, educator, and recent transplant to Ithaca.
"Since moving to New York, Ryan is quickly becoming an in-demand guitarist and had the pleasure of leading his quartet as the opening act on the main stage at the Northeast Jazz and Wine Festival in Syracuse, NY in July 2023... As a band leader, Ryan leads the Ryan Peterson Trio and the Ryan Peterson Quartet. Always with a modern twist, Ryan's bands draw from the jazz tradition and perform timeless music from The Great American Songbook, as well as more contemporary jazz standards."
He'll be joined by Tom Reilly (vibraphone), August Bish (bass), and James Abate (drums) for the show.
When: 7:30 p.m. Sunday
Where: The Downstairs
Cost: $10
Get Rhythm
Dave Davies RhythMakers return for Jazz Mondays, as Dave Davies, Doug Robinson, Brian Earle, and Chad Lieberman will play classic jazz, blues, originals, and more.
When: 5:30-8:30 p.m., second and fourth Mondays of each month
Where: South Hill Cider
Cost: free; donations welcome
SOUNDS ON SCREEN
Spanning the Eras
"Taylor Swift | The Eras Tour" captures the recent record-breaking tour across the United States. "The cultural phenomenon continues on the big screen! Immerse yourself in this once-in-a-lifetime concert film experience with a breathtaking, cinematic view of the history-making tour.
"Please note, TAYLOR SWIFT | THE ERAS TOUR contains several sequences with flashing lights that may affect those who are susceptible to photosensitive epilepsy or have other photosensitivities."
When: runs through Thursday
Where: Cinemapolis
Cost: $13-$20
Diamonds and Rust
"Joan Baez: I Am A Noise" continues its run at Cinemapolis."At the end of a 60-year career, legendary singer and activist Joan Baez takes an honest look back and a deep look inward as she tries to make sense of her large, history-making life, and the personal struggles she's kept private." Directed by Miri Navasky, Maeve O'Boyle, and Karen O'Connor.
When: runs through Thursday
Where: Cinemapolis
Cost: $7-$11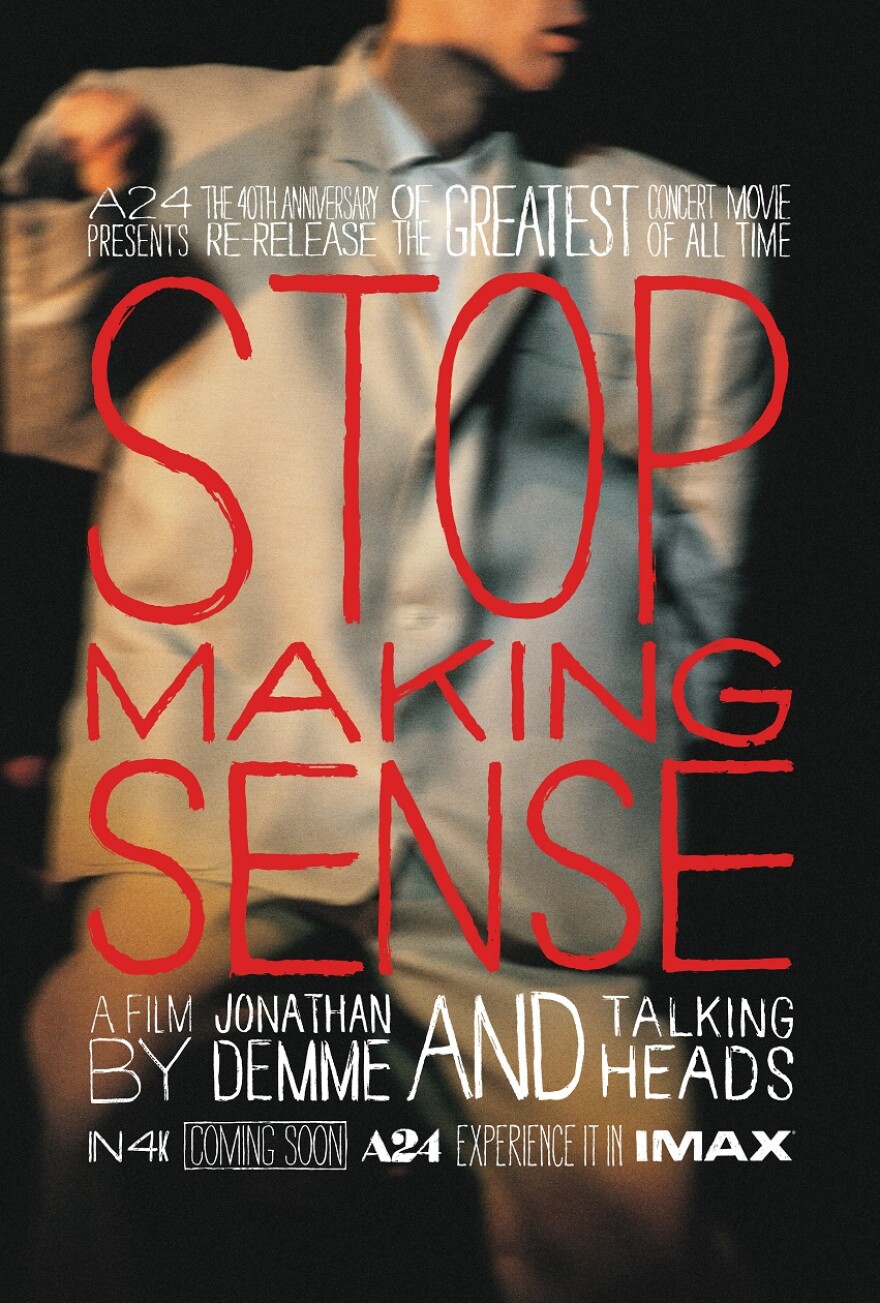 Once in a Lifetime
Continuing at Cinemapolis this week is widely considered the greatest concert film of all time. "Stop Making Sense" brings to the screen "Talking Heads at Hollywood's Pantages Theater in December 1983: David Byrne, Tina Weymouth, Chris Frantz, and Jerry Harrison, alongside an ecstatic ensemble of supporting musicians. Renowned filmmaker Jonathan Demme captures the band at their exhilarating best, in this new and complete restoration for the film's 40th anniversary."
When: runs through Thursday
Where: Cinemapolis
Cost: $7-$11
More Shows
Jon Statham is at Grist Iron Brewing at 5-8 p.m. Thursday
Levi Gangi is at Two Goats Brewing at 5-8 p.m. Thursday
Scale House Brewery hosts Open Mic Night at 6-8 p.m. Thursday
Scott Tremelo is at Atwater Vineyards at 6-8 p.m. Thursday
Aiken & Nadge is at Cortland Beer Company at 6 p.m. Thursday
Benny T brings his Open Mic Posse to The Ridge in Lansing at 6:30 p.m. Thursday
The Rollin' Rust play a sold-out show at the 443 Social Club and Lounge in Syracuse at 7 p.m. Thursday
Atlas Bowl in Trumansburg hosts the weekly Vinyl Showcase at 7-10 p.m. Thursdays
DJ Dale hosts Karaoke Night at the Upstairs at 10 p.m. Thursday
The Soul Benders are at Liquid State North Shore at 4-7:30 p.m. Friday
The Pelotones are at Two Goats Brewing at 5-8 p.m. Friday
Stage Fright: A Tribute to The Band is at Hazlitt 1852 Vineyards at 5:30-8:30 p.m. Friday
Delta Mike Shaw, Carol Xtine, and Ray Zajac are at the Scale House Brewery at 6-8 p.m. Friday
The Clark Jackson Band is at Grist Iron Brewing at 6-9 p.m. Friday
Levi and the Wranglers are at Revelry Yards at 6-9 p.m. Friday
The Tarps are at Hopshire Farm and Brewery at 6-8 p.m. Friday
Dave Turner is at Homer Hops Brewing at 6-9 p.m. Friday
Jill Minye is at Heuga's Alpine at 6-9 p.m. Friday
Just Joe is at ONCO Fermentations at 6-9 p.m. Friday
The Vectors are at McGraw Box Brewing at 6:30-8:30 p.m. Friday
Clint Bush is at the Dryden Hotel at 7-9 p.m. Friday
Scott B Adams plays Hector's Hideaway at 7-10 p.m. Friday
M3 is at Cortland Beer Company at 8 p.m. Friday
DJ Elephant Sound is at the "Costumes & Cocktails" benefit event for the Lansing Community Library at the LakeWatch Inn at 8-11 p.m. Friday
The Diana Leigh Quartet plays the 60th annual Brooktondale Apple Festival at 12-3 p.m. Saturday at the Brooktondale Community Center
Ricky Resciniti plays Treleaven Winery at 1-4 p.m. Saturday
The Pelotones are at Bet The Farm's Harvest Celebration at 3-6 p.m. Saturday
Darkwine is at Liquid State North Shore at 4-7:30 p.m. Saturday
The Bradshaw Blues Trio plays "BBQ & Blues" at ONCO Fermentations at 4-7 p.m. Saturday
Nick and Kenny are at Two Goats Brewing at 5-8 p.m. Saturday
Levi Dusseau is at Summerhill Brewing at 5-6 p.m. Saturday, followed by the Kitestring Duo at 6-8 p.m.
Benny and The Mex are at Owasco Lake Brewing at 5-7 p.m. Saturday
DJ Dijon is back at South Hill Cider for another evening of spinning vinyl – a mix of roots reggae, funk, soul and everything in-between – at 6-8 p.m. Saturday ($5 suggested donation)
M3 are at Homer Hops Brewing at 6-9 p.m. Saturday
Jonny Peris & The Formula play MTV Unplugged Stone Temple Pilots and Nirvana at Grist Iron Brewing at 6-9 p.m. Saturday
Clint Bush is at McGraw Box Brewing at 6:30-8:30 p.m. Saturday
Crystal Vision are at Cortland Beer Company at 8 p.m. Saturday
Strange Heavy make their Syracuse debut at the Night Drop at 8-11 p.m. Saturday
Yayle Hues is at the St. Charles Hotel in Cortland at 9 p.m. Saturday
Salsa Ithaca hosts "3rd Saturday Noche Latina" at the Upstairs at 9 p.m. Saturday
MAQ plays the Jazz Brunch at Stonecat Café from 11 a.m. to 2 p.m. Sunday
Shawn Halloran is at Heuga's Alpine from 11:30 a.m. to 2:30 p.m. Sunday
Benny T brings his Open Mic Posse to Homer Hops at 1 p.m. Sunday
Alexander + Nodzo is at Treleaven Winery at 1-4 p.m. Sunday
Fools Hill Farm in Spencer hosts the weekly "Chill on the Hill" Open Mic at 1-7 p.m. Sunday
Pat Young is at the Glen Haven at 2-5 p.m. Sunday
Delta Mike Shaw is at Rasta Ranch Vineyards at 2-5 p.m. Sunday
Jess Novak and Ben Wayne are at ONCO Fermentations at 3-5 p.m. Sunday
The Denali and TR McKotch are at Two Goats Brewing at 4-7 p.m. Sunday
Brett Beardslee is back with the blues at Rasta Ranch Vineyards at 5-8 p.m. Mondays