12+ shows to see this week: Oct. 30-Nov. 2
Celebrate Halloween with some spooky sounds! Plus, Penelope Voss presents "La Pagliaccia," Sarah Haggerty returns to the Downstairs, and the Drew Dub Piano Trio debuts at Bike Bar Ithaca!

Plus, "Start Making Sense" and "Taylor Swift: The Eras Tour" continue their runs at Cinemapolis!
Note: This week's shows are listed in chronological order in two sections below.
Hot Jazz
Djug Django – Ithaca's premier ensemble for gypsy swing, jazz standards, Latin rhythms and blues – will be hosting an evening packed with music at South Hill Cider. The group includes Harry Aceto, Eric Aceto, Dave Davies, Brian Earle, Jim Sherpa, and Michael Wellen.
When: 5:30-8:30 p.m. Monday
Where: South Hill Cider
Cost: free; donations welcome
Clowning Around
Local singer-songwriter Penelope Voss will present "La Pagliaccia: a few clowns short of a Halloween Circus" at the Downstairs
"Penelope Voss is an Ithaca based singer, songwriter & gal-about-town. She writes songs that explore both the unavoidable heartaches of humanity, and the glimmers of hope she still finds in a hazy world. Her lyrics are both cutting & tender, and her melodies ranging. Her performances are driven by piano, melodrama, and the constant impulse to sing for joy.
"'La Pagliaccia' is (just a few clowns short of) a Circus of Singing, curated with a nod to Halloween. Come for a spectacle of songs in a range of styles, performed whole heartedly and in the spirit of the season. For one night only, with immensely special guests, renowned local rockers Mandy Goldman and Samuel B. Lupowitz, and featuring the multi-talented, funky, and soulful Emmett Scott. Audience members can expect to laugh and cry, to receive both treats and shivers down their spines. Costumes are strongly encouraged to be worn by all in attendance, street clothes accepted begrudgingly. Attend at your own risk of being bewitched."
When: 7:30 p.m. Monday
Where: The Downstairs
Cost: $10
Do the Mash
SingTrece and Kenneth McLaurin will host the "Boogie Monster Bash," a 70's-themed Halloween party at the Downstairs.
"Join the dynamic duo, SingTrece and Kenneth McLaurin, for a '70s-themed Halloween bash that promises a night of thrilling fun and nteractive excitement. Step into the vibrant world of the '70s at The Downstairs and prepare yourself for a spooktacular time filled with laughter, music, and electrifying entertainment.
Breathe life into the '70s by donning your finest retro attire and partaking in the Scary-oke competition where you can belt out the spookiest songs of the decade on stage. Not a singer? No worries! The evening still promises tons of fun with a costume contest featuring categories like Best Overall, Best Couple/Group, Scariest, and Funniest costume. Bag amazing prizes and treat yourself to an array of games and a candy bar that would transport you to the '70s candy heaven!
It's more than a party; it's a journey back in time, sprinkled with the joyous spirit of Halloween!"
When: 7-9 p.m. Tuesday
Where: The Downstairs
Cost: $10/PWYC; advance tickets are available online here
A Night of Horror
Deep Dive and Queen Tessential will host the "Rocky Horror Sh*t Show," featuring a screening of "Rocky Horror Picture Show" along with a shadow cast that features Noah Phence, Quenn Tessential, Butch Lite, Skarlet Killz, Goblin, Sapphic Swayze, Genevieve, and more. The Dutchess of Spirit Posse will provide a pre- and post-show dance party.
When: 9 p.m. Tuesday
Where: Deep Dive
Cost: $20 in advance, available online here; $25 day of show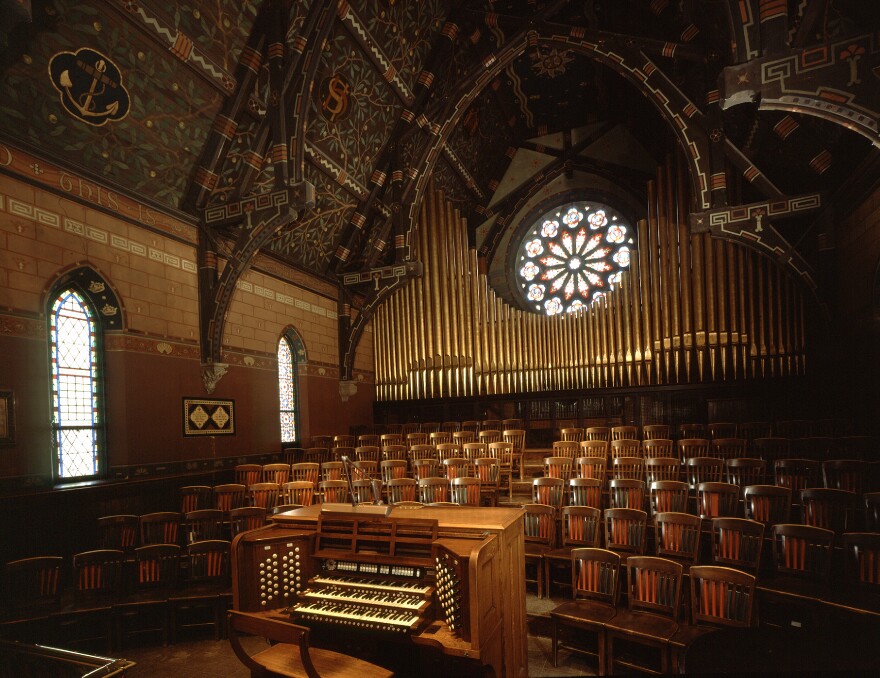 Eclectic Virtuosity
Cornell's Midday Music for Organ series continues, as guest organist Daniel Minnick performs "The Eclectic Virtuoso," with music by Bach, Widor, Karosi, Conte, and Demessieux on the Aeolian-Skinner organ.
When: 12:30 p.m. Wednesday
Where: Sage Chapel, Cornell
Cost: free and open to all
Wednesday Night Jazz
Kicking off a full night of jazz, Greg Lofaro and The Firefly Trio return for the Deep Dive Jazz Happy Hour. They'll be followed by the Deep Dive House Big Band at 8-10 p.m. and the new People's Jam hosted by Drew Martin at 10:30 p.m.
When: 6-8 p.m. Wednesday
Where: Deep Dive
Cost: free
Going Big
The Deep Dive House Big Band continues its every-other-Wednesday residency under the direction of local jazz professor Greg Evans, who teaches at Ithaca College and Cornell University and plays drums with Rose and the Bros and other area bands. The DDBB will feature players from Cornell University, Ithaca College, and the greater Ithaca Community every other Wednesday for the coming months.
When: 8-10 p.m. every other Wednesday
Where: Deep Dive
Cost: free; ages 18 and up
People Get Ready
"The People's Jam," a new jam night hosted by saxophonist Drew Martin, continues every other Wednesday right after Deep Dive House Big Band. A native of the Bronx, Martin is currently a jazz studies major at Ithaca College and has played a key role in the local music scene over the past couple of years.
When: 10:30 p.m. every other Wednesday
Where: Deep Dive
Cost: free
Roots Rock
"As a solo performer, Louiston—the moniker of CNY-based Lou DiPietro— shows out with slick, seasoned guitar work, an authentic voice of precision and tenderness, and an undeniable and deep catalog of original songs you need to hear. Joined by Joey Arcuri on double bass and Colleen Countryman on keys, Louiston's up-tempo Americana blossoms further, criss-crossing genres from ragtime and classic country to folk and rock n' roll."
When: 6-8 p.m. Thursday
Where: Atwater Vineyards
Cost: free; donations welcome
Songs to Share
Singer-Songwriter Night returns to Hopshire Farm and Brewery in Dryden. Hosted by Driftwood's Dan Forsyth on the first Thursday of every month, "this is an opportunity for songwriters to share their craft with each other. Bring a song you are working on, it doesn't have to be complete, to get input from your peers. All are welcome to come listen respectfully."
When: 6-8 p.m. first Thursday of every month
Where: Hopshire Farm and Brewery
Cost: free
Second Time Around
"Sarah Haggerty is a singer-songwriter and guitarist based in The Great Lakes. She performs an eclectic array of original and cover music, encompassing genres from folk and Americana to pop and rock." A 2014 graduate of Ithaca College, Haggerty will be making her second appearance at the Downstairs
When: 6:30 p.m. (doors) Thursday
Where: The Downstairs
Cost: $5
Three of a Kind
The Words and Music Songwriter Showcase is an intimate acoustic concert series hosted by Syracuse singer-songwriter Jeffrey Pepper Rodgers, featuring a stellar lineup of regional and touring artists. This edition's guests are Austin MacRae and Muhammad Seven, based in Ithaca and Seneca Falls, respectively. Find out more here!
When: 7 p.m. Thursday
Where: Seneca Street Brew Pub, 315 E. Seneca St., Manlius
Cost: Suggested donation $15 (all proceeds go to the performers).
Read a recent interview with Austin MacRae here!
Dashing Debut
Andrew Westphal will unveil the Drew Dub Piano Trio at the Bike Bar. "Playing fun selections of feel-good Jazz, Soul, Funk and--New Orleans piano. You'll hear a wide range of influences: from HipHop, Sly Stone, Herbie Hancock, Thelonious Monk, Vince Guaraldi, James Booker, Dr. John and many more. Perhaps Drew's biggest inspiration comes from his college conservatory teacher, Jazz piano legend Kenny Barron. With Sam Fishman on drums and Adam Dixon on Acoustic/Electric bass, plus some special guests, this will be a fun night!"
When: 7-10 p.m. Thursday
Where: Bike Bar Ithaca
Cost: free
More Shows
Brett Beardslee is back with the blues at Rasta Ranch Vineyards at 5-8 p.m. Mondays
Joe Hayward, Richie Stearns, Liz Pickard, and Sam Schmidt will play old-time tunes at Bike Bar Ithaca at 7 p.m. Tuesday
The Center for the Arts in Homer hosts Open Mic Night at 7 p.m. Tuesdays
Auburn Public Theatre hosts Open Mic Night at 7:30 p.m. Tuesdays
The Westy hosts its Open Mic Night at 9 p.m. Tuesdays
DJs Rob Haze and Law bring "Goth Night: Dark Alternative Monthly" to Modern Alchemy Game Bar for a special Halloween edition at 9 p.m. Tuesday
The Argos Grove Trio plays jazz at the Argos Inn at 5:30-7:30 p.m. Wednesdays
The Freight Duo of JP Payton and Loveday is at Salt Point Brewing at 6:30-8:30 p.m. Wednesday
DJ Dale hosts Trivia Night at Revelry Yards at 7-9 p.m. Wednesdays
Sacred Root Kava Bar and Tea Lounge hosts its weekly Open Mic Night at 7 p.m. Wednesday
Salsa Ithaca presents the weekly "Salsa Wednesdays" dance event at the Range at 8 p.m. Wednesday
Richie Stearns and Friends are at South Hill Cider at 5-8 p.m. Thursday
Scale House Brewery hosts Open Mic Night at 6-8 p.m. Thursday
Aiken and Nadge is at Cortland Beer Company at 6 p.m. Thursday
Benny T brings his Open Mic Posse to The Ridge in Lansing at 6:30 p.m. Thursday
The Cast Iron Cowboys are at O'Malley's Shoreline Tavern at 7 p.m. Thursday
Atlas Bowl in Trumansburg hosts the weekly Vinyl Showcase at 7-10 p.m. Thursdays
DJ Dale hosts Karaoke Night at the Upstairs at 10 p.m. Thursday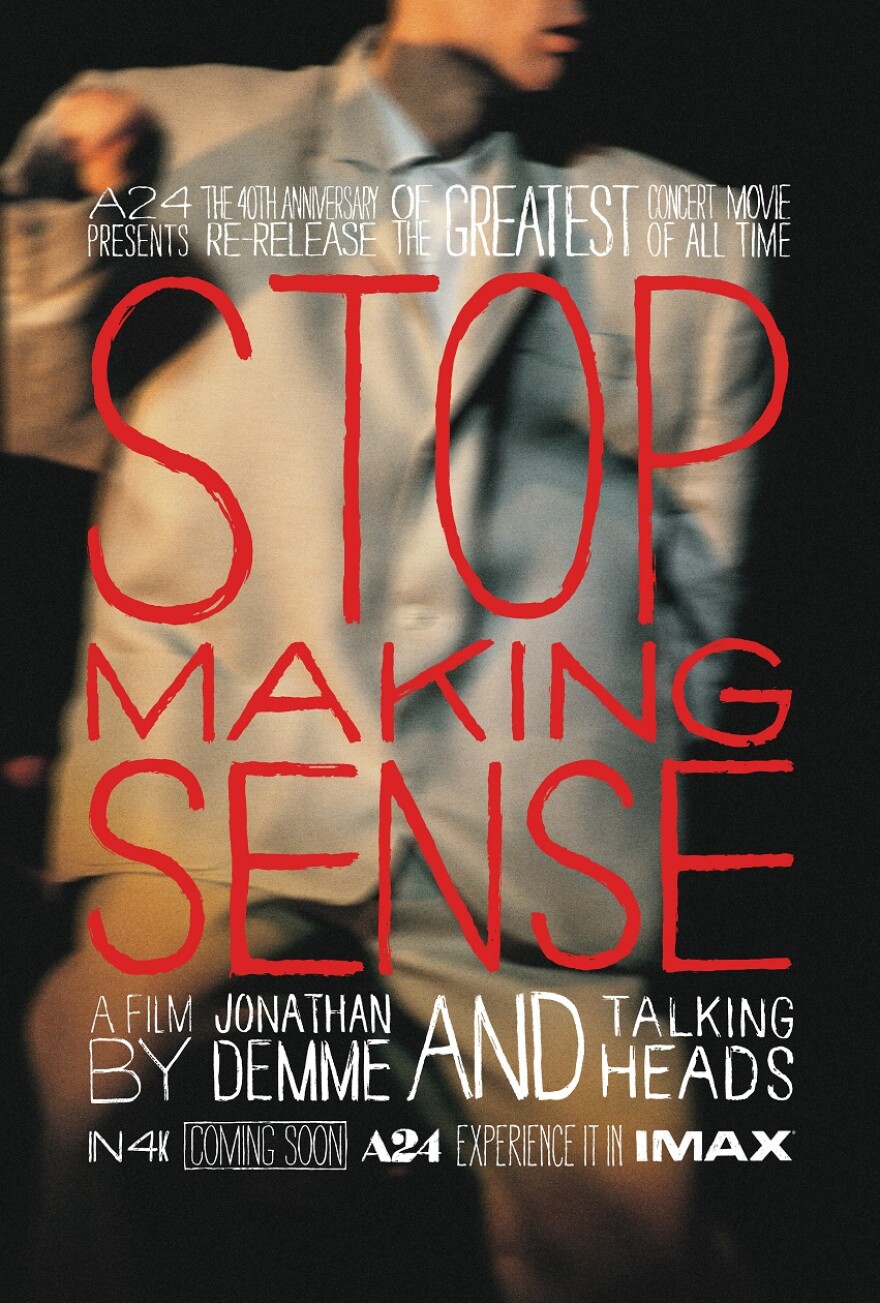 Once in a Lifetime
Continuing at Cinemapolis this week is widely considered the greatest concert film of all time. "Stop Making Sense" brings to the screen "Talking Heads at Hollywood's Pantages Theater in December 1983: David Byrne, Tina Weymouth, Chris Frantz, and Jerry Harrison, alongside an ecstatic ensemble of supporting musicians. Renowned filmmaker Jonathan Demme captures the band at their exhilarating best, in this new and complete restoration for the film's 40th anniversary."
When: runs through Thursday
Where: Cinemapolis
Cost: $7-$11
Spanning the Eras
"Taylor Swift | The Eras Tour" captures the recent record-breaking tour across the United States. "The cultural phenomenon continues on the big screen! Immerse yourself in this once-in-a-lifetime concert film experience with a breathtaking, cinematic view of the history-making tour.
"Please note, TAYLOR SWIFT | THE ERAS TOUR contains several sequences with flashing lights that may affect those who are susceptible to photosensitive epilepsy or have other photosensitivities."
When: Tuesday and Thursday
Where: Cinemapolis
Cost: $13-$20