21+ shows to see this weekend: Nov. 3-6
Moon Hooch comes to Deep Dive, the Ithaca Goth Prom debuts in Enfield, Hiroya Tsukamoto returns to Trumansburg, and Donna the Buffalo rides into Geneva. Plus, Cornell Music plays tribute to local jazz legend Steve Brown, and the Konrad Paszkudzki Trio comes to SUNY Cortland.
Also, The Head and the Heart return to Ithaca for a sold-out State Theatre show on Friday and Tool comes to Rochester on Monday night.
Note: This week's shows are listed in chronological order in two sections below.
Going Goth
The first annual Ithaca Goth Prom will take place in Enfield, featuring Silver Rein, Motherwort, Open Swim, and Spelunker.
"We are SO excited to be throwing a spooky and groovy show for ya on 11/3 with some of our most favorite bands and musicians in town. There will be sick jams, immaculate spooky vibes, 'dancin, and all out goth fashion with prizes for best dressed. So go ask your crush to prom and break out your hottest goth lewks because this is about to be the best time. Seeya there!"
When: 7:30 p.m. Friday
Where: Enfield Valley Grange
Cost: $10; $5 if you're dressed goth
Welcome Return
Guitarist Hiroya Tsukamoto, touring in support of his recent release "Little River Canyon," returns to Trumansburg.
"Hiroya is a one-of-a-kind composer, guitarist and singer-songwriter from Kyoto, Japan. He began playing the five-string banjo when he was thirteen, and took up the guitar shortly after. In 2000, Hiroya received a scholarship to Berklee College of Music and came to the United States. He formed his own group in Boston "INTEROCEANICO (inter-oceanic)" which consists of unique musicians from different continents including Latin Grammy Colombian singer Marta Gomez. The group released three acclaimed records ("The Other Side of the World", "Confluencia" and "Where the River Shines"). Hiroya has released three solo albums ("Solo", "Heartland" and "Places"). Hiroya has been leading concerts internationally including several appearances at Blue Note (NYC), United Nations and Japanese National Television (NHK). In 2018, Hiroya won 2nd place in International Finger Style Guitar Championship."
When: 7:30 p.m. Friday
Where: Trumansburg Conservatory of Fine Arts
Cost: $15 in advance, available online here; $20 at the door
Have You Herd?
Donna the Buffalo returns to Geneva to perform at the Smith Opera House.
"Since 1989, the roots rockers have played thousands of shows and countless festivals including Bonnaroo, Newport Folk Festival, Telluride, Austin City Limits Festival, Merle Fest, and Philadelphia Folk Festival. They've opened for The Dead and have toured with Peter Rowan, Del McCoury, Los Lobos, Little Feat, Jim Lauderdale, Rusted Root, and Railroad Earth to name a few. They also toured with Ben & Jerry's co-founder Ben Cohen to help raise awareness about increased corporate spending in politics.
In 1991, the band started the Finger Lakes Grassroots Festival in Trumansburg, NY. The four day festival has become an annual destination for over 15,000 music lovers every year and was started as an AIDS benefit. It continues as a benefit for arts and education. To date, the event has raised hundreds of thousands of dollars and is now one of three Grassroots Festivals; the bi-annual Shakori Hills fest in North Carolina and Virginia Key festival in Florida. In 2016 GrassRoots Culture Camp was introduced in Trumansburg, New York as four days of music, art, dance and movement workshops, including nightly dinners and dances."
Trumansburg-based rockers Vicious Fisheswill open the show.
When: 8 p.m. Friday
Where: Smith Opera House
Cost: $32.50 for general-admission seats, available online here and at the door
Candy Land
The Range will host "Stale Candy," a post-Halloween show featuring Papa Muse & the Lit Fuse ("danceable rock & world music with horns & percussion") performing its last show of the year. Frontman Way says, "I'll be taking some months off from live performance to finish and release my long-delayed 'Dare to Dance' album slated for release late in January 2024."
They'll be joined by The Action, a Syracuse band that blends rock, pop, punk, jazz, reggae, and ska influences
When: 9:30 p.m. Friday
Where: The Range
Cost: $10; $5 with student ID
Learning to Fly
Rochester's Flying Object will make their Upstairs debut. "Electrocuted song based, lyric driven, groove oriented and psychedelic, FO is Matt and Chris O'Brian (Giant Panda Guerrilla Dub Squad/ Thunder Body), Max Flansburg (Dirty Blanket), Mike Martinez, and permanent special guest Elliot Schwartzman, and might include any number of guests at any time"
When: 10:30 p.m. Friday
Where: The Upstairs
Cost: $10, $5 with student ID
A Good Cause
Deep Dive will host an all-ages afternoon benefit Family Dance Party with DJ Anthony.
"Come gather in community, shake off the fall chill while shaking your booty at the same time! Come bid on a silent auction and make some new friends, all as a fundraiser to help support a local potter, Renata Wadsworth during her cancer treatment. All are welcome!" If you cannot attend and would like to make a donation, here is the link
When: 2-5 p.m. Saturday
Where: Deep Dive
Cost: Suggested donation is $20 for an individual and $40 for a family.
Bach to Ithaca
A native of Ithaca now based in Montreal, Alexa Raine-Wright will present a Baroque flute recital "featuring my own original transcriptions of Bach's 3 Violin Partitas, and 2 contemporary compositions, commissioned by myself, inspired by Bach." A post-concert reception will follow.
"Although this is a Bach concert, the music is, in a way, all new. I am very proud of the three transcriptions I have completed. The process deepened my connection to my instrument, pushing me to recreate the breadth and virtuosity of the original violin versions, while integrating sonorities that are wonderfully unique to the Baroque flute. I also delve into contemporary works written specifically for me by Quebec flautist-composers, showcasing the beauty of the instrument in a contemporary and deeply appealing way. Baroque rhythms and gestures are combined with hauntingly beautiful modern harmonies."
When: 3:30 p.m. Saturday
Where: First Church of Christ Scientist, 101 University Ave., Ithaca
Cost: $25 regular, $15 senior, $10 student/low-income
Loop de Loop
Rochester duo Wren Cove – Melissa Davies (cello, loops) and Andrew Cloninger (guitar, loops) – comes to downtown Ithaca.
"Wren Cove explores spontaneous cinematic soundscapes with a sense of adventure and wonder. Their music has been described as a mysterious blend of cello, electronics, and grooves (Rochester City Newspaper) They blend folk, electronic, and classical elements into a blissful experience that will captivate and keep you on the edge of your seat."
When: 7 p.m. Saturday
Where: The Downstairs
Cost: $10
Celebrating Steve Brown
The Cornell Department of Music will present the Cornell Jazz Ensemble's fall semester concert.
"Directed by Paul Merrill, the concert is a celebration of the artistry and legacy of guitarist, composer, arranger, bandleader, and educator Steve Brown. Brown is a Professor Emeritus at Ithaca College and led the Jazz Studies Program from 1968-2008. He was among the first to develop a collegiate jazz program and was an early proponent and pioneer of jazz education. His students and his students' students perform and hold teaching posts all over the world.
As a performer, he has collaborated with Chuck Israels, Jimmy Smith, Barry Harris, Billy Hart, and Marian McPartland and can be heard on recordings by the National Jazz Ensemble, the Ray Brown Great Big Band, Chuck Mangione, and Danny D'Imperio. Brown also co-founded Brown Cats Productions and released four recordings as a leader on Café Records.
"This concert features music composed or arranged by Brown including 'Absquatulation,' 'Deep,' 'Outstanding,' and 'Sweet Angel,' in addition to several of his arrangements of jazz standards by Charlie Parker, Jimmy Heath, and Neal Hefti. Brown and the Jazz Ensemble will be joined by a host of special guests and former students including vocalist Ami Tamakloe; Chris Persad, trumpet; Joe Kaczorowski, saxophones; Joey Devassy, trombone; Alejandro Bernard-Papachryssanthou, piano; Miles Brown, bass; and Greg Evans, drums."
When: 7-9 p.m. Saturday
Where: Bailey Hall, Cornell University
Cost: free and open to all
Sizzle and Swing
The SUNY Cortland Campus Artist and Lecture Series (CALS) will present the Konrad Paszkudzki Trio, performing "music that is classic yet timeless in its mode of expression, captivating ardent lovers of the jazz idiom and Tin Pan Alley tradition alike. Fiery straight-ahead jazz with melodic elegance, nonchalant grace, and a worthy homage to the jazz greats. This concern is in collaboration with the Lyric Chamber Music Society of New York."
When: 7-8:15 p.m. Saturday
Where: SUNY Cortland Campus, Old Main, Brown Auditorium
Cost: free and open to all
Happy Homecoming
Cortland's own Jack Gerhard and his band will celebrate the release of his first album, "If You Need Me."
"Jack makes his concert debut with a stunning evening of cover tunes and a collection of his own original, beautifully written songs. Don't miss Cortland's star-on-the-rise in this intimate evening of heartfelt music."
When: 7:30 p.m. Saturday
Where: Cortland Repertory Theater Downtown, 24 Port Watson St., Cortland
Cost: $25-$30, available online here
Voices Carry
The Fisk Jubilee Singers return to the Finger Lakes to perform at the Smith Opera House. "One of the earliest and most famous Black vocal groups, the Fisk Jubilee Singers are musicians and students at Fisk University in Nashville, TN who perform and travel worldwide. Founded in 1871, the first Fisk Jubilee Singers introduced the world to the music of what were called 'slave songs' now known as African-American spirituals. Credited with preserving this vibrant musical tradition, we welcome the 16 student singers and their director to Geneva. Celebrating Fisk! The 150th Anniversary Album earned a 2021 GRAMMY in the Best Roots Gospel Album category.
When: 7:30 p.m Saturday
Where: Smith Opera House, Geneva
Cost: $10, available online here and at the door
Downtown Sounds
Angry Mom Records will host another show in its mezzanine space, this one featuring locals Material Objects and Strange Heavy joining forces with Narrow Arrow ("mathy, anthemic and swoony") from Mansfield, Ohio. DJ Dijon will spin records between sets.
Where: Angry Mom Records
Cost: $5
Wraith Rave
Microtones returns to Forest City Lodge 180 for a show featuring DJ Anarres. "A ravewraith hailing from the DIY lairs of Philadelphia, DJ Anarres plays sets inspired by the psychedelic experience, the work of Ursula K LeGuin and the rich expanse of dance music history. Their monthly radio show on Great Circles, Transilience, is defined as "the function of rhythm that makes being." DJ Anarres shines light on a path to the ambiguous utopia we call Home, in hope of safe transport for a unified dancefloor." DJ Anarres played Microtones' inaugural stream on Feb. 13, 2021.
DJ Midwife will provide resident support.
When: 8 p.m. Saturday
Where: Forest City Lodge #180
Cost: $20; $10 presale available at Angry Mom Records
Turn Back Time
TOIVO, playing traditional social dance music of the Finger Lakes and more, will present a "FALL BACK" Community Dance and Fundraiser for the Trumansburg Conservatory of Fine Arts (TCFA). TOiVO will play an eclectic mix of Scandinavian, Tex-Mex, Cajun, honky-tonk, European, South American and many original dance tunes. You'll enjoy waltzes, tangos, two-steps, polkas, schottisches, foxtrots, cheek-to-cheek, hambos, and huapangos. The players are Richard Koski, button accordion; Jason Koski, mandolin; Stefan Senders, banjo and triangle; Jim Reidy, guitar; Paul Martin, guitar; Harley Campbell, upright bass; and Annie Campbell, snare drum.
When: 3-5 p.m. Sunday
Where: Trumansburg Conservatory of Fine Arts
Cost: Donations requested; all proceeds from the event will be donated to the Conservatory
Oh, Susannah!
Based in Washington, DC, Susannah Lee comes to Two Goats Brewing for a Sunday afternoon show to promote her new album, "Big Things."
"I'm an independent folk/pop singer-songwriter originally from Dallas, Texas. I love writing songs! The first song I felt inspired to write at age 9 was called 'Heartbreak-niosis' about a crush across the street. In my failed quest to find love that year I discovered my love of songwriting and I've been writing songs ever since. I've recorded an EP of original songs, numerous singles, and written music and lyrics for producers and other artists. I've also performed in music venues, weddings, coffee shops, bars, and churches both as a solo artist and with a band."
When: 4-7 p.m. Sunday
Where: Two Goats Brewing
Cost: free; donations welcome
In Session
Traonach and Friends continue their Live Irish Music Session at the Watershed, carrying on in the fine tradition of their much-beloved sessions at the Argos, The Chapter House, and Micawbers on the first and third Sundays of each month
When: 5-8 p.m. Sunday
Where: The Watershed
Cost: free; donations welcome
Dynamic Duo
Home Remedy – the duo of Lydia Garrison and Rosie Newton – will return for a show at The Downstairs. "Home Remedy features original songs by Lydia Garrison written on fiddle, banjo and guitar, paired with Rosie Newton's emotive and powerful singing and playing on fiddle, accordion and guitar. Besides the original songs, they sprinkle in Old Time and Cajun fiddle tunes, and a few songs from the Folk cannon. They put their hearts into their music, and find a deep joy in it."
When: 7 p.m. Sunday
Where: The Downstairs
Cost: $12 or pay what you can
The Moon and Cloud
Moon Hooch returns to Ithaca to showcase their high-energy horn-heavy sound honed on the subway platforms of New York City. "Their unconventional sound and techniques, utilizing found objects like traffic cones," has earned them appearances on NPR's Tiny Desk in America, "Later…with Jools Holland" in the UK, "Hamish & Andy's Gap Year" in Australia, and private audiences with the Premier League's Chelsea F.C.
Sharing the bill is Cloudchord (aka Derek VanScoten), "a producer, guitarist, and genre-bending specialist that is augmenting musical possibility into reality with his remarkable technical skills. His refreshing takes on atmospheric dance music have solidified his
When: 8 p.m. Sunday
Where: Deep Dive
Cost: $20, available online here; day of show, $25
Get Rhythm
Dave Davies RhythMakers return for Jazz Mondays, as Dave Davies, Doug Robinson, Brian Earle, and Chad Lieberman will play classic jazz, blues, originals, and more under the big tent or indoors, depending on the weather.
When: 5-8 p.m., second and fourth Mondays of each month
Where: South Hill Cider
Cost: free; donations welcome
Ready to Rock
Prog-metal quartet Tool returns to Rochester for a big show at Blue Cross Arena. Read Daniel Kushner's interview with Tool drummer Danny Carey here!
When: 7:30 p.m. Monday
Where: Blue Cross Arena, Rochester
Cost: $80-$115, available online here
More Shows
Zingology plays the grand opening of the new North Star Fine Art at 116 Commons at 4-6 p.m. Friday in conjunction with First Friday Gallery Night
Muhammed Seven is at Two Goats Brewing at 5-8 p.m. Friday
GoGone plays Deep Dive at 5:30-7:30 p.m. Friday ($10 suggested donation)
Taksim will play at MIX Art Gallery during the opening of Robert Mirek's "Points of Departure" exhibit at 6-8 p.m. Friday
The Venissa Santi Trio is at Stone Bend Farm at 6-8 p.m. Friday
Pocket Bandits are at Hopshire Farm and Brewery at 6-8 p.m. Friday
Tom Chamberlain is at the Scale House Brewery at 6-8 p.m. Friday
Jim E. Leggs is at Grist Iron Brewing at 6-9 p.m. Friday
The Mix Tapes are at Homer Hops Brewing at 6-9 p.m. Friday
The Ryan Peterson Trio is at ONCO Fermentations at 6-9 p.m. Friday
Clint Bush is at the Dryden Hotel at 7-9 p.m. Friday
Soul Citizen Disco Night is at Cortland Beer Company at 8 p.m. Friday
Shaka is at Brookton's Market at 1-4 p.m. Saturday
Frank and Esce are at ONCO Fermentations at 4-7 p.m. Saturday
Cisco and the Soul Benders are at Two Goats Brewing at 5-8 p.m. Saturday
The Ryan Peterson Trio is at Aurora Brewing Company at 5-8 p.m. Saturday
The Pelotones are at Summerhill Brewing at 5-8 p.m. Saturday
Rocco Rich and Aaron Craig return to Brewer's Taproom and Kitchen at 6-8 p.m. Saturday
The Dirk Quinn Band is at Grist Iron Brewing at 6-9 p.m. Saturday
Jambulance is at Homer Hops Brewing at 6-9 p.m. Saturday
Mark Douglas is at Heuga's Alpine at 6-9 p.m. Saturday
Short Change are at Cortland Beer Company at 8 p.m. Saturday
Bonfire: A Tribute to AC/DC is at the Middle Ages Brewing Company in Syracuse at 8 p.m. Saturday
Caviar & Grits are at theJohn Barleycorn Tavern in Owego at 8-11 p.m. Saturday
Clint Bush is at the St. Charles Hotel at 9-11 p.m. Saturday
The Blackjack Brothers are at Jake's Tavern in Horseheads at 9 p.m. Saturday
Thousands of One is at the Range at 9:30 p.m. Saturday
DeWayne Perry and Friends play the Jazz Brunch at Stonecat Café from 11 a.m. to 2 p.m. Sunday
The Junior Rich Project plays Grist Iron Brewing's Fall Beer Fest at 12-5 p.m. Sunday
Celebrate Rich Andersson's 75th Birthday at the Brooktondale Community Center at 1-5 p.m. Sunday
Fools Hill Farm in Spencer hosts the weekly "Chill on the Hill" Open Mic at 1-7 p.m. Sunday
Harmonic Dirt is at ONCO Fermentations at 2-5 p.m. Sunday
The Center for the Arts in Homer hosts Open Mic Night at 7 p.m. Tuesdays
Auburn Public Theatre hosts Open Mic Night at 7:30 p.m. Tuesdays
The Westy hosts its Open Mic Night at 9 p.m. Tuesdays
Spanning the Eras
"Taylor Swift | The Eras Tour" captures the recent record-breaking tour across the United States. "The cultural phenomenon continues on the big screen! Immerse yourself in this once-in-a-lifetime concert film experience with a breathtaking, cinematic view of the history-making tour.
"Please note, TAYLOR SWIFT | THE ERAS TOUR contains several sequences with flashing lights that may affect those who are susceptible to photosensitive epilepsy or have other photosensitivities."
When: runs Friday-Sunday
Where: Cinemapolis
Cost: $13-$20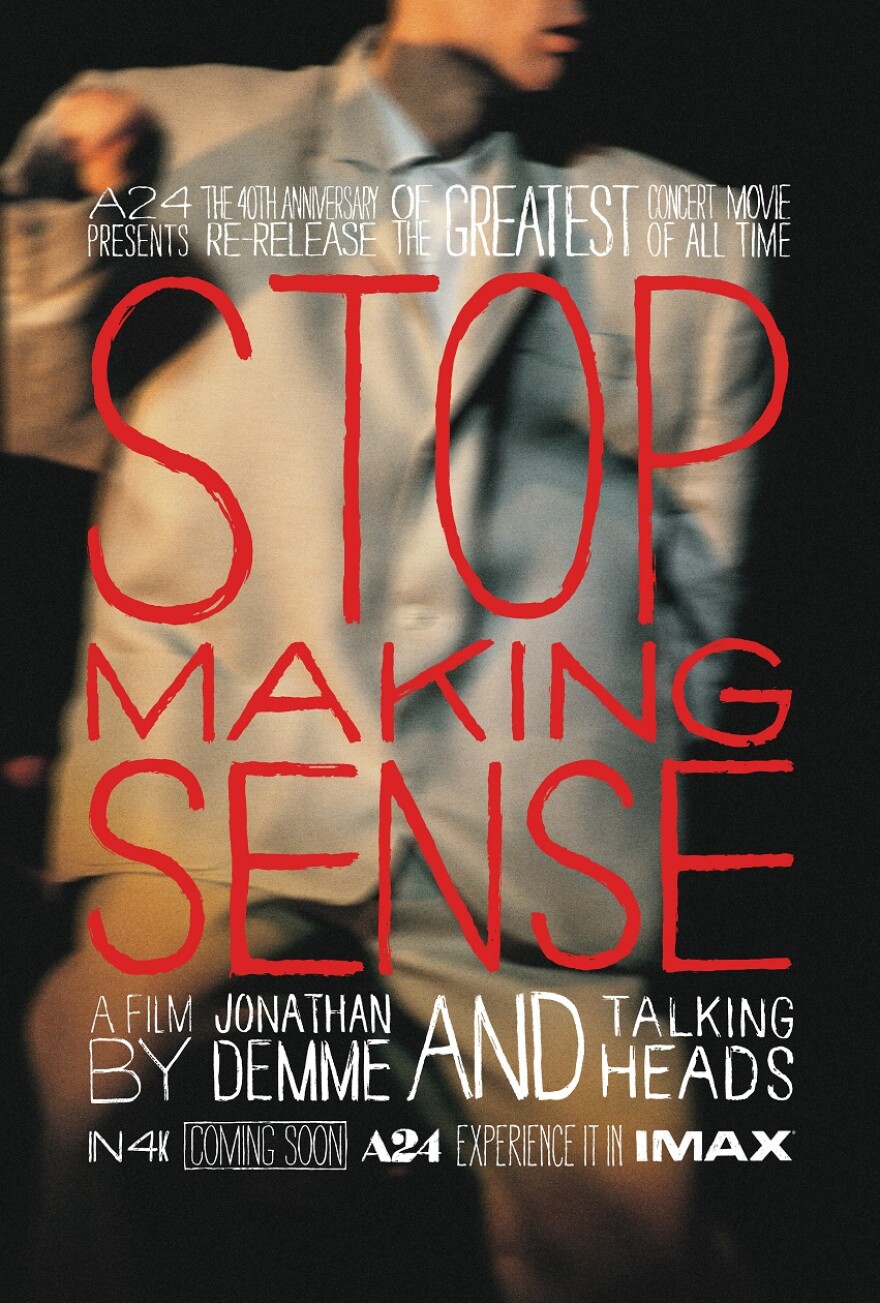 Once in a Lifetime
Continuing at Cinemapolis is widely considered the greatest concert film of all time. "Stop Making Sense" brings to the screen "Talking Heads at Hollywood's Pantages Theater in December 1983: David Byrne, Tina Weymouth, Chris Frantz, and Jerry Harrison, alongside an ecstatic ensemble of supporting musicians. Renowned filmmaker Jonathan Demme captures the band at their exhilarating best, in this new and complete restoration for the film's 40th anniversary."
When: runs Monday-Wednesday
Where: Cinemapolis
Cost: $7-$11