15+ shows to see this week: Nov. 7-10
It has been more than 28 years since +LIVE+ played at Cornell University's Barton Hall. Frontman Ed Kowalczyk will bring the current version of the popular 90s alt-rock band to the State Theatre of Ithaca on Friday night. (Update: this show has been postponed!) Also, Tail Light Rebellion returns from Wisconsin, loadbang continues its residency at Cornell, Neighbor comes to the Range, and the Cornell Concert Series welcomes Frank Vignola and Tessa Lark to Bailey Hall.
Note: This week's shows are listed in chronological order in two sections below.
Jazz in the 'Dale
Brookton's Market will be featuring jazz music on Wednesdays. This Wednesday, Nov. 8 (and Nov. 22), will be Brookton's Jazz Collective, featuring Wayne Gottlieb, Alex Specker, Michelle Gordon, Ted Caldwell, and Greg Ezra.
Alternating Wednesdays will feature What's Cookin' with Dave Richman, Chris Gibbons and De Wayne Perry.
When: 6-8 p.m. Wednesdays
Where: Brookton's Market
Cost: free
All Night Long
For "Improvising Bodies, Dance and Music," the Cornell Department of Music's Experimental Sound Series will collaborate with Performing and Media Arts visiting artist Yvonne Meier and visiting faculty Danielle Russo to present an evening-length improvised work. "Through improvised sound and movement, the performers will confront questions around artistic technology mediation, techno-futurism, and the body as an instrument. The concert will feature spatialized ambisonics, wearable sound technology, and both synthesized and acoustic sound production, all in communication with long-form movement from the cast of dancers."
When: 7:30 p.m. Wednesday
Where: Willard Straight Memorial Room
Cost: free and open to all
Pub Rock
Hailing from Kenosha, Wisconsin, "Tail Light Rebellion is coming back through town to bust out more of their kick-ass pub music. With support by Ithacuses' Blackjack Brothers offering up some old school rockabilly!"
When: 8 p.m. Wednesday
Where: Seabring Inn, Newfield
Cost: donations requested
Cosmic Cinema
The Galactic Escort Service returns to Deep Dive for Galactic Wednesday, with Ashley Ickes, Tenzin Chopak, Josh Oxford, Emmett Scott, and Michael Schuler ready to whip up some grooves to accompany screenings of "The Hunt for Red October" and "The Red Violin."
"Every other Wednesday, a core group of Ithaca based musicians join forces to create live improvised music on the spot. The group projects both obscure and classic films to aid in enhancing the experience as both audience and performers embark into the unknown spaces and places of the sonic realm. Guaranteed no two shows are the same, come be a part of the excitement of musical creation in real time."
When: 9 p.m. Wednesday
Where: Deep Dive
Cost: $10
Trios Grande
Cornell's Midday Music in Lincoln series continues with "Living Trios," a program of chamber music by living composers. The concert features Cornell faculty winds Elizabeth Shuhan (flute), Juliana Pepinsky (flute) and Erica Howard (oboe) with Mary Holzhauer (piano) performing music by Blaz Puchihar, Gary Schocker, Alyssa Morris, Samuel Zyman, and Patricia Sklar.
When: 12:30 p.m. Thursday
Where: Lincoln B20, Cornell
Cost: free and open to all
Note: An extended version of the Midday Music concert will be performed at 8 p.m. Wednesday, Nov. 15 in Barnes Hall and will also include bassoonist Christin Schillinger.
Heavy Load
The Cornell Department of Music welcomes loadbang back to campus for their second year as the Stucky Residency for New Music guest ensemble. The ensemble will continue its collaborations with Cornell performers and composers, with the fall visit focusing on two public concerts.
At 7:30 p.m. Thursday, in the Hans Bethe House Common Room, loadbang performs Stravinsky's L'histoire du soldat with faculty from Cornell and Ithaca College.
At 3 p.m. Saturday, the Cornell Chamber Orchestra, conducted by Gabriela Gómez Estévez, collaborates with loadbang for performances of Paula Matthusen's such is now the necessity and Reiko Füting's mo(nu)ment for C/palimpsest. The CCO also performs the first movement of Mozart's Divertimento, K. 138, and Grieg's Holberg Suite.
Reiko Füting will also be the guest speaker at Composers' Forum at 1:30 p.m. Friday in Lincoln Hall B21.
"New York City-based new music chamber group loadbang is building a new kind of music for mixed ensemble of trumpet, trombone, bass clarinet, and baritone voice. Since their founding in 2008, they have been praised as 'cultivated' by the New Yorker, 'an extra-cool new music group' and 'exhilarating' by the Baltimore Sun, 'inventive' by the New York Times and called a 'formidable new-music force' by TimeOutNY. Creating 'a sonic world unlike any other' (The Boston Musical Intelligencer), their unique lung-powered instrumentation has provoked diverse responses from composers, resulting in a repertoire comprising an inclusive picture of composition today."
The Residency for New Music at Cornell was created to honor the memory of beloved colleague, educator, and composer Steven Stucky and was funded through the generosity of more than 50 donors.
When: 7:30 p.m. Thursday
Where: Hans Bethe House Common Round
Cost: free and open to all
When: 3 p.m. Saturday
Where: Barnes Hall
Cost: free and open to all
Down in the Dungeon
The ElectroZone returns to Sacred Root with another cool show. "Dungeon Synth legends Sombre Arcane return to Ithaca with Avoidance, Thornede Crown, & Silver Rein acting as their honor guard! All ages and don't come alone!"
"The ElectroZone is Ithaca's salon for electromusicians and experimenters, a pop-up reality devoted to the weird, the new, and the DIY, specializing in unforgettable performances, unique events, and creative workshops with a community focus."
When: 8 p.m. Thursday
Where: Sacred Root Kava Lounge & Tea Bar
Cost: $10
Surfing to Syracuse
The Samuel B. Lupowitz Trio heads to Syracuse to share a show with Brooklyn-based Habbina Habbina.
"Samuel B. Lupowitz brings you thoughts, feelings, and theatrical leanings through his piano-driven brand of rock 'n' soul songcraft. Best known in his home of Ithaca, N.Y. as the hair-tossing keyboardist of Noon Fifteen, Thru Spectrums, Maddy Walsh & The Blind Spots, and many others, SBL has released two full-length albums as leader of Samuel B. Lupowitz & The Ego Band: 2012's 'Songs to Make You Wealthier and More Attractive' and 2015's 'Ten Square Miles.' His newest solo effort, 'No Man Is an Island,' tackles the personal and political turmoil of the 2020s with love, rage, and a snarky sense of humor."
"Habbina Habbina plays what could be described as Mediterranean surf, with a surfing style that owes much to the Middle Eastern side of Dick Dale, or the Western side of Omar Khorshid. Habbina Habbina, named after a beloved song by Syrian singer Farid El-Atrache, takes its inspiration from Egyptian pop, Greek tunes as well as all sorts of retro-Mediterranean-hits, James Bond Soundtracks, Umm Kulthum, Aris San and many more… The trio that connects Brooklyn indie to Middle-Eastern psychedelia and Guitar twang mastery is coming to give you one hour of music that doesn't sound like anything else."
When: 8 p.m. Thursday
Where: Funk 'N Waffles, 307 Clinton St., Syracuse
Cost: $10 + fee, available online here
Read a 2021 Q&A with Sam Lupowitz here!
Keeping It Going
"AFTIES (A Team607 joint) at The Downstairs will feature music and ambience by local DJs and producers, so you can keep the drinks and conversation flowing, after the show. No cover, just presence. (21+)"
2nd & 3rd Thursdays
When: 9 p.m. 2nd & 3rd Thursdays of the month
Where: The Downstairs
Cost: none
String Thing
The Cornell Concert Series continues its 2023-24 season with the duo of jazz guitarist Frank Vignola and versatile violinist Tessa Lark.
"Widely praised for her technical agility, expressive nuance, and genre-defying skill, Lark is not only an acclaimed traditional fiddler in her native Kentucky, she has also garnered an Avery Fisher Career Grant, a GRAMMY nomination for Best Classical Instrumental Solo, and other accolades cementing her place as a classical superstar."
"Frank Vignola's jazz-steeped musicianship and "acoustic mastery in exhilarating single string runs, complex flurries, and astounding full register riffs" (Downbeat) have earned him a spot on Les Paul's "Five Most Admired Guitarists List." Vignola has performed everywhere from the Sydney Opera House to Carnegie Hall and currently holds a residency at NYC's renowned Birdland Jazz Club. Enjoy this evening of original arrangements spanning classical to jazz and old to new."
When: 7:30 p.m. Friday
Where: Bailey Hall, Cornell University
Cost: $19-$39, available online here
Live Unplugged Postponed
Update from DSP Shows: "LIVE's show at the State Theatre of Ithaca scheduled for this Friday, November 10th has been postponed. We're looking to announce the new date soon, and will release info regarding refunds at that time." See below for a message from the band:
"Due to Covid-related illness, we regretfully are forced to postpone the dates on November 8th, 10th, and 11th. We are actively working to reschedule the shows to a later date and we will provide you with updates as soon as possible. Your current tickets will be valid for the rescheduled date. In the meantime, please direct any ticketing questions to your original point of purchase. "
Nearly 30 years after performing at Cornell University (in April 1995 at Barton Hall), indie-rockers +LIVE+ return to Ithaca for a show at the State Theatre. The band has sold more than 22 million albums worldwide, earned two number-one albums ("Throwing Copper" and "Secret Samadhi"), and scored hits such as "Lightning Crashes," "I Alone," "All Over You" and "Lakini's Juice."
"After a multi-year break from touring, I am totally ecstatic about singing and playing for LIVE fans again!" says +LIVE+ singer, songwriter, and frontman Ed Kowalczyk about the multi-platinum and critically acclaimed band's tour dates this fall. "And I'll be surrounded," Ed adds," by an absolutely stellar group of musicians that have all spent years captivating audiences onstage with LIVE all over the world. It's going to be amazing and I can't wait to see you all!"
"For these dates, the band's classic lineup is unavailable due to various extenuating circumstances, so Ed has hand-picked a group of musicians who are part of the band's extended family: guitarist Zak Loy (who's been with Ed and +LIVE+ for 10 years), drummer Robin Diaz (the former Hole member who performed with the band for two years) and bassist Chris Heerlein (who played in ED's solo band for six years). The +LIVE+ set list will be comprised of their massive hits and fan favorites—songs that have defined the alternative rock era."
When: 8 p.m. Friday
Where: State Theatre of Ithaca
Cost: $39.50-$79.50, available online here and at the State box office
Sharing Songs
Local favorites Tenzin Chopak and Emmett Scott return to the Downstairs. A few months ago, the pair released the album "Live at Red Newt," which captured their onstage energy in an intimate setting.
When: 8 p.m. Friday
Where: The Downstairs
Cost: $10
Read a recent interview with Tenzin Chopak here!
Ready for Blastoff!
Felix Free and The Rocketeers will make their Upstairs debut Friday night. Known for his "clever, non-fiction lyrics riding on refreshingly dope beats with a seasoned stage presence, Felix Free has rocked many stages around the world as a member of international bands such as Free Creatures, Luminaries, and House of Vibe Allstars."
A native of Southern California, "Felix Free moved his family from the 'Hood to the Woods' of rural New York state seeking space and nature for his wife and children, as well as a place to enjoy his favorite past-time: fishing. Thus is the name of his debut E.P. 'Hood to the Woods,' which is a high energy, thoughtfully entertaining, and uplifting collection of 5 songs that cover a balanced range of topics and feels."
DJ Proper Philth is also on the show.
When: 10 p.m. Friday
Where: The Upstairs
Cost: $10; $5 with student ID
Neighborly Noise
"With a diverse catalog of hundreds of songs, the musical juggernaut Neighbor has become one of the most exciting and unpredictable live bands on the music scene today. Grown in large part by the passion and devotion of the fans called Neighbors, their symbiotic relationship inspires and touches every performance. The creation of childhood neighbors Richard James (vocals, keys) and Lyle Brewer (guitar), Neighbor combines ambitious composition, soulful balladry, and a fearless approach to their lengthy improvisations. The quartet is rounded out by Dan Kelly (bass) and Dean Johnston (drums) who fuel the groove and lay a solid foundation for Neighbor's 'down home' sound. Come see what's good in the neighborhood."
When: 10:30 p.m. Friday
Where: The Range
Cost: $12 in advance, available online here; $15 day of show
More Shows
Open Mic Standup Comedy Night returns to the Downstairs at 6:30-9 p.m. Tuesday
The Center for the Arts in Homer hosts Open Mic Night at 7 p.m. Tuesdays
Auburn Public Theatre hosts Open Mic Night at 7:30 p.m. Tuesdays
The Westy hosts its Open Mic Night at 9 p.m. Tuesdays
The Argos Grove Trio plays jazz at the Argos Inn at 5:30-7:30 p.m. Wednesdays
River Lynch is at Scale House Brewery at 6-8 p.m. Wednesday
Jimmy Stapp is at Salt Point Brewing at 6:30-8:30 p.m. Wednesday
DJ Dale hosts Trivia Night at Revelry Yards at 7-9 p.m. Wednesdays
Sacred Root Kava Bar and Tea Lounge hosts its weekly Open Mic Night at 7 p.m. Wednesday
Salsa Ithaca presents the weekly "Salsa Wednesdays" dance event at the Range at 8 p.m. Wednesday
Richie Stearns and Friends are at South Hill Cider at 5-8 p.m. Thursday
Roger Decker and Pat Nadge are at Cortland Beer Company at 6 p.m. Thursday
Atwater Vineyards hosts Bring Your Own Vinyl Night at 6-8 p.m. Thursday
The Brewhouse Blues Jam returns to Hopshire Farm and Brewery at 6-8 p.m. Thursday
Scale House Brewery hosts Open Mic Night at 6-8 p.m. Thursday
Benny T brings his Open Mic Posse to CrossRoads Bar & Grille in Lansing at 6:30 p.m. Thursday
Atlas Bowl in Trumansburg hosts the weekly Vinyl Showcase at 7-10 p.m. Thursdays
DJ Dale hosts Karaoke Night at the Upstairs at 10 p.m. Thursday
Jesse Collins and Ryan Peterson play jazz at Bike Bar Ithaca at 7-10 p.m. Thursday
J. Floyd is at Two Goats Brewing at 5-8 p.m. Friday
Chickenwire Parachute are at Hopshire Farm and Brewery at 6-8 p.m. Friday
Benny and The Mex are at Aurora Brewing Co. at 6-8 p.m. Friday
Just Joe is at ONCO Fermentations at 6-9 p.m. Friday
The Jess Novak Band is at Homer Hops Brewing at 6-9 p.m. Friday
3MoG is at the Scale House Brewery at 6-9 p.m. Friday
Amy Beth Anders and Mayday are at Grist Iron Brewing at 6-9 p.m. Friday
Greg McQuade is at Cortland Beer Company at 8 p.m. Friday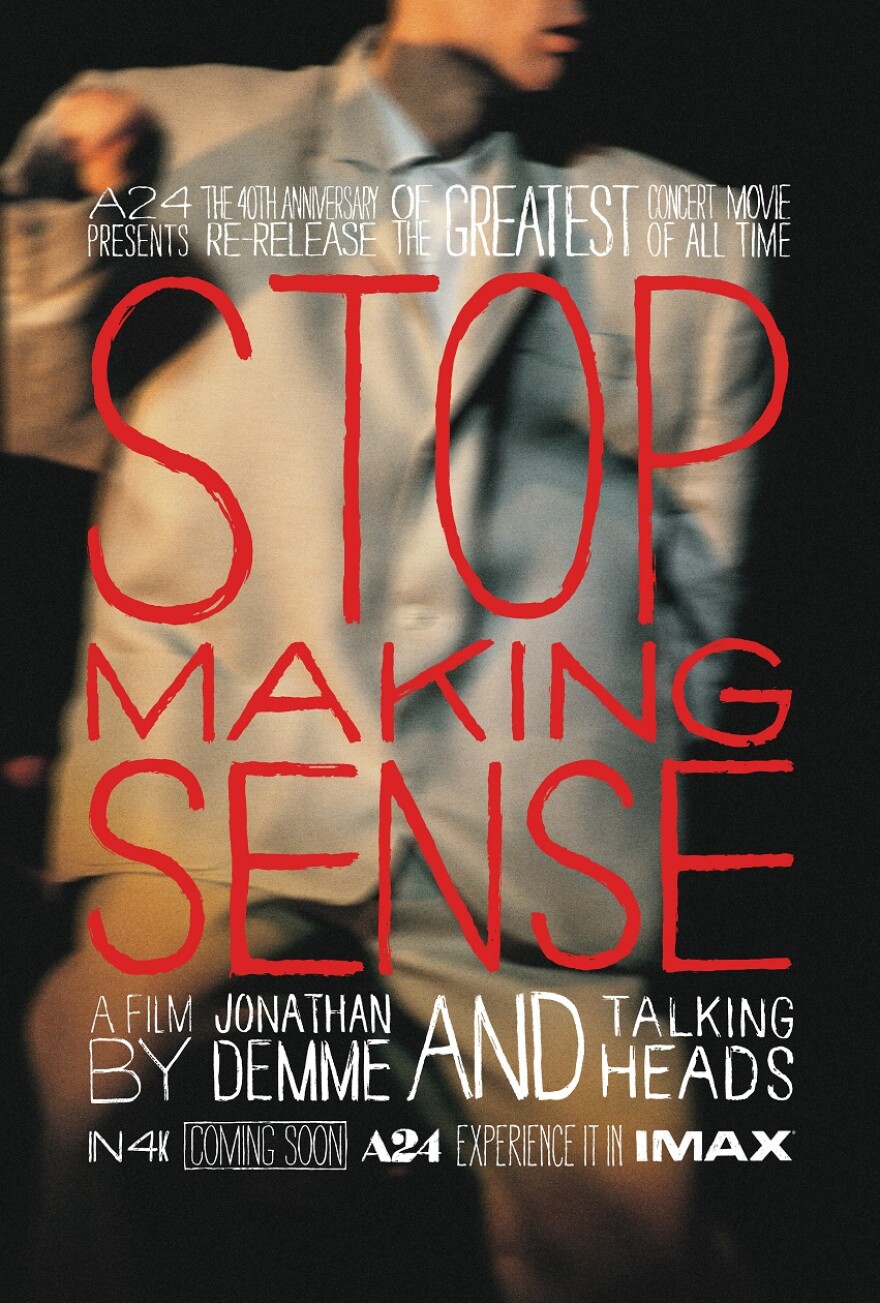 Once in a Lifetime
Continuing at Cinemapolis this week is widely considered the greatest concert film of all time. "Stop Making Sense" brings to the screen "Talking Heads at Hollywood's Pantages Theater in December 1983: David Byrne, Tina Weymouth, Chris Frantz, and Jerry Harrison, alongside an ecstatic ensemble of supporting musicians. Renowned filmmaker Jonathan Demme captures the band at their exhilarating best, in this new and complete restoration for the film's 40th anniversary."
When: runs through Thursday
Where: Cinemapolis
Cost: $7-$11