With Thursday debut, Ithaca Night Bazaar set to offer 'weirdness and wonderfulness'
1
of
3
— jimkata 2022.jpeg
Jimkata
2
of
3
— DomMartyr crop.jpg
Dom Martyr
3
of
3
— Ariel Arbisser crop.jpg
Ariel Arbisser
Drew Bordeaux
Self-described as "a monthly festival of music, art, food, drinks, craft fair, performance, weirdness, and wonderfulness," the Ithaca Night Bazaar will make its debut Thursday at Steamboat Landing, home of the Ithaca Farmers Market, and run monthly through September.
This month's lineup includes music from Ithaca bands Jimkata, Ariel Arbisser, and Dom Martyr; two burlesque sets by Binghamton's Parlor City Peepshow; dozens of craft vendors from around the region; food and drinks from local outlets; and much more.
The Ithaca Night Bazaar is the brainchild of Jack and Sarah Clausen, who own the Sparks and Embers shop in Press Bay Alley in downtown Ithaca. He's from southern England, she's from Alabama; after living in New York City for several years, they moved to Ithaca during the start of the pandemic.
Inspired by music festivals they had attended in England, especially Reading and Glastonbury, as well as Asian street markets, the Clausens hatched the idea of starting a similar event in Ithaca.
"It's always been something that I've wanted to do – some guys want to open a bar, I wanted to start my own music festival," said Jack Clausen. "We have our shop downtown, but we wanted to branch out beyond to have a market, then we'd thought it'd be cool to have music and food. We liked the idea of a bazaar where the unexpected can happen. We wanted to have that kind of vaudevillian, escapist vibe – something that can take you out of your daily life."
That neatly complements their mission statement on the bazaar's website, which declares: "Our goal is to support local and regional doers and dreamers, celebrate our beautiful natural surroundings, and party with a diverse range of creative and inspiring people."
The Clausens connected with T.J. Schaper, an Ithaca musician (John Brown's Body, The Comb Down) who had co-founded the Finger Lakes Thaw, a three-day music festival that took place in 2018 and 2019 before going on hiatus due to the pandemic. Schaper had plenty of connections to bands, not only locally and regionally but throughout the northeast, and he put together an eclectic lineup for the bazaar's first season.
They scouted various locations throughout the area but settled on the Ithaca Farmers Market facility due to its waterfront location, vendor booths, ample parking, and rain-or-shine accessibility due to the market's pavilion.
Schaper had attended Arbisser's album-release show at the market last fall, and realized the site's potential to host a bigger event, especially with the availability of the Sound on Sound mobile stage that owner John Ryan built in 2021 and has been tweaking ever since.
Though the bazaar is a ticketed event – it's $25 day of or at the gate – Schaper noted that advance tickets and season passes have been sold for several weeks at a substantial discount. And Clausen said they've tried to "find a price point that was affordable but also enabled us to be ambitious."
The organizers have their fingers crossed that the Ithaca Night Bazaar will be a success.
"You can put in the work, but you need people to show up," Clausen said. "But we're hoping that this will be a wonderful addition to the community, and help bring people together."
If You Go
What: Ithaca Night Bazaar
When: 6-11 p.m. Thursday, rain or shine
Where: Ithaca Farmers Market, Steamboat Landing
Cost: $25; a season pass for all five markets is also available online here for $75
Schedule for this week
6 p.m., Dom Martyr
7 p.m., Parlor City Peepshow
7:45 p.m., Ariel Arbisser
9 p.m., Parlor City Peepshow
9:30 p.m., Jimkata
Jimkata
After a decade as one of Ithaca's most-beloved bands, electro-rockers Jimkata went on hiatus in 2017. In 2020, the trio of Evan Friedell, Packy Lunn, and Aaron Gorsch reunited to record an excellent new album, "Bonfires," and in 2021 returned to the concert circuit, playing shows all around the country.
Q: What are your thoughts on playing your first Ithaca show in almost five years?
Friedell: Obviously, Ithaca is a place we have a lot of history in. Started out playing places like the Nines, Castaways and the Chapter House, begging our friends to come out and see us. Eventually over the years built up to selling out New Year's Even at the Haunt a couple times, usually dragging ourselves there after some crazy long tour, and now that venue is completely demolished. There were always venue owners and promoters here who gave us a chance and stood by us and of course the support and friendship of fellow musicians. So the roots, memories, and friendships here run deep.
Q: What are your thoughts on the concept of the Ithaca Night Bazaar?
Friedell: I think it's a cool way to take one of Ithaca's most treasured places and use the space to highlight Ithaca's creative scene and spark some musical nightlife here. Like I mentioned above, just about all the venues we started playing here are now gone but I think the creative spirit still exists and is bubbling up once again. Music scenes in towns across the country have struggled over the past couple of years of shutdowns and an atmosphere of caution around gatherings. It's been tough for musicians across the board mentally, spiritually, emotionally, and financially. I hope this is the start of better times for all of us.
Q: How's the reunion been going so far?
Friedell: It's been a blessing to get on stage and play our music again. We've played all over the country, navigating these difficult times, and have been having a lot of fun. I think that's sort of our M.O. now. With the perspective of not being able to do this for four years and the added uncertainty of the pandemic, we just value the time we get on the road and on stage together. And we can see that in the fans everywhere we go. People are just really singing along and having a blast.
Q: Have you been writing or recording new material?
Friedell: We're always working on something. We've got a few different projects in the works at the moment that we hope to be able to share soon. And I've been starting to gather up all the different song ideas I've had in the past few years and develop them further. We're just ready to keep this thing moving forward.
Keep up with Jimkata here.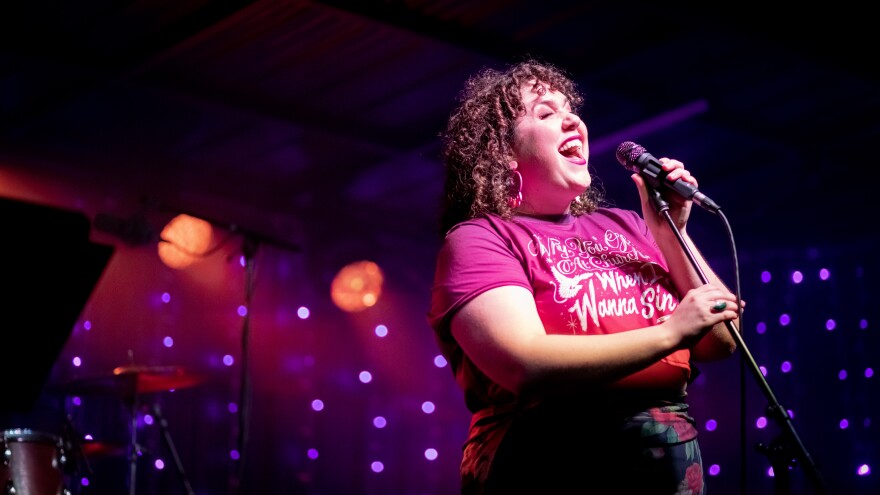 Ariel Arbisser
Ariel Arbisser has been a staple of the Ithaca creative community since attending Cornell University, acting with several local theater companies, singing with a few local bands (including Five Mile Drive, the Funx, and the Jeff Love Band), and teaching at the Actors Workshop of Ithaca. Last fall, she finally released her debut solo album, "Risk of Love," which she celebrated with a show at the Ithaca Farmers Market. (You can read more about the album and show in an extensive interview here.)
Q: What are your thoughts on playing your second Ithaca show with the new band?
Arbisser: I'm so excited! This band is packed to the brim with talent and we have so much fun together! I'm thrilled we'll get to play some shows this summer and really let Ithaca know what we bring to the music scene. And the fact that we get to kick the summer off by playing the first-ever Ithaca Night Bazaar alongside Dom Martyr and Jimkata is even better! I do think it's funny that our first two shows both happened to be at the Ithaca Farmers Market, on the same stage, and with the same system, etc... but hey, you could say we had a successful test run in the fall and now we can really let it rip! By the way, I'm trickling out videos from the September show over on my YouTube, in case you missed the album release party.
Q: What are your thoughts on the concept of the Ithaca Night Bazaar?
Arbisser: My album release party was beautiful and I was so dang proud of it. But I'm happy to admit, had I had more hands on deck, more time, and some sponsors involved, the Ithaca Night Bazaar format is exactly what I originally dreamed of creating – even down to the burlesque dancers. Of course, my album release was my first self-produced event, so I had to marry my hopes with the reality of what I could reasonably take on - especially in the midst of a pandemic, wrapping/promoting my first solo album, auditioning members for a band, getting a show together with a brand-new band, etc. But it worked out! The band was phenomenal and the show went amazingly. And past the performance, the really inspiring elements I wanted were there – musicians, artists, and makers from the community were highlighted, the space and spotlight was shared, it was a safe space for all, and community activist and advocacy groups got some attention... each of those values are important to me and elements I'd like to incorporate in my future events. It seems the team behind the Bazaar shares a lot of the same goals and I can't wait to see it all in action! I'm selfishly so excited that I'll get to both perform and truly relax and enjoy the bigger, wilder Ithaca Night Bazaar as a spectator as soon as I get off stage!
Q: Can you talk about your latest single? What inspired it? How did you work with Harry Nichols on it?
Arbisser: "Bloodshed" dropped April 15th and signaled a new direction for my sound. It's dirtier, more modern, and embraces my "dramatic pop" voice (a very accurate description, in my opinion, offered by the band late in 2021). Harry Nichols and I co-wrote this tune together – our first writing collab since "Why?" back in 2015/16. He brought the idea to me and laid out the majority of the tune before I got my ears on it. Once Harry invited me to join in, the rest came together quickly. I wrote and added the bridge and we immediately jumped into recording. This was the first time I recorded myself and really took the lead in vocal arranging. I realized all my experience in studio and working with phenomenal producers the last 15 years had left me with an ear for exactly what I wanted where, how I wanted the lead to build and expand throughout the track, and what layers I wanted to hear in the vocal line. I gained a lot of trust in myself through that process. There are some kinks I look forward to smoothing out before my next release, but I'm so pleased with how it turned out. This was my first time working with Chris Ploss at Sunwood Recording. His work on the track was phenomenal and I'm excited to do more with him in the future. "Bloodshed" was mastered by Steven Goldman of Four Legs Records – a name you might recall from the Armageddon Monks and/or some of my projects in the past. It's always a pleasure working with him as well.
Q: Have you been writing/recording new material?
Arbisser: Yes! I have a handful of songs in the works right now and so many more in my mind, lyrics and melodies stored in notebooks, phone memos, and Garageband files crowding my computer. I've expanded the pool of people I'm writing and producing with, though Harry and I will definitely continue collaborating and already have something else in the works. I'm also developing a clearer sense of the concept for my next full album. With "Risk of Love" I wrote a bunch of songs throughout my 20's, recorded what I'd written, and got lucky that they worked together and created a meaningful journey. This time around, I'm starting with the idea and breaking it down into parts to make an album. I don't expect it to be finished anytime soon; the content won't be easy for me, but it will be worth it. In the meantime, I'll share more bite-sized releases to keep you grooving.
Q: Anything else to add?
Arbisser: Some things coming up worth highlighting: I'm doing a stripped-down set at Trumansburg Porchfest on June 11. It'll be a much more intimate sound and smaller lineup. My band plays a big show at The Range on July 15. And in addition to my band, I'm singing backup with The Destination Band this summer. Their music gets you on the dance floor and their shows are always a full-on party. The first Destination gig I'll be on is May 28 at Treleaven Winery and I know it'll be wild. A complete list of events is on my website and gets updated regularly.
Find out more about Ariel Arbisser here.
Dom Martyr
Dom Martyr is the duo of Angelo Peters and Alicia Aubin, best known for playing together for a decade in Big Mean Sound Machine, and more recently in Swamp Kids. Stuck at home during the pandemic, they decided to start a new project both as an outlet for their songwriting and as a new creative challenge. They've since released a two-song EP on their bandcamp page, where they describe the duo as "Fusing elements of Electo-Pop, House, Alternative-Dance, Rock and more. Dom Martyr is what you have been waiting for, straight from '88." The two have played a few shows this year, but the Ithaca Night Bazaar will be their first public performance locally.
Q: How have your first shows gone?
Aubin: I think better than better than we thought they were going to. I mean, we're doing a lot of things for the first time live for both of us. Like I sang a little bit with Swamp Kids, but I've primarily been a trombone player, so singing as the primary vocalist was first for me.
Peters: I've never done things like sequence parts for a drum machine and a bass part, let alone for the whole band. So it's really fun to be in that role, which is very different for me. And then it also just kind of makes it feel like we're on our toes all the time onstage.
Aubin: We're used to having at least five people in our bands, so it's been really exciting to play as a duo and have the ability to navigate on stage in an intimate way. So, yeah, the shows have been really, really fun. They seem to have been received well, and people are dancing to them. People like hearing the new sounds, so we're excited to keep exploring.
Q: What does your live set comprise at this point?
Aubin: We're playing mostly original music written together, but some are primarily written by me and some primarily written by Ang. And we're getting new music together all the time. Another beautiful thing about this project is that we can write new songs and get them together pretty quickly.
Peters: We have about six to eight originals and another six to eight cover songs, from Thomas Dolby, Blondie, and a few others we've been working on.
Q: Do you use any laptops or tracks on stage?
Peters: Our friends Tony and Cuci from AfroBeta, who played a show here at our place last year, have been a big influence. Tony has shown me how you can do things like what we're doing without a computer and you can make it musical, and you don't have to rely on any backing tracks or anything like that. We had a vision for being able to do that, but doing it with just two people is not easy, you have to cover a lot of ground.
Aubin: But we still want it to be a powerful sound.
Peters: I've done some jams with Tony, and you'd think some of his sounds are preprogrammed, but they're not – it's all about doing it right there on the fly. I consider myself a musician but that can take more work sometimes than mastering an instrument. Not take away from anything being a musician, but more to give credit where it's due to folks like Tony and others who do manipulative work with synthesizers – that arguably is just the same type of thing as playing an instrument.
Q: What's next for the band?
Peters: We have some gigs coming up this summer, at the BBQ in August, and a few others.
Aubin: We love the idea of being able to travel with this band and we have a ton of music that we are preparing to record. And now that we're starting to get our footing a little bit and really dial in what we want it to be, and the sounds that we want to create, it's just feeling really exciting!