14+ shows to see this week: Oct. 9-12
MSSV – the "post-genre power trio" of Mike Watt, Mike Baggetta, and Stephen Hodges – makes its Ithaca debut at Angry Mom Records, Edwin McCain visits the Center for the Arts in Homer, and SunDub returns to Deep Dive. Plus, The Invincible Czars return from Texas for a silent-movie event at Cornell's Sage Chapel, and "Stop Making Sense" continues its run at Cinemapolis.
Also, we want to thank everyone who contributed to our membership drive last week – we raised nearly $100,000! "Our members believe in the work that we do and they responded with enthusiasm," says Kathy Reed, WXXI's vice president of development at WXXI and its various platforms including WITH/withradio.org/TheRoute.org. If you'd still like to show your support, just visit TheRoute.org to make a contribution.
Note: This week's shows are listed in chronological order in two sections below.
Get Rhythm
Dave Davies RhythMakers return for Jazz Mondays, as Dave Davies, Doug Robinson, Brian Earle, and Chad Lieberman will play classic jazz, blues, originals, and more.
When: 5:30-8:30 p.m., second and fourth Mondays of each month
Where: South Hill Cider
Cost: free; donations welcome
Closing Up Shop
Area native Trevor Exter, who now lives on the West Coast, concludes his residency at the Downstairs. A cellist and electric bassist by trade, Exter has recently switched to electric guitar for his current gigs. He'll be joined by bassist John Young, drummer Matthew Saccuccimorano, and guitarist Jason Shegogue, who all play in his sister Bronwen Exter's band.
"For most of his life, Trevor Exter has been a professional singer and cellist with his own approach to all aspects of composing, songwriting, producing, performing, and touring. He's had a few bands where he got to make a spectacle of himself, and some producers like to use him as a secret weapon. Exter has toured with De La Guarda, Steve Kimock, author James McBride, DJ Tasha Blank and his duo with John Kimock, XVSK. He frequently performs solo, and is currently workshopping new material for a forthcoming record."
Exter also has his own Substack newsletter, "Play It Like It's Music," which you can check out here!
When: 7 p.m. Monday
Where: The Downstairs
Cost: $10 or pay what you can
Pressure Drop
Angelo Paradiso (New Planets, Living Myths, Big Mean Sound Machine, Swamp Kids) continues his weekly residency at Deep Dive, joined by a guest drummer.
"Angelo Paradiso (multi-instrumentalist/mad scientist) brings you a VS battle that will make that tush pop and jaw drop. Man vs. Machine: Angelo invites a rotating cast of characters that range in instruments, names, and forms to battle machine sequences, modular synths and all things sample-able. All styles from all places. All things funky. No computers, just humans. Bring your dancing shoes, your party hat, and dial 1-800-NOREQUESTS."
When: 8:30 p.m. Monday
Where: Deep Dive
Cost: $10
Crossing the Border
Singer-songwriters Karlee Crow and Jeff Oussoren team up for a night of song in downtown Ithaca. Weaver performs locally with the Immortal Peaches, while the Toronto-based Oussoren has released several albums that are available on his bandcamp.com site.
When: 7 p.m. Tuesday
Where: The Downstairs
Cost: $10 or pay what you can
Mezzanine Madness
Ithaca Underground will host a cool show at Angry Mom Records, bringing to town mssv – the "post-genre power trio" of guitarist Mike Baggetta, drummer Stephen Hodges (Tom Waits, Mavis Staples), and bassist Mike Watt (fiREhose, Minutemen). Their 58-date "Aki Tour 2023" is to promote their new album, "Human Reaction," released by the Big Ego label.
"Their latest full-length album finds the oddly memorable hooks of their noir-tinged adventure music with a lot more vocals from the Main Steam Stop Valve leader Baggetta, adding more personality than ever before, alongside his bandmates, Hodges and watt, who also share in the vocal duties throughout the album… Even though Baggetta wrote all the songs specifically for these bandmates to play, there's no telling which way the band will turn at any given moment, a proposition that becomes a promise when they break down and reassemble these songs live, with an instinct for restraint and an openness to anarchy."
Rounding out the bill are the duo of Anna Oxygen and Chris Corsano and local prog-rock trio BRIAN!
"Chris Corsano is a drummer who has been at the vanguards of free improvisation, avant-rock, and noise musics since the late 1990's. He's worked with saxophonists like Paul Flaherty, Joe McPhee, and Evan Parker; guitarists Sir Richard Bishop, Heather Leigh Murray, and Jim O'Rourke; and one-of-a-kind artists like Björk, Ghédalia Tazartès, Merzbow, and Jandek. Constantly seeking to expand his sound way beyond conventional notions of what drums can and can't do, Corsano attacks his kit with everything from cello strings stretched across his snare drum to contact microphones on hi-hats to a slew of extended techniques of his own creation."
Anna Oxygen "is a multidisciplinary artist working with performance, sound, technology, mixed media and interactivity. She is frequently engaging intersections of body, voice, objects and ritual to reveal social and technological structures that tie individuals to communities. She has special interests in interdisciplinary pedagogy, collaboration and community building across digital and hybrid platforms and often engages members of local communities in the work... most recent work explores feminist speculative world building, working between live performance and volumetric 3D/VR landscapes. She has released several albums of music under the name Anna Oxygen, with a recent contribution to Kill Rock Stars 30th anniversary covers series."
BRIAN! released its latest album, "The Cataclysmic Engine," in 2022. Treble.com noted that the band's music 'is otherworldly and cacophonous, merging progressive rock with noise rock and a taut, complex rhythmic sensibility. Theirs is a hybrid of King Crimson's knottiest compositions with the explosive rush of a band like Lightning Bolt. It's thrilling stuff, and totally bonkers."
When: 7:30 p.m. Wednesday
Where: Angry Mom Records
Cost: $15 + fee, available online here; open to all ages
Read a 2022 interview with BRIAN!
Silent Cinema Sounds
"This Halloween season and during Silent Movie Month in Ithaca, The Invincible Czars return to Sage Chapel with a new, nightmarish-ly fun soundtrack to the world's first feature-length horror film, Robert Weine's 'The Cabinet of Dr. Caligari' (1920). With an immersive combined live soundtrack experience that transports audiences back 100+ years, the age-old tale is accompanied by a chilling, tastefully modern score featuring an impressive blend of traditional acoustic and present-day electric instruments."
"An extraordinary combination of expressionist visual style and psychological horror, 'The Cabinet of Dr. Caligari' is one of the most striking and influential of all silent films. The film tells the story of a group of friends who encounter the deranged hypnotist Dr. Caligari and his scary, spidery sleepwalking sidekick Cesare at a carnival. When a series of murders brings the town to its knees, a young man named Franzis sets out to prove Caligari is responsible… but is he?"
About the band: The Invincible Czars began making adventurous rock music in Austin clubs in 2003 but they quickly branched into the arts world with their wide scope of styles, cinematic flare, mix of modern and classical instruments and their complicated relationship with heavy metal. Though they continue to take on a variety of projects, including their Austin-tacious re-imagining of Tchaikovsky's 'Nutcracker Suite,' The Invincible Czars are probably best known for their silent film soundtracks which they perform live at cinemas, colleges and performing arts spaces all over the US and Canada. They began accompanying silent films at the original Alamo Drafthouse in Austin in 2006 with 'Aelita, Queen of Mars' (1922) and continue adding titles to their catalog year after year. The band operates as a collective with a few core members and a rotating cast of additional members on any given project or tour. They sound different from season to season and year to year."
When: 7 p.m. Wednesday
Where: Sage Chapel, Cornell
Cost: $8-$12, available online here
He'll Be
Edwin McCain returns to Central New York – the singer-songwriter has been called a "street corner prophet" by the USA Today, an "aching tenor" by Slate Magazine, and a "great American romantic" by the New York Times. He's best known for his hits "I'll Be" (featured in the Jennifer Lopez movie "Shotgun Wedding") and "I Could Not Ask For More," but also has released nearly a dozen albums since 1995. Along the way, he launched the TV series "Flipping Ships" on Animal Planet network, in which he chronicles his adventures in the boat-restoration business, "Boats Have Souls."
When: 8 p.m. Wednesday
Where: Center for the Arts of Homer
Cost: $36-$40, available online here
Double Feature
The Galactic Escort Service returns every other Wednesday to Deep Dive, promising "another epic journey through sonic cosmology." Core players include Tenzin Chopak, Emmett Scott, Michael Schuler, Josh Oxford, and Ashley Ickes, who on the spot create improvisations on a variety of instruments. "The group projects both obscure and classic films to aid in enhancing the experience as both audience and performers embark into the unknown spaces and places of the sonic realm. Guaranteed no two shows are the same, come be a part of the excitement of musical creation in real time."
This week's edition, "Double Dragon, Double Drummer," will feature a screening of "Rocky IV" with guest drummer JP Nawn (Sim Redmond Band, Mosaic Foundation) joining the Galactic Escort Service for the evening.
When: 9 p.m. Wednesday
Where: Deep Dive
Cost: $10
Finding Her Voice
Ariel Arbisser comes to South Hill Cider backed by some of Ithaca's top players. "With over 2 million global streams, SXSW-shortlisted Ithaca singer-songwriter Ariel Arbisser is defining her own path in pop: blending throwback rock on her debut solo album 'Risk of Love' to a now sexy, dramatic, pop-funk sound on her latest singles 'Bloodshed' and 'Rabbit Hole.' Her performances simultaneously make you feel seen, heard, and offer a glimpse into how she experiences the highs and lows of the world. Every show will have you in your feelings with a voice that sounds like bold, public foreplay."
When: 5:30-8:30 p.m. Thursday
Where: South Hill Cider
Cost: free; donations welcome
Read a 2021 Q&A with Ariel Arbisser!
Natural Sounds
The Cornell Department of Music welcomes clarinetist David Rothenberg for a unique performance. "Rothenberg will first improvise with the critters and natural sounds that surround Beebe Lake, and will then be joined for a second set by select improvisers from Cornell's Music Improvisation Ensemble. Bioacoustician Ben Gottesman from the K. Lisa Yang Center for Conservation Bioacoustics will provide a brief background on acoustic communication in insects to begin the concert.
"Rothenberg has written and performed on the relationship between humanity and nature for many years. His books include Why Birds Sing, about making music with birds, which was turned into a feature length BBC TV documentary; and Thousand Mile Song, about making music with whales, also turned into a film for French television. As a composer and jazz clarinetist, Rothenberg has more than thirty albums out under his own name, and he is Distinguished Professor of Philosophy and Music at the New Jersey Institute of Technology."
When: 6 p.m. Thursday
Where: Beebe Lake Overlook (Forest Home Drive/Arboretum Road); rain location is the Guy Nearing Summerhouse at the Cornell Botanic Gardens.
Cost: free
Lotsa Laughs
Cedarwood Venue hosts its biweekly Comedy Open Mic Night, hosted by Foxy Goodstone and produced by Comedy on the Commons. "Enjoy some laughs as local and guest comics hone their craft!"
When: 7-11 p.m. Thursday
Where: Cedarwood Venue, 9632 Route 96, Trumansburg
Cost: free
Sonic Explorers
Creating "improvised electronic soundtracks for imaginative daydreams," DFLT – the duo of Thomas Bruce and James Spitznagel – return for another livestream concert, this one based on their latest album, "Glide."
When: 8 p.m. Thursday
Where: online
Cost: free
Dub Sounds
Deep Dive will host the return of SunDub on Thursday night.
"SunDub is a testament to the power of inclusion, diversity and unity— their music and community rallies around the concept that we are strongest when people of different backgrounds can work together to create positive change. These core values are showcased on SunDub's first release, 'Burden of Love,' which has since amassed millions of streams and whet the appetites of listeners around the world for their next release. In a world that is dominated by watered-down distillation of reggae, SunDub aims to honor the roots of Jamaican music while offering their unique ability to combine soul and funk sophistication into their art." The band's latest release is "Spirits Eat Music," which features the single "New Ways To Love," featuring Grammy Award-winning vocalist Peetah Morgan (of Morgan Heritage).
Rochester-based rock-reggae-dub band Personal Blend will open the show; check out their music here!
When: 9 p.m. Thursday
Where: Deep Dive
Cost: $10 in advance, available online here; $15 day of show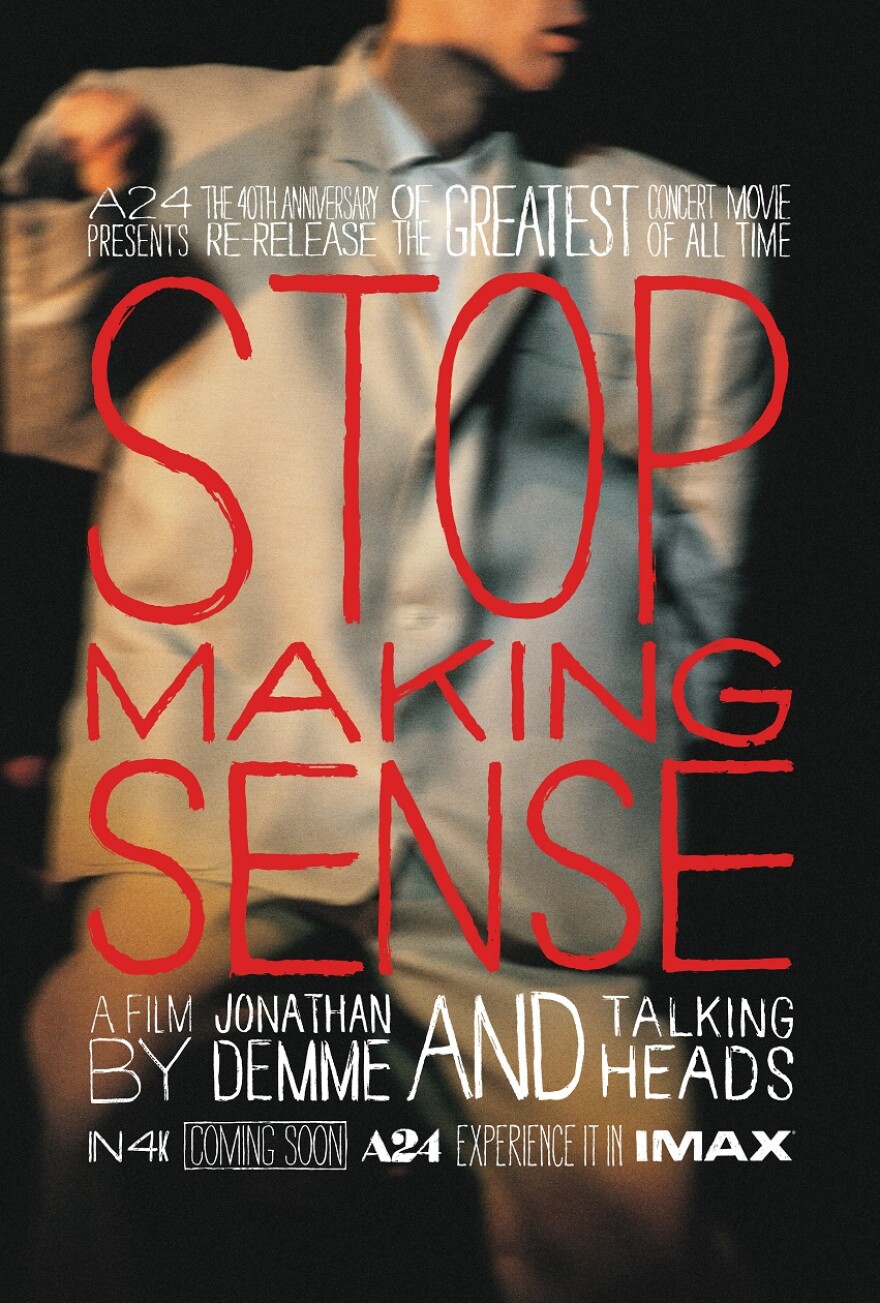 Once in a Lifetime
Opening at Cinemapolis Friday is widely considered the greatest concert film of all time. "Stop Making Sense" brings to the screen "Talking Heads at Hollywood's Pantages Theater in December 1983: David Byrne, Tina Weymouth, Chris Frantz, and Jerry Harrison, alongside an ecstatic ensemble of supporting musicians. Renowned filmmaker Jonathan Demme captures the band at their exhilarating best, in this new and complete restoration for the film's 40th anniversary."
When: runs through Thursday
Where: Cinemapolis
Cost: $7-$11
More Shows
Brett Beardslee is back with the blues at Rasta Ranch Vineyards at 5-8 p.m. Mondays
The Pelotones Trio plays the Firelight Live series at Firelight Camps at 6-8 p.m. Tuesday
The Center for the Arts in Homer hosts Open Mic Night at 7 p.m. Tuesdays
Auburn Public Theatre hosts Open Mic Night at 7:30 p.m. Tuesdays
The Westy hosts its Open Mic Night at 9 p.m. Tuesdays
The Shin Hollow Jazz Chickens are at the Trumansburg Farmers Market at 4-7 p.m. Wednesday
The Argos Grove Trio plays jazz at the Argos Inn at 5:30-7:30 p.m. Wednesdays
Brennan Bates is at Scale House Brewing at 6-8 p.m. Wednesday
Jesse Collins and Friends play jazz at Brookton's Market at 6-8 p.m. Wednesdays
DJ Dale hosts Trivia Night at Revelry Yards at 7-9 p.m. Wednesdays
Sacred Root Kava Bar and Tea Lounge hosts its weekly Open Mic Night at 7 p.m. Wednesday
Salsa Ithaca presents the weekly "Salsa Wednesdays" dance event at the Range at 8 p.m. Wednesday
Steven Louis is at Two Goats Brewing at 5-8 p.m. Thursday
Young Legs is at Atwater Vineyards at 6-8 p.m. Thursday
Scale House Brewery hosts Open Mic Night at 6-8 p.m. Thursday
Aiken is at Cortland Beer Company at 6 p.m. Thursday
The Brewhouse Blues Jam returns to Hopshire Farm and Brewery at 6-8 p.m. Thursday
Benny T brings his Open Mic Posse to Crossroads Bar and Grille in Lansing at 6:30 p.m. Thursday
Jesse Collins and JC3 play jazz at Bike Bar Ithaca at 6-8 p.m. Thursday
Atlas Bowl in Trumansburg hosts the weekly Vinyl Showcase at 7-10 p.m. Thursdays
Patchwork Down and Nightshade are at Benjamins on Franklin in Syracuse at 8-11 p.m. Thursday
DJ Dale hosts Karaoke Night at the Upstairs at 10 p.m. Thursday